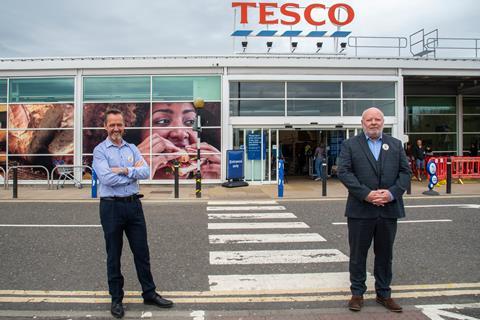 Store: Tesco South Queensferry
Joint store managers: Andy Walker and John Thompson
Opened: 2001
Size: 36,000 sq ft
Market share: 32%
Nearest rivals: Co-op - 5.3 miles, Asda - 7.1 miles, Morrisons - 7.6 miles
Store data source: Analysis by CACI. Call the market planning group on 020 7602 6000
Tesco growth has outpaced the discounters in April. Why?
John: It is down to the Aldi Price Match. Though the nearest Aldi is seven miles away, we are getting comments from customers about how much they like the price matching. It has definitely driven more customers to the store. We have the same prices and a bigger range of products. It is proving a conversation point for shoppers.

You're the first male managers to job share as joint GSMs. How did that come about?

John: Andy and I were looking at retiring as managers of separate stores around the same time, but rather than leaving employment altogether we had a discussion about job sharing. Tesco has a policy around flexible working, which allowed us both to stay with the business on reduced hours.

Andy: We started in March 2019, so have just completed the first year under the new arrangement and it is going well with great results for the store. We both work 18 hours a week and keep in touch constantly through social media and WhatsApp. The benefit for Tesco is the business is getting the experience of two managers working for the same money as one full-time manager. We have a combined 65 years of retail experience, which Tesco has kept in the business rather than us both retiring. It is the perfect solution for us to keep busy and Tesco not to lose all that experience. And we want to create a legacy so other managers can be inspired to take this route as an option rather than retiring.

Did having two managers help when demand peaked?

John: We both worked extra hours to cope with the demand. But having shared responsibilities helped enormously to keep a fresh perspective. We were not having to work every hour of the week so we could return with a fresh pair of eyes.

What was the most difficult moment?

John: In the middle of the panic buying, stood in the middle of a very busy store, it was hard to know what was going on or how to fix it at times. Customers looking at you like you have the answers that you just don't have - and usually you do in normal circumstances. There was a feeling of helplessness at times, which was difficult to deal with.

Andy: Certain areas of the store were just empty and standing in front of those shelves it was hard to know how they were going to get filled. That was the hardest thing. Restrictions were brought in to try and drive down demand, but once the shelves had been stripped and the warehouse was cleared, the supply chain was always going to struggle to catch up.

Availability was high this week. Are you back to normal now?

John: There are still a couple of pinch points, such as home baking. Meeting demand is difficult because stock comes in and immediately goes out. Andy: However, there is no longer anything that you can't get. It might not be the specific brand you were after, but you can still get an alternative. Looking at the internal figures for where we should be, we are almost there.

How have the new temporary staff handled themselves?

John: We took on 23 temporary workers at the start of the crisis. We have been over the moon with the feedback we've had and are actually scoring some of the highest feedback numbers we've ever had. All our colleagues have got behind everything we are trying to do. We were lucky in that a number of former Tesco staff rejoined us and have been brilliant.

Have staff absences peaked?

Andy: Our absences haven't been so bad. It's mostly those having to self-isolate because they are vulnerable - and that is all we have had really.

Are customers OK with your social distancing policies?

Andy: Customers have told us they feel really safe walking around the store. We have a team at the front of store with hand gel and antibacterial spray for trolleys. This has made shoppers feel comfortable as soon as they enter the store. The one-way system is explained to each customer, with a reminder of social distancing. At checkouts, we have a staff member managing queues as well. Our café manager, Margaret, and Levi, who works in the phone shop that is currently closed, have been running the social distancing operation to make sure we stick to the safe guidelines.

Is there any sign of customers tiring of social distancing or becoming frustrated?

John: Our communication led by the social distancing team has helped take away any potential for frustrations to boil over. Customers have policed themselves very well and continue to do so.

What kind of protective equipment is available to staff?

Andy: We've had masks, hand gel, antibacterial spray, disposable gloves and protective face visors right from the start. We have never been short of any equipment. We have enough to give everybody every day and we walk the store three times a day to check if staff need more. It is there for everyone to use if they choose - but some don't want to wear masks.

What has your proudest moment as a store manager been during the outbreak?

John: Definitely been the colleagues and the management team. Their humour and commitment during the crisis has been tremendous. I'm so proud of the team.

Andy: The team has just got on with it under the most difficult circumstances and pulled together. It has been one happy family getting on with it.