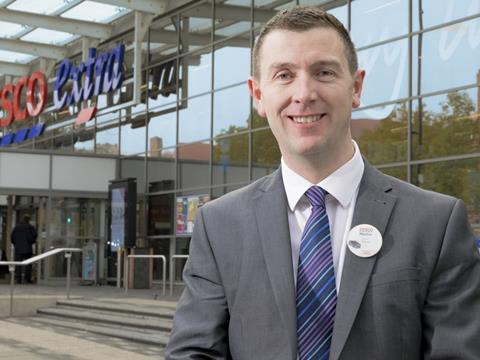 With Halloween coming up, then Black Friday and Christmas, it must be quite a nerve-racking time. We're entering the busiest period and Halloween is the first big test before Christmas. It's a huge event and we're making sure all the staff are focused on giving five-star service. We're trying to make sure the shopping trip is simple and focusing on reduced congestion.

Are you taking on extra staff over Christmas and what will they be doing? Yes, we're recruiting in the region of 20-25 festive colleagues. They will be working in general roles, including helping with replenishment to keep up good availability, checkouts and other roles across the store.

How is new technology at the till affecting the store? We've rolled out the digital wallet PayQwiq, which is absolutely the future and there has been a fantastic uptake from customers. Tesco is also now trialling digital receipts so the future is definitely going to be paper-free.

Has the recent good news about Tesco's performance been felt by staff? Staff are really proud of the way Tesco has turned things around. It's been really noticeable in the past six months.

Your store is part of a big recent town redevelopment. How does that make a difference? We really are at the heart of the community with a block of 400 flats above the store so it does have a great impact. As well as being a place where a lot of those people shop we are a big part of the community. For a lot of those people we are there.

Your store is also one of the most recent Extras. Does that give you an advantage? It's a new shop and with all the latest innovations, so it's purpose-built. Despite being an Extra, our business is very much focused on convenience. It's easy for people to park and shop with our simplified range.
Winner: Tesco Streatham High Road
Manager: Martin Francis
Size: 64,000 sq ft
Opened: 2013
Market share: 10.5%
Nearest rivals: Sainsbury's - 0.4 miles Lidl - 0.4 miles Co-op - 0.8 miles Aldi - 1.6 miles Morrisons - 1.8 miles
Store data source: Analysis by CACI. Call the market planning group on 020 7602 6000