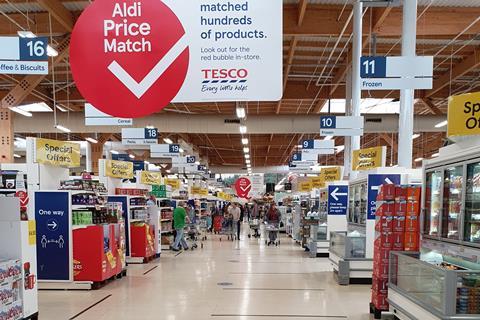 Tesco scored 90 points to win in this high-scoring week thanks to a combination of good availability and strong shopper safety and social distancing measures.
There was no queue to enter the store and our mystery shopper was greeted by a member of staff wearing a face mask and spraying down trolleys for customers. Hand sanitiser and wipes were available for shoppers on the way in and the store was "calm and quiet".
Clear markings and arrows on the floor guided customers through the one-way system and helped maintain social distancing. There was also signage on the sides of the aisles with arrows and text reminding customers to keep two metres apart, with periodic announcements as a further reminder.
The Extra store was easy to navigate and the aisles were wide enough for two people to pass each other safely side by side, helping Tesco to full marks for layout, despite online pickers and unmanned trolleys.
"This was a pleasant, stress-free experience and, overall, I would be happy to shop here again in the future," our mystery shopper said.
The Lincoln store had the best availability of the week during the Saturday morning shop, with only one item not stocked and staff working hard to replenish shelves.
Asda in Manchester also proved to be a "calm and ordered" experience, with a short queue outside and cleaning facilities provided for customers. Our shopper was impressed by improvements to the floor markings and one-way system, with new red 'no entry' stickers in use, though some customers were ignoring them.
The store was generally well stocked, but there were a number of gaps in fruit & veg, as well as in the beer and wine aisles, with three lines missing from our shopper's basket.
Waitrose in the Hampshire market town of Waterlooville was also missing three products (one out of stock and two not stocked). There were a lot of staff restocking, but our shopper felt they were not customer aware and the priority was getting product out rather than maintaining a two-metre distance. The staff our shopper interacted with also failed to keep a two-metre distance and weren't wearing masks.
A restocking trolley caused an obstruction in one aisle and our shopper felt the layout of the store wasn't logical or intuitive.
Our shopper also had to wait more than 10 minutes to gain entrance to the store, but found it calm inside. "Overall, it was a good shopping experience, but the staff just need to be a little more aware," she said.
A "tired-looking" Morrisons in Loughborough was "scruffy and untidy" as a result of lots of stock left on the floor. One aisle was completely blocked by two trolleys in the middle.
There was a long queue for the checkout, but our shopper was impressed by the conscientious and friendly till assistant.
Stock levels were high, despite gaps in fresh, and there were only three products missing from the basket.
The Winchmore Hill Sainsbury's in north London had the worst availability of the week, with four items out of stock and four not stocked. There were empty shelves in the confectionery aisle and gaps in the freezers.
However, there was no queue to enter the store, all staff were wearing masks and gloves and maintaining good distance from customers, and a "very friendly and polite" till assistant and a well-managed checkout experience gained the supermarket full marks in that department.
This week's results:
WINNER
Asda
Morrisons
Sainsbury's
Tesco
Waitrose
Manchester
Loughborough
London
Lincoln
Waterlooville
04/07/2020
04/07/2020
04/07/2020
04/07/2020
04/07/2020
8am-11am
8am-11am
8am-11am
8am-11am
8am-11am
10:03
08:10
09:45
10:28
09:58
01:00
01:10
01:00
01:05
00:57
00:58
01:04
00:40
01:05
00:47
10
9
9
10
6
1
1
1
1
1
2
2
2
2
2
2
1
1
2
2
3
3
3
3
0
2
2
2
2
1
There were sufficient signs around the car park and store entrance providing guidance on social distancing. At the entrance, there was only a short queue of customers waiting to enter the store. Consequently, there were only a few staff members providing assistance in the entrance and foyer area. They were mostly directing customers and pointing out the cleaning and sanitising facilities that were available. Outside, I also noticed sufficient barriers were in place for when the queue would inevitably grow longer later in the day
There were no queues entering the car park or leaving. There were also no queues on entering the store. There is a entrance area cordoned off with rope for people to safely queue. There is also a table set up here with hand gel and kitchen roll to clean hands and wipe down the trolley handles. There were also marks on the floor in the line to make sure that people remember to keep their distance from the people in front.
I didn't have to queue at all to enter the store and there were 2 members of staff at the entrance directing people in and out. There were plenty of orange plastic blockers ensuring orderly queuing and using the right access.
This is a large Tesco Extra store situated on the north side of Lincoln. It is clearly sign posted from the road, and there is a set of traffic lights to allow traffic into and out of the car park. The car park was fairly quiet when I arrived and there was no queue to park or to get into the store. A one way system is in place with a member of staff allowing customers into the store at the entrance. He was wearing a face mask and spraying used trolleys with sanitiser. There were plenty of trolleys available and these were neatly stacked.
There was a queue outside the store so it was clear from that it needed to be joined. There were only stickers in place nearer the door. There was a member of staff of the door and she was smiley but not vocal, it became apparent after queuing for a short time they were operating a one in one out system. There was a cross-over as customers came in and out of the store as only one entrance/exit and the staff member didn't manage this.
19
11
12
16
14
5
2
3
4
2
The store seemed reasonably calm and ordered, especially since customers now appear more familiar with the new social distancing measures. I also noticed that the floor markings had been improved and made clearer with the addition of red "no entry" stickers. Social distance announcements were infrequently made over the tannoi system. However, I noticed that some customers were still ignoring them, so they should probably have been made more often.
My first impressions are that the store looked a little tired inside and would benefit from some cosmetic improvements. There were lots of staff who mostly seemed in good spirits e.g. I heard one of them singing! There were a couple of areas where there were bits of stock on the floor and not on stands and this makes it look a bit scruffy.
The entrance to the store was very quiet, I was offered self scanner to do a smart shop but declined. There were few people in that part and their customer service desk and tobacco counter sit alongside each other and there were 3 members of staff manning them but no customers so they were just chatting to each other.
The store was fairly calm and quiet when I first arrived. Sanitiser and wipes were available for customers to use on the way in. There were markings on the floor to guide customers in keeping their distance from each other, and a one way system in place with arrows on the floor pointing the way. There was also signage on the sides of the aisles with arrows and text reminding customers to keep 2 metres apart. Periodically there were announcements reminding customers of the one way system and to keep 2 metres apart.
Once in the store it appeared calm with not too many customers in-store so easy to navigate around at a safe distance. There were some signs up but I didn't notice any hand sanitiser and wasn't directed to one as I went in.
3
1
2
3
3
4
3
2
5
3
Overall, the store was generally well stocked. The fruit and veg section had a number of gaps, however, these were being attended to by the staff. I also noticed a few gaps in the beer and wine section
Most areas had a good level of stock available, however around the fruit aisle in particular there seemed to be a lot of gaps. The freezer area was very well stocked. As mentioned previously there were a couple of areas which may have been overstocked and had been placed on the floor e.g. car fluid.
Several shelves in the confectionery aisle were empty but didn't seen anyone replenishing. The freezers too had some gaps and looked over frosted making it difficult to see the items behind the glass doors.
Seasonal products were displayed such as folding chairs for the garden, and there were lots of special offers on the gondola ends such as boxes of lager, cereals, and cleaning products. I also noticed some extremely large bags of flour for the keen bakers amongst us! The store was well stocked, and there were plenty of staff working hard to replenish the shelves.
There were products out of stock and the freezer section was particularly low on products with one freezer empty and switched off. Staff were not really customer aware and their priority was putting product out rather than moving out of the way of customers. There was a lot of staff replenishing shelves.
3
2
2
0
2
2
2
2
2
2
2
1
1
2
2
The store was generally clean, tidy and well maintained.
As mentioned, the store looked a little tired and could do with a little makeover at some point. Some areas of overstock made the store look untidy. However the store was clean. There was one aisle where I was unable to move because there were two trolleys in the middle and there were people at the fridges either side which was a little frustrating as it created a bit of a queue to get through. This was by the aisle with the packed deli meats and cheese. Even though it was early the store was quite busy with customers.
There were several cages at the end of the meat aisle beside the sushi section that just seemed to be abandoned with empty boxes and crates. (pic provided)
There were almost too many staff members on the shop floor, both replenishing shelves and fulfilling online shops, who did cause obstructions in the busier aisles. Because of the one way system it was necessary to wait while the people in front chose their products, and where there were also members of staff restocking or picking this led to a queue forming to access certain aisles such as the milk aisle. Near the fresh food counters there were several unmanned trolleys and stacked boxes creating a cluttered feel in this area (see photo). Generally speaking the store was clean and tidy with only a few bits of litter on the floor.
The store was extremely clean with no litter to be seen. One trolley was blocking the aisle and was difficult to manoeuvre around, this was due to the member of staff having a chat with a customer.
10
5
4
10
6
2
1
0
2
0
6
2
2
6
4
2
2
2
2
2
13
16
18
16
16
0
5
5
3
5
5
3
3
5
5
Staff were helpful when I asked for assistance with locating products on my list. When I asked a female staff member with long hair whether there was any OL spaghetti available, she replied "probably not if they're not on the shelf" and suggested a branded alternative before asking whether it was ok for me. When I asked a male staff member whether there was any more stock of Honest Graft ale, he helpfully scanned the label before confirming that there wasn't. When I asked another male staff member where the iceberg lettuces were, he pointed me in the right direction. When I complained that they didn't look very fresh, he helpfully brought a tray of some fresh ones from the warehouse. I was impressed by his friendly attitude, despite being a little inconvenienced by me.
I asked a question about the bread to the man who was putting out stock near me and he advised that he doesn't usually work on the bread section but could find someone who did if I wanted. I politely declined. He couldn't help but was friendly.
The flavour of noodles I wanted wasn't available so I asked a member of staff 'Leon' he told me they were expecting a delivery between 1pm-2pm but I chose another flavour pot. He was reasonably friendly.
I asked a young woman for help in locating the sticky toffee puddings. She was polite and directed me to the correct aisle. I also asked Mike for help in locating the baked beans. He was friendly and joked about the one way system, and directed me to the correct aisle number.
One of the freezers was broken so I asked a member of staff not on the section if they knew whether there would be further items in the warehouse because of this. She offered to go and look and then when the product wasn't available asked whether I had checked the freezers on the end as they had some good offers on.
2
3
3
3
2
2
2
2
2
2
4
3
5
3
2
Staff were neatly presented and easily identifiable. A few of them were wearing gloves. When they were engaging with me, they tended to keep a safe social distance. However, one or two of the online shopping pickers came a little too close to me, so I felt that they could have been a little more mindful of customers while they were picking stock.
I noticed one man wearing a mask but all other staff I saw did not. Some staff seemed to get a little close whilst going about their job but the store was busy and it is probably very difficult to get everything done whilst avoiding everyone. A couple of staff did however make way for me and let me pass first.
N/A
The only member of staff I saw wearing a face mask was the man at the entrance allowing customers into the store. Staff restocking in the chilled aisles wore gloves, but these seemed to be more to do with keeping their hands warm while handling chilled goods than for safety reasons as other members of staff restocking in other areas did not wear gloves. There were plenty of staff available to ask for help so it was easy to locate someone when I needed them.
I spoke with two members of staff and neither maintained the distance required ie came up to me, other staff would stand next to you as you were selecting products so they could replenish their shelves without waiting. None of these staff wore masks.
19
16
20
19
16
2
2
2
2
1
2
2
2
2
1
4
2
4
4
4
6
5
7
6
5
3
3
3
3
3
2
2
2
2
2
The checkout service was friendly, welcoming and efficient. The cashier smiled, made eye contact and said 'hello'. My items were scanned in good time and I was asked for payment. Finally, I was thanked for my custom and offered a friendly farewell.
Wendy served me at the till, when it was my turn she took over from another assistant. I was pleased to see that when she entered the till area she took out some anti bacterial wipes and cleaned down her work area and washed her hands. She said sorry to me for taking the time to clean down the area and said, 'you never know do you!'. She was very friendly and is the kind of customer focused assistant you want to see. We had eye contact and she said hello and goodbye and apologized again when she had to get help from another assistant because there was an issue with the till. It may have taken a little longer due to the clean and the issue, however I am happy to wait as safety is important for everyone now.
The customer assistant who served me was very friendly and polite. She made sure I was ready with my bags before she started scanning. There was only one person in front of me and he got through the till really quickly so I didn't really have to queue at all as I could put my items straight down on the conveyor belt.
Again, there were plenty of staff available in the tills area and no queues for the tills. I was able to walk straight up to a till and start unloading my shopping. There was a screen between the checkout operator and me, and I was served promptly and efficiently by Johnanne. She was friendly and we chatted about her name and where she lived. She told me the store was very quiet for a Saturday morning and we joked that everyone must be down the newly reopened pubs!
There was no staff helping with the queuing system and customers were just sticking to the tape and maintaining distance. There were lots of available staff chatting so this could have been managed if a problem arose.
14
15
8
19
16
30
30
25
32
30
3
2
4
0
1
0
1
4
1
2
90.9
93.8
86.2
100.0
96.8
OL spaghetti,
Youngs admiral's pie,
Honest Graft ale.
Deli Corned Beef - I got corn beef slices instead
4 pints organic milk - There were only 2 pint options for this so I opted for regular milk.
Andrex Toilet Roll x 9
McCain Potato Smiles
Nestle Cheerio Honey Cereal
Nissin Soba Classic Noodles
N/A
Ready Salted Walkers Crisps (Walkers Crinkles purchased)
N/A
2 Sirloin Steaks in a pack - there was only single steak packs which I got instead.
JS Supersoft x 9
Nissin Yakitori
Kellogs Special K
Birds Eye Potato Waffles x 10
The store did not stock 4 packs of Heinz baked beans so I could only buy individual tins
Cooked Chicken (different weight purchased)
Hovis Thick Bread (Waitrose Brand purchased)
I noticed that the in-store concessions such as Greggs and Supercuts had now reopened.
I noticed by the Fishmongers that there was a sign for the collection of fish so I assume there is some sort of option to order beforehand. Inside there was a cordoned off area for people to go through the tills if they had a basket only and a big sign overhead directing people. There was another aisle where everyone with trolleys had to queue. There was a lady at the front directing the people in the trolley queue to the relevant till.
I was impressed that I could get almost everything on my list without issue and found everything without difficulty. Wendy also made a good impression on me. I was surprised that there were so many sections of the store open and manned - café, cheese counter, pizza, butchers, fishmongers, bakery, hot oven section and news and lottery counter. The fresh salad help yourself was not available but this is to be expected. There were also some good seasonal displays - the fishmongers had a nice visual of some fish kebabs made up in preparation of BBQ season. There were also bags of compost and plants ear the entrance and exits. The trolleys were also free from having to put a £1 in and this makes things easier.
The shop was particularly quiet and it was a very easy shop. No queuing and a smooth shopping experience from start to finish. Plenty of car park spaces and trolley availability. The queue when I left the store however looked really long and clearly its all about the timing! Pot luck.
The store was well signposted, and despite being a very large store I found it easy to navigate and locate the items on my shopping list. The aisles were wide enough for two people to pass each other safely side by side, and there was a one way system in place with tape on the floor to indicate a safe distance. This was a bit annoying if you were approaching the aisle you wanted from the wrong direction, and I did notice that quite a few staff members restocking shelves did not observe the one way system themselves.
Overall this was a pleasant, stress free experience. The shop certainly became busier during my visit, and this led to some queueing to access certain aisles. The store was well stocked and there were plenty of staff on hand to help with any queries. In places there were obstructions caused by stacking trolleys and online shop pickers, but overall I would be happy to shop here again in the future.
I have shopped in other supermarkets and this store seemed to let less people in which gave a much better, relaxed shopping experience. The member of staff on the till tried to get the attention of the staff next to the till to authorise the alcohol but they were too busy laughing and chatting this was awkward for her as she didn't want to interrupt. Overall a good shopping experience but the staff just need to be a little more aware.
85
72
71
90
74