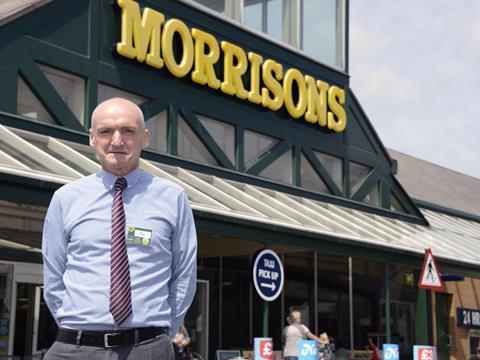 Customer service won it for you this week. How do you keep standards high?
We have a really great, well-established team here in the business with some key employees in core positions. We aim to give every customer that comes into the store our five-star service so every customer feels that everything we do is geared towards them. There is a very strong team spirit here and I think that is a big point of difference for us.

Availability wasn't great this week - are you surprised at that?
We are usually very strong. It's a big focus in the store and we work very hard throughout the day to ensure the shelves are well-stocked.

Morrisons recently reintroduced manned express checkouts - how has that gone down with shoppers?
Not all of our customers liked going to the self-checkouts so it's a good thing that we brought these manned tills back in. We also got rid of the queue management system and not only has this made it easier for us but the feedback from customers has been very positive.

There has been a lot going on under new boss David Potts. What do you make of it all?
It's been good so far. We have all taken part in the focus groups and been able to provide our feedback. This is where the queue management decision came from so it shows we are being listened to, which is great. There is a real drive on customer service, which is definitely working.

We've just had a bank holiday. How was trading?
Good, we've just introduced a brilliant new barbecue range with 67 new lines including flatiron steaks, fish, pre-packed and from Market Street. We have great deals in there too, such as two barbecue packs for £9. It's proving really popular and customers are raving about our jalapeño burgers. We are just hoping for a good long period of nice weather and they will be flying out the door.
Winner: Morrisons Aylesbury
Deputy store manager: Tony Connolly
Opened: 1995
Size: 30,000 sq ft
Market share: 15.9%
Nearest rivals: Sainsbury's - 0.2 miles
Waitrose - 0.5 miles
Tesco - 0.7 miles
Store data source: Analysis by CACI. Call the market planning group on 020 7602 6000