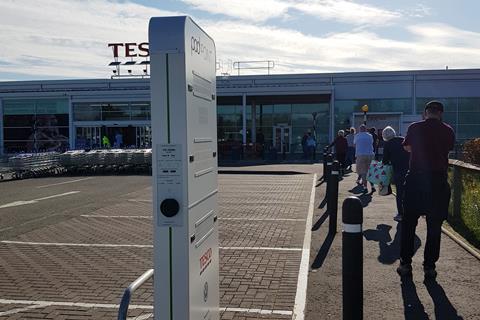 A near flawless run saw a comfortable win for a "well-organised" Tesco this week on Friday afternoon as availability remained generally high all round.

The store in South Queensferry impressed our shopper on every metric, with trolleys already sanitised and waiting for customers inside the store. The one-way system in operation kept customers flowing and made social distancing easy. Staff were busy on most sections replenishing stock but were also "very helpful" when needed. Our mystery shopper had no trouble finding almost everything on her list, with only tinned chopped tomatoes out of stock. Queues were minimal entering the store and at the checkouts. "It was very surprising how easy the whole experience was," our shopper said.

Asda in Crawley managed a very respectable 83 out of 100, with only raspberries, own-label wraps and plain flour not making the basket. There were some empty shelves, but staff were busy restocking. Our shopper said there was a calm atmosphere in store, with plenty of staff around to help. "It was an extremely pleasant and enjoyable shopping experience," she added. "The queue was fast moving, shoppers were respecting one another's space and staff were following all the restrictions and managing new procedures very well."

Availability was high at Waitrose in Woodley, with even hard-to-find products such as flour in stock. Staff were restocking products throughout the store but were sometimes hard to find. However, they were friendly and in good humour. Points were lost on the shop as some staff were not wearing gloves and there was no cleaning spray for the trolleys.

Morrisons in Crowborough was let down by availability, with eight items missing, including flour, icing sugar and bake-at-home rolls. The majority of aisles were "very neat, tidy and well-stocked", but a number of areas had bare shelves. The baking category had no flour aside from a couple of 30kg bags and sugar shelves were empty. Kitchen rolls and handwash was also unavailable. Our shopper didn't have to queue to enter the store but found it "fairly" busy inside. She was handed a disposable cloth with sanitising spray to wipe her trolley at the start of the shop. A full team of staff were managing customers in store to maintain social distancing measures. Multipacks of beer were stacked prominently at the front of the store, along with promotions on crisps. Queues for self-checkouts and manned tills were "very long", but were managed in a safe and efficient way, with social distancing measures in place. "I was very impressed by the friendliness and availability of the staff working in this store," our shopper said. Staff also went out of their way to help, with one member taking the trolley back to the store after shopping was loaded into the car.

Sainsbury's in Hamilton also lost points for standards and availability as a result of bare shelves, with 10 products missing from the basket, including a number of basic essentials. Fresh produce aisles were low on stock, while eggs and bread were hard to come by. The score was also hit because of a lack of hand sanitiser and wipes available in store for customer use, but checkout staff did clean the bagging area with disinfectant and wipes after each customer. "Staff appeared to be coping under difficult circumstances but couldn't say when things would be back in stock," our shopper said.
This week's results
| | | | | WINNER | |
| --- | --- | --- | --- | --- | --- |
| | Asda | Morrisons | Sainsbury's | Tesco | Waitrose |
| Location | Crawley | Crowborough | Hamilton | South Queensferry | Woodley |
| Date | 24/04/2020 | 24/04/2020 | 24/04/2020 | 24/04/2020 | 24/04/2020 |
| Time slot | 4-7pm | 4-7pm | 4-7pm | 4-7pm | 4-7pm |
| Shop starts | 5.30pm | 4.00pm | 4.00pm | 5.15pm | 4.30pm |
| Visit Duration | 01:29 | 00:58 | 01:05 | 00:58 | 01:00 |
| Shop Duration | 01:04 | 00:56 | 00:48 | 00:47 | 00:45 |
| Cost | 52.69 | 52.95 | 59.6 | 55.7 | 81.46 |
| Car Park (10) | 7 | 10 | 7 | 7 | 5 |
| Signposting (up to 1) | 1 | 1 | 1 | 1 | 0 |
| Queueing time to park (up to 2) | 2 | 2 | 2 | 2 | 2 |
| Trolleys (up to 2) | 2 | 2 | 2 | 2 | 1 |
| Queueing time from parking the car to enter the store (up to 3) | 0 | 3 | 0 | 2 | 0 |
| Feedback (up to 2) | 2 | 2 | 2 | 0 | 2 |
| | Car park was not busy therefore it was easy to find a space and easily park. All side parking spaces were dedicted for queueing customers. Just before enetering the store there were foyers available with a spray to clean the trolley. 2 members managing the queue were suffciant ( one by entrance and one by exit) | I was greeted by a very friendly security guard who told me I could go straight into the store and didn't have to queue. However, there were clear red lines painted on the ground 2 metres apart outside leading up to the entrance, in case of a need to queue. Upon entering, I was handed a disposable cloth with sanitising spray on it to wipe my trolley handle by an equally friendly and smiley store staff member. One door was being used as the entrance and the other as an exit, with clear signage to indicate which was which. | Customers were using one door for entry and another door for exit with both doors manned by staff who instructed you to enter in accordance with the number of customers leaving. | Trolleys were already sanitised and actually inside the store. | Friendly staff throughout. Good social distancing No sprays for cleaning the trolleys that I noticed |
| Store standards (20) | 17 | 17 | 13 | 20 | 16 |
| First impression (up to 5) | 4 | 5 | 4 | 5 | 3 |
| Feedback | Very calm atmosphere with a lot of staff members available. Well managed store in terms of the crowd. Staff willingness to help and being aware of what is happening around them made a huge impression on me. | There were more staff than usual on the shop floor helping to maintain order. The shop was fairly busy at the time I went (I entered the store at 16:14), and store staff were encouraging customers to be respectful of each other and keep 2 metres apart. | The store was dimly lit with the clothing range on one side and the flower stall on the other side. This guided staff straight to the vegetable area of the store without deviation. I did not notice wipes or hand sanitizers in the store although the check out staff were using them after each customer. | Well organised. A one way system in operation. | All staff seemed to be in good humour and very aware of social distancing in a friendly manner |
| Displays (up to 3) | 2 | 2 | 1 | 3 | 2 |
| Display feedback | Apart from seasonal flowers there were no particular seasonal displays noticable, however all the products on the shelves were displayed neatly. | I didn't notice anything which particularly caught my eye in this area. I did notice that there were a lot of multi-packs of beer at the front of the store, and promotions on snacking items such as crisps. | No. I didn't see any of the above. | Plenty of food suggestions and offers. | There were well presented displays |
| Availability and replenishment (up to 5) | 4 | 5 | 1 | 5 | 4 |
| Feedback | Depending on the section some had empty shelves, with empty boxes left on them, however staff memebers were busy replenishing them. | The majority of aisles in the store were very neat, tidy and well-stocked. Areas which weren't fully stocked were, unsurprisingly, things like the baking aisle, which had no flour aside from a couple of 30kg industrial-sized bags of plain flour. The sugar shelves were also almost completely bare, and there were a couple of bags of sugar which had been split open. This wasn't being attended to by staff at the time I was there. The kitchen role aisle was looking bare, although toilet roll (which had previously experienced supply shortages) was well-stocked. The area of the shelf usually containing hand-wash was completely bare and wasn't being restocked as all products were out of stock. I did see a couple of instances of staff restocking shelves very efficiently and quickly, particularly in the bread aisle. | I am taking one as low in this instance. The shelves were bare of basic essentials all across the store. The staff were replenishing shelves but not with essential items such as bread or eggs. | Staff busy on most sections replenishing stock. | The products were reasonable well stocked and there was enough availability of products that have recently been out of stock on a regular basis like flour. Staff were on the shop floor restocking products as I went around. |
| Obstructions (up to 3) | 3 | 3 | 3 | 3 | 3 |
| Spillages (up to 2) | 2 | 0 | 2 | 2 | 2 |
| Condition of the store in terms of cleanliness (up to 2) | 2 | 2 | 2 | 2 | 2 |
| Store layout (10) | 10 | 10 | 7 | 8 | 10 |
| Did the store layout seem logical and intuitive? (up to 2) | 2 | 2 | 2 | 2 | 2 |
| Was it easy to navigate the store while also feeling safe? (up to 6) | 6 | 6 | 4 | 6 | 6 |
| Were there any click & collect services available at the store and were they operating effectively? (up to 2) | 2 | 2 | 1 | 0 | 2 |
| Shop Floor Service (20) | 14 | 19 | 17 | 19 | 12 |
| Product location (up to 5) | 3 | 5 | 5 | 5 | 5 |
| Staff politness/responsiveness (up to 5) | 5 | 5 | 5 | 5 | 4 |
| Feedback | All staff memebers were attentive, calm, helpful. Dispite being occupied with stocking the shelves they still paid attention to what was happening arounfd them. | I asked a member of store staff in the bread section whether she knew if there were any bake-at-home rolls. She was very friendly and told me they didn't have any in stock at the moment. She was unsure when they would be back in stock and said they were one of the few things which wasn't arriving in deliveries. | I only spoke to two members of staff plus the check out assistant. Staff appeared to be coping under difficult circumstances but couldn't say when things would be back in stock. | Asked a couple of members of staff who were nearby and they were very helpful. | All staff throughout the store were very friendly, they made eye contact, smiled and were very polite when I engaged with them either when asking them a question or at the tills. |
| Was it easy to find a member of staff (up to 3) | 2 | 3 | 3 | 3 | 0 |
| Were staff easy to identify through their uniform or name badges (up to 2) | 2 | 2 | 0 | 2 | 2 |
| Staff presentation (up to 5) | 2 | 2 | 2 | 2 | 1 |
| Feedback | In terms of the shop floor assistance this was the best experience. It was easy to find them, they were presented neatly, very responsive and helpful. | I was very impressed by the friendliness and availability of the staff working in this store. All of those whom I encountered were extremely smiley. One member of staff, in particular, went out of his way to take my trolley back at the end when I'd unloaded my shopping into my car. Staff all looked very neat, were easily identifiable, and seemed very eager to help. | I did not see any staff using face masks. | Very impressed again by staff members attitudes to the situation. | 0 |
| Tills and checkouts (20) | 20 | 15 | 17 | 20 | 17 |
| How well managed were the queues leading up to the till-operated checkouts in terms of maintaining order and social distancing? (up to 2) | 2 | 2 | 2 | 2 | 2 |
| How well managed were the queues leading up to the self-service checkouts in terms of maintaining order and social distancing? (Please observe after you've completed your shop, and include observations around attentiveness to customers requiring help due to flashing lights/unattended items in bagging area) (up to 2) | 2 | 2 | 2 | 2 | 2 |
| How long did it take to queue (prior to scanning) (up to 4) | 4 | 2 | 4 | 4 | 4 |
| Please rate checkout staff on their customer service and safety (up to 7) | 7 | 4 | 5 | 7 | 5 |
| Time for G33 items to be scanned (including payment) (up to 3) | 3 | 3 | 2 | 3 | 2 |
| Was the till receipt free of mistakes? (up to 2) | 2 | 2 | 2 | 2 | 2 |
| Feedback - please provide any further details/feedback on the tills and checkout: | The queues were very short for both tills and self checkout ones and were moving super quick. The till lady was very cheerful and friendly and very polite. She waited until the previous customer was ready to go and then started to serve me. | Queues for both self checkouts and serviced tills were very long, but the queues were managed in a safe and efficient way, with social distancing measures in place and upheld at all times. When a customer reached the front of the queue, he/she was directed to a till by a member of store staff who's sole job was to do this - making the process extra efficient. | The checkout assistant cleaned the bagging area with disinfectant and wipes after each customer. Only 4 checkouts were open with staff directing people towards self checkout | Very pleasant young lady chatted to me while putting my shopping through the till. | n/a |
| Availability score (20) | 15 | 5 | 3 | 18 | 17 |
| Of the 33 items on your shopping list how many were: | | | | | |
| Available (up to 20) | 30 | 25 | 23 | 32 | 31 |
| Out of stock (-2 per item) | 2 | 7 | 7 | 1 | 1 |
| Not stocked (-1 per item) | 1 | 1 | 3 | 0 | 1 |
| Availability % | 93.8 | 78.1 | 76.7 | 97.0 | 96.9 |
| Please note down the items on your shopping list that were out of stock (please highlight the products that have managed to get a satisfactory substitutions) | OOS- raspberries ( bought strawberries instead) & OL white wraps - no subs, | Morrisons red onions (3-pack) - I bought a larger pack of smaller red onions Morrisons "The Best" white potatoes - I bought standard own-brand white potatoes Morrisons Wholefoods pumpkin seeds (100g) - I bought a 300g bag Morrisons basmati rice (1kg) - I bought a 500g bag McDougalls self-raising flour (1.1kg) - no substitute Silver Spoon icing sugar (1kg) - no substitute Morrisons Bake-at-Home petit pains - no substitute | Courgettes, Mixed peppers, lamb half shoulder, frozen peas, pitta bread, 12 woodland free range eggs | Chopped Tomatoes | Ribs for Lambs lettuce – Ribs were out of stock |
| Please note down the items on your shopping list that were not stocked (please highlight the products that have managed to get a satisfactory substitutions) | McDougalls plain flour-no subs | KTC red lentils - I bought Morrisons own-brand | Irn Bru x 4 Cadbury giant chocolate buttons 240g Gallo Arborio rice 500g | 0 | Plain flour for kitchen roll – they didn't have the one I wanted |
| Please give any other details or info about your shopping trip, good or bad | It was an extremely pleasant and enjoyable shopping experience. Buying a parking ticket is no longer required (I would be surprised if it was still the case). The queue was moving fast enough, the shoppers were respecting one another's space, staff were following all the restrictions and managing new procedures very well. They were smiley, helpful, aware, responsive and caring. The check out lady was very friendly and happy looking. There were plenty products to choose from and certainly did not feel like the wold is going though difficult times. Staff were dotted everywhere and were easy to find. Thanks to the well managed queues, spacious and not crowded aisles made the shopping quick easy and super pleasant. | There isn't anything bad to say about my trip to Morrisons Crowborough. I thought staff were doing an amazing job at a really challenging and worrying time, helping customers with smiles on their faces, replenishing shelves quickly and efficiently and maintaining distance from customers, giving excellent direction on where and how to queue. The atmosphere in the store was upbeat and friendly despite it being fairly busy at the time I went. I was surprised that so many of the products on my list were available or at least had suitable substitutes. The only things I weren't able to get were the flour, icing sugar and bake-at-home rolls - staff members I asked were unsure when these items would be back in stock. All in all a very successful trip. | There shelves were bare especially fruit, veg, eggs and bread. | Very good. Very surprised how easy it was. A very interesting shop. | Some items on my original list were substituted. |
| TOTAL SCORE (100) | 83 | 76 | 64 | 92 | 77 |