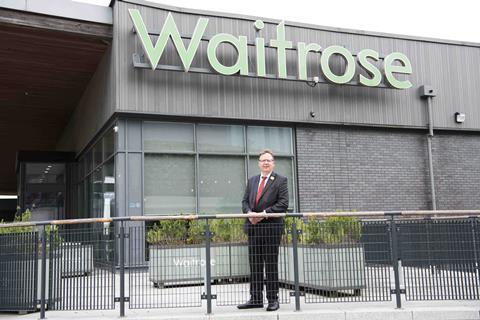 Winner: Waitrose Bracknell
Manager: Graham Oakley
Opened: 2001
Size: 25,000 sq ft
Market share: 7.6%
Nearest rivals: Morrisons – 0.5 miles, Tesco – 2.2 miles, Sainsbury's – 3.0 miles, Asda – 10.1 miles
Store data source: Analysis by CACI
Call the market planning group on 020 7602 6000
You last won over a year ago in the early stages of the pandemic. How have you coped since then? We have coped really well, supported by the rest of the business, our community and our customers in terms of shopping in a different way and abiding by government restrictions so that everyone feels safe. The biggest tribute I'd like to pay is to my 180 partners who work in the branch. Every one of them has really responded to working in a different way, being flexible when needed, and keeping customers and each other safe – physically and mentally. It's like a big family and we've really grown close to make sure we deliver for our customers and look after each other.
What shifts in consumer habits have you noticed the past year? What I've noticed is that people are shopping maybe two or three times a week rather than six or seven times a week, so they are buying more when they come in. There's been a big shift away from lunchtime trade since customers are working from home, and customers have chosen to shop online and just come and collect their goods rather than spend a lot of time in store like they used to.
What challenges have you faced in terms of availability linked to both Covid and Brexit? Fortunately, customers are not panic buying any more, they are quite confident in terms of our availability. One of the biggest challenges is around things like petfood – the suppliers have struggled to keep up with demand but our buyers and our supply chain have done a first-class job. I think supermarkets in general have done a really good job in terms of maintaining supply.
What has been the impact of the reopening of pubs and restaurants? Although pubs and restaurants have reopened, we haven't noticed a significant change in terms of people coming in to buy what they need. They are probably going out to restaurants as a bit of a treat but they've still got the rest of the time to spend with family and friends.
You must be glad to finally see some signs of summer. What impact is that having on buying habits and ranging? Consumer habits have changed along with the hot weather – people are really into dining outside at home within restrictions. We have a new range called the Levantine Range inspired by the Levant regions of the Middle East and it encourages our customers to eat in more of a mezze style. That's been really popular so far and over the last month particularly. We also just put out our Delights for the Summer display, which is all about fresh fruits and providing new inspiring ideas for customers to continue eating outside.
With your store being so close to Waitrose head office, do you get many visits from the top brass? I think that an important part of running a successful business is for everyone to understand what is going on at both ends. Our shop is a really good place for the people who work in our head office to see what's happening on the shop floor and collaborate with us.