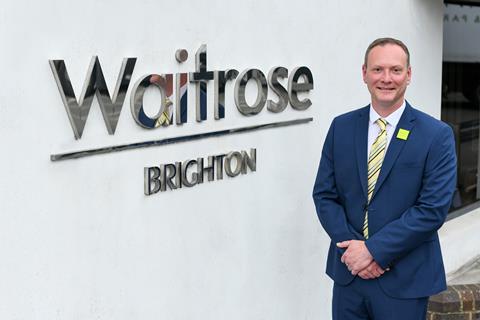 Winning store: Waitrose - Brighton
Store manager: Duncan Waller
Town/city: Brighton
Population: 293,000
Spend per person: £26.19 (National average £26.90)
Supermarkets: 15
Sainsbury's 3, Aldi 3, Tesco 2, Asda 2, Waitrose 2, Lidl 2, Morrisons 1
Convenience stores: 323
Independents 211, Co-op 25, Premier 18, Londis 11, Tesco Express 9, Sainsbury's Local 8, Budgens 7, Marks & Spencer 7, Family Shopper 2, Iceland 2, Nisa 2, Shell Select 2, Spar 2
Source: CACI. For more info visit www.caci.co.uk/contact. Notes: Shopper profiling is measured using Grocery Acorn shopper segmentation. Store catchment data (market share, population, expenditure, spend by household, competition) is within a five-mile radius.
For CACI's shopper segmentation of the other stores we visited this week see the online report at www.thegrocer.co.uk/stores/the-grocer-33
Tell us about the store you work in and how long have you been in the role? The store opened in 1966. It's a high street store in the centre of Brighton. I've worked for Waitrose for 19 years, and have run this store for 12 years now.
How has Brighton changed since you joined? I think Brighton is always evolving, it's a great city. It's vibrant, it's cosmopolitan. I think in terms of culture it's different to the surrounding areas. Brighton is an eclectic mix of people that come together to enjoy life.
How do you ensure you cater to the local community? We don't have an 'average' customer that would come through our doors because of our location and just the city itself, which always makes it an interesting store to run. So our focus is around service. We recruit from the local area and we have a really diverse group of partners that reflect the demographics of where we are. All our partners have a passion about service and the products we sell. Many of our partners live within walking distance and the others live a short bus ride away.
What are the challenges of running a supermarket in a tourist destination? Footfall is generally higher than the out of town stores anyway. We see many faces on a weekly basis, but as a holiday destination we have lots of visitors across the year who bring additional trade, people who might not know the layout of the stores. There's an event virtually every week in the summer. This means lots of customer interactions, which gives partners the opportunity to deliver great service.
How did you celebrate Brighton Pride this summer? Pride was obviously slightly challenged by the rail issues, so not as many people could come into the city and the weather was not great this year, but we did see people were having a great time, even if sometimes a little damp. With road closures, we tend not to have so many weekly shops, but instead shopping from people going to the event. food to go becomes a big instance for us as well as the opportunity to serve people who want to remain hydrated.
What's happening in the store this week? Trade has been good. We just last night finished a deal with 25% off six bottles of wine that went really well. And today we launched our £5 meal deal, which is our first lunch meal deal. We've had some really positive feedback from customers today on this. They are really enjoying the variety – and the value of course.
And what's your meal deal favourite? I like a steak sandwich, coupled with water to be honest – I'm fairly boring – and a Tony's chocolate bar.
What's coming up for you in store? Brighton has a lot of university students who will be returning to the city over the next few weeks. We're probably going to see a real pick up in some of those Essential lines, which are always really popular with students.
Availability was a little low this week, with three out-of-stocks. Given it was a Friday night is there anything you can do or do you just go with the flow? We work hard with availability all the time, and it's generally been good for us, no major issues. But sometimes with the volatility and the customer turnover we have we may not keep pace.