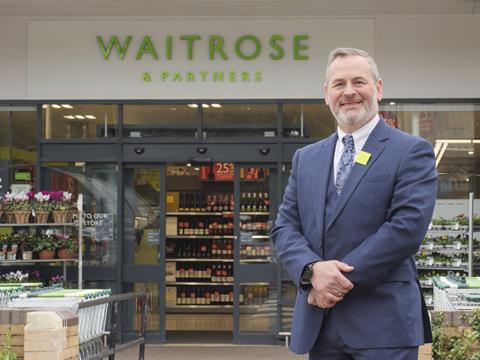 Store: Waitrose Hexham
Store manager: Richard Bevens
Opened: 2006
Size: 17,958 sq ft
Market share: 17.98%
Population: 21,646
Grocery spend: £587,238.53
Spend by household: £60.55
Competitors: 7
Nearest rivals: Aldi 0.2 miles, Asda 15.2 miles, Co-op 0.6 miles, Iceland 0.2 miles, Lidl 13.9 miles, M&S 0.2 miles, Morrisons 12.2 miles, Sainsbury's 13.3 miles, Tesco 0.0 miles, Waitrose 15.1 miles
Source: CACI. For more info visit www.caci.co.uk/contact. Notes: Shopper profiling is measured using Grocery Acorn shopper segmentation. Store catchment data (market share, population, expenditure, spend by household, competition) is within a five-mile radius.
For CACI's shopper segmentation of the other stores we visited this week see the online report at www.thegrocer.co.uk/stores/the-grocer-33
This is your second Grocer 33 win in the past year as a store manager. Where were you before? I was previously at Ponteland. The last time I spoke to The Grocer we had just won the mystery shopping competition in my final week as store manager. An opportunity came up to come and run the Hexham branch, and I was delighted to take that. I've been here since mid-February.
What's the key to your success? I think my approach at Ponteland has been very similar to my approach at Hexham. It's about getting the best out of the team. I'll spend quite a bit of time talking to customers, trying to find out what they are shopping for and what their experience is. I really make sure I'm working in that coaching space when it comes to the partners. The knowledge is there within the team, it just needs to be coached out and developed.
Have you seen an improvement in the store since you joined? It's performing really well on all of the key performance metrics that we measure, including service. We're constantly at the top of our league tables for the service we deliver.
How do you measure service internally? We've got two or three measures. In particular we have the 'have your say' service, where customers have the opportunity to go online after the shop and give feedback. As part of that they can recognise if they've had great service from an individual partner. We always make sure to go in and look at the commentary that's within that. We make sure we reward and recognise any instance of great service.
What are your customers like? We've got a bit of a mixture of customers here. We have traditional family shoppers, but we also have a lot of people travelling through. We get a lot of people coming in who want a bit more convenience, who will shop the No.1 range and meals for tonight. That's one of the things I really love about Hexham – our partners have recognised these two groups and do a great job at making sure those ranges are kept on sale, ticketed and have the correct barcode and point of sale.
Can you tell me a bit more about Hexham itself? It's a traditional market town, so we get a lot of people who travel into Hexham for that traditional shopping experience. We have exceptional service counters here: meat, fish, dry-aged beef, a big deli and a bakery. So we get customers who come in specifically for those foods they can't get in many places nowadays.
Are you seeing shoppers buying into Christmas earlier this year? We're seeing a lot of customers buying into the range, particularly when it comes to bakery and sweet indulgent treat lines. Whenever people are conscious of spending, people want to spread the cost more. And there are some great products in the range. I know personally I've always got the good intention to stock up on mince pies early, but they get eaten by the end of the week!
What particular Christmas products are you looking forward to this year? I think we have some absolutely fantastic desserts. And I'm a big fan of mince pies – I'm always intrigued about what the new type of mince pie is. But I'm also a traditionalist, I try the new ones but always go back to the Duchy old butter ones.