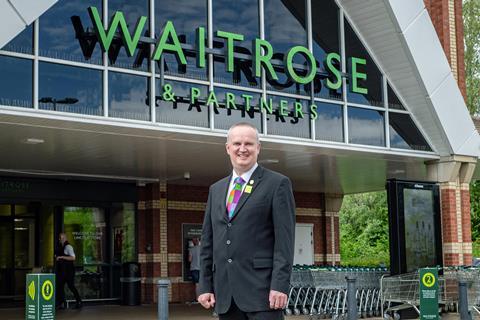 Store: Waitrose, Lincoln
Store manager: Steve Ward
Opened: 2005
Size: 37,500 sq ft
Market share: 14.7%
Nearest rivals: Asda - 0.6 miles, Tesco - 1.2 miles, Sainsbury's - 2.6 miles, Morrisons - 3.2 miles
Store data source: Analysis by CACI. Call the market planning group on 020 7602 6000
How do the past eight weeks compare with other challenges throughout your career? It's been 31 years since I joined Waitrose, and I've been a store manager for 13 years, six of those in Lincoln, so I've seen a lot of change, but there has been so much change consolidated in just the past eight or nine weeks. You come in one day and introduce one thing and then the next day you are implementing something new. It requires a lot of thinking on your feet - and we've had a lot of empowerment and trust from above. We have had really clear direction in terms of the health advice and the way the business wants to go, as well as a lot of freedom to do what is best for our partners and our customers locally.

Has the Future Leadership plan been a distraction? A lot of that was going on behind the scenes. The new chairman has hit the ground running. Sharon has arguably had more courageous decisions to make than all her predecessors combined. She has been really open, personable and clear about engaging partners.

James Bailey is the new head of Waitrose. Has anything changed in the past two weeks yet? In terms of reporting to the board, w We still sit under the customer service executive director, so we are not necessarily going to see any direct changes as a result of James' appointment in the short term. But what I have seen is that he is really highly regarded in terms of the industry and comes with has great experience from Sainsbury's. Our chairman is no fool and she is surrounding herself with people who will help the partnership change in the way we need to navigate the challenges over the next five years. It is really exciting to have someone with so much retail experience come in to add to the board.

Our mystery shopper said she felt safe in the store. How have you managed this? There has been clear strategy on social distancing from the board on this from the start. Government guidelines have been at the heart of it and the most important concern is protecting partners and customers, but the partnership has been on the front foot. We were the first to implement checkout marshals and queue management marshals outside. We have also assessed what is right for our store in Lincoln. listening to feedback from partners and customers, as well as making my own judgements about how to make it work. The priority is always safety, but we want to make it the best customer experience possible as well. Customers realise we are all in this together and the more we work together and help each other, the quicker and healthier we'll come out the other side. And feedback from customers has been they feel safer in our store than in those of some of our nearby rivals.

Have the safety measures driven more footfall into your store at the expense of rivals? Definitely. What we have seen is customers talking to friends and family, sharing their experience in our store. We've had numerous customers come in who haven't visited before, telling us they had a fantastic, calm and safe experience, with friendly staff, and they would return. We have a very clear system on the door and in the store. And I have fantastic partners who we have empowered and spent time with for them to take ownership of the customer experience and managing the distancing. If they need to stop work and stand at the end of an aisle to tell customers to wait while an area clear, every partner has that ability to keep everyone safe.

How is staff morale? It has been a great team effort across the board, and they have really responded to the challenge. They have a fighting spirit and have wanted to come to work and do the best for customers. I couldn't praise them enough; they have been magnificent. They have been supported as well with partners from John Lewis Nottingham, who have settled in as if they have worked in food stores all their life. I've been very proud of my team.

What changes in shopping habits during lockdown have you noticed most? Our basket size has grown quite significantly during the past eight weeks. Customers have definitely been buying a lot more ingredients to cook from scratch at home, particularly home baking. Customers are actually starting to browse again, which hasn't happened since the start of the outbreak. They are now spending slightly more time shopping and seeing what is available on the shelf, choosing what they want rather than picking up the first thing they see.

How have you used gondola ends for innovative displays? All the plans are back to business as usual now and led by head office. We are back to full spec in terms of promotions running on gondola ends now. There are still less promotions in the aisles, but they are coming back slowly.

What's been the reaction to the relaunch of the Essential own-label range? It is early days but the messaging about the improvement in the packaging, which is better for the environment, has been well-received by customers. It tastes great and I would challenge anybody to compare it with other own-label products; it will stack up against any competitor. I'm seeing myself move to more essential lines. When availability was stretched at the start of the crisis, I bought essential ketchup with Heinz out of stock and it tasted just as good.

Is the new Scrumptious Summer range selling well with the good weather? We are in year two of the range now, and customers are coming in to look for some of their favourite products from last year. It is a bit of fun and something a little bit different for the summer that fits in terms of the weather and outdoor eating.