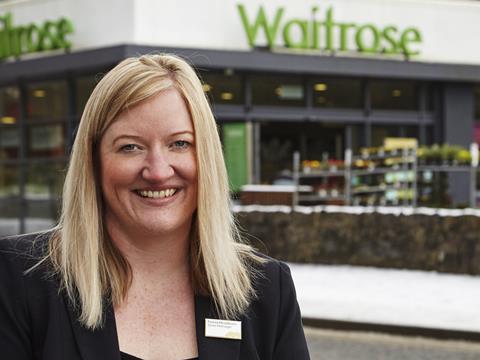 Tell us about you and your store. I've been branch manager here for four years this Easter. The store used to be a Co-op. It's a fantastic team, and working with all the partners to deliver really great service to the local community makes me proud. I'm made up we won. We are a small branch in Anglesey so really proud. It's brilliant.
Winner: Waitrose Menai Bridge, Anglesey
Store manager: Fiona McWilliam
Opened: March 2013
Size: 11,000 sq ft
Market share: 13.5%
Nearest rivals: Tesco - 1.3 miles; Morrisons - 1.3 miles; Asda - 2.4 miles; Sainsbury's - 36.5 miles
Store data source: Analysis by CACI. Call the market planning group on 020 7602 6000
What is your relationship like with your team? Really close. I have about 120 partners in the team. I'm a hands-on manager so I like to be downstairs working with them. I am nurturing. We are lucky here - we have a really great team that work hard to deliver the best possible customer experience. We have performance-related pay and we have a really structured career development path.

The Pick Your Own Offers programme has been disbanded. How will you handle that? We're going to be contacting all myWaitrose members this week to see how they can make savings more easily on the products they buy most often from us. I'm not sure how it will work. I haven't got the details yet. We are constantly looking at how to make things easier for the customer. I don't think customers found Pick Your Own Offers confusing, we are just constantly evolving to get offers that are easier for customers to use. We've recently lowered all the prices of essential products while highlighting the quality.

Three Waitroses are trialling yoga for customers in the evening. Would that work for your store? We don't have the space. The branches that are trialling it have community rooms or larger cafés. I'm sure there are other things we can do that will entice customers to come in. We are doing a lot on healthy eating this year.

How's the Good Health label gone down? Really well. It's about making it simple for customers to understand and make healthier and more informed choices. We've had it in store for a couple of weeks.