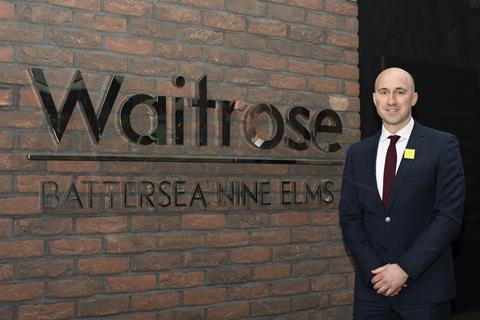 Winner: Waitrose Nine Elms, Battersea
Store manager: Dominic Korobowicz
Size: 18,000 sq ft
Opened: 2015
Market share: 4.1%
Nearest rivals: Tesco – 1.2 miles, Sainsbury's – 1.3 miles, Asda – 2.5 miles, Morrisons – 2.7 miles
Store data source: Analysis by CACI.
Call the market planning group on 020 7602 6000
Was love in the air as normal for Valentine's last weekend? It actually went really well. Our shoppers are purchasing a lot of food and drink gifts and our unique premium own-label products for special occasions at the moment. We sold a lot of our Dine In for Two deal, scratch cooking items, indoor plants and fresh flowers this year. Our meat and fish service counters and alcohol range are doing great sales as well. I'd say that's because people are missing eating out at restaurants and visiting pubs, and essential retailers like supermarkets continue to benefit from their closure. Small Easter items such as Crème Eggs are already getting popular as impulse buys.
Has it been a challenge maintaining strong stock levels? Our trade is very strong right now, so the night and day teams work to keep shelves consistently well stocked for all customers. Absences have fluctuated over the last year, so we've planned accordingly to overcome that. We've welcomed around 30 partners from John Lewis on London's Oxford Street, the Peter Jones store in Sloane Square and the Waitrose on King's Road, Chelsea that's closed temporarily for a refurbishment, which has really helped when we've had particularly high levels [of absence].
How is the in-store Covid-19 testing system for partners going? It's going really well. We've been offering testing for a couple of months and the team makes good use of it. Testing really helps to keep us productive and reassures both customers and partners that we can all come to the store and be safe. Partners can be also confident in the fact that they aren't unwittingly spreading coronavirus to their households.
How do you reward the team for standout customer service? I always want to make a point of rewarding partners when they've gone above and beyond. For instance, we chose our partner of the year last week, alongside four runners-up. Everyone has done a stellar job so it was difficult to choose just five. The winners got a small gift such as flowers or their favourite cooking ingredients. Employees are such an important part of the community and I think that's starting to be recognised. Employees continue to be enthusiastic despite the ongoing challenges coronavirus presents and we continue to get plenty of positive comments from customers on a daily basis about how good our service is and how safe they feel in our store in comparison to other local supermarkets.
How have you kept up with the big surge in demand for online shopping? We had to introduce a click & collect service last year to ensure we reach as many customers as possible. Shoppers love the element of not having to go into the store to get their grocery shopping done. It is now well used every day and runs alongside our traditional deliveries and rapid delivery service. It'll be interesting to see how we can grow our online side even more in the future as e-commerce goes from strength to strength.