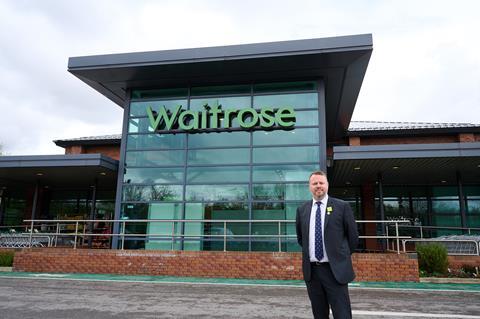 Winner: Waitrose Preston
Store manager: Frank Young
Size: 26,000 sq ft
Opened: 2012
Market share: 4.8%
Nearest rivals: Morrisons – 2.2 miles, Sainsbury's – 2.6 miles, Tesco – 3.9 miles, Asda – 4.3 miles
Store data source: Analysis by CACI.
Call the market planning group on 020 7602 6000
How have you and your team coped during the pandemic?
It's been a really interesting year to say the least. But I think the team have all responded brilliantly. They have been resilient and pragmatic in their focus on keeping the store running while ensuring they stick to all the Covid security measures. I think this is reflected in the strong customer satisfaction scores we are getting. We made sure we celebrated their achievements a few weeks ago – we gave all staff a personal thank you card to recognise the great work they had done over the past 12 months.
You took over at the store in November. How was it starting in the middle of a pandemic?
In theory, it should have felt strange, meeting a completely new team behind masks and trying to build relationships while also adhering to social distancing measures. However, the team were incredibly welcoming and positive, much of which creates the excellent customer service the team delivers.
How has the pandemic changed shopper behaviour and the way you run the store?
It's been a massive change. Most notably a big increase in our online grocery sales. This really led us to change the way we operate. We are now focused on two completely separate customer journeys – those using home delivery and those coming into the store. We are focused on making sure both types of customers has a really good experience and we are almost running two distinct teams to cater for both. It is working really well and credit has to go to the night team that get the online shopping ready so it doesn't impact shoppers visiting the store.
Waitrose announced a major expansion of its Deliveroo partnership this week. Is this service coming to your store?
Yes, it was announced this morning so we don't have much detail on this, but it sounds really exciting. We are going live with it in June and it will be great to see how it performs.
It has been a challenging year in terms of availability. How is it now?
It is improving all the time. All retailers have had some issues like petfood at the start of the year, but that is coming back now. Wine was another category but that bounced back well too. There is still the odd little pocket around the store but we are doing a great job at store level too to ensure strong availability.
How are shoppers responding to the recent easing of lockdown restrictions?
We are certainly very grateful for the good weather we have been having lately. As you can imagine we are seeing strong sales of summer lines such as charcoal and other barbecue products. I expect we will also start seeing our horticulture lines picking up as well.
Speaking of which – is your café reopening soon?
The plan is to reopen it next month in line with the government guidelines. There will be a real focus on safety with restricted numbers and a more limited range but our partners who work in the café are really excited to be getting back in there and it will give the store a big lift overall.