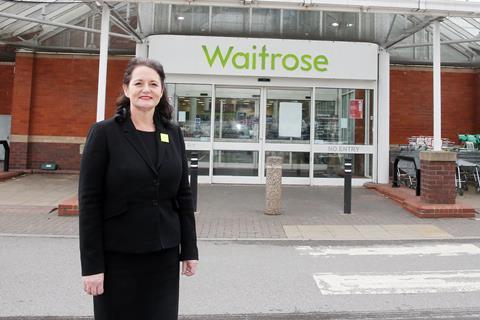 Store: Waitrose Sheffield
Store manager: Tracey Steele
Open: 2004
Size: 38,000 sq ft
Market share: 5.9%
Nearest rivals:
Sainsbury's – 0.9 miles
Asda – 1.2 miles
Tesco – 1.9 miles
Morrisons – 2 miles
Store data source: Analysis by CACI.
Call the market planning group on 020 7602 6000
Availability was hit a little this week. What was that down to? It was a combination of coming out of really busy week with Father's Day and a change in the weather from the mini heatwave. And this mystery shop coincided with a particularly busy Friday evening. There is starting to be a small change in trading patterns as customers return to work, with the evenings getting busy again. That said, we had our best week on availability so far during lockdown last week And this week, we are even better again.
What other changes are you seeing to trading as lockdown eases? Mornings have definitely become quieter. It hasn't gone back completely as we still see shoppers throughout the day, but there are signs that more people are back at work. We are also seeing more basket shops, although the change to fewer trips and bigger trolleys is still a dominant theme.
As social distancing guidance moves from two metres to 'one metre-plus' this weekend, are you making any changes in store? On Saturday, when it changes, we are sticking to two metres. We feel it is sensible and customers are quite reassured about safety.
How will you manage the different mentalities of customers who are happy with two metres and those who don't mind a change? It is an evolving situation, but our social distancing marshals have built up a good relationship with our customers as they queue outside. We also have our 'have your say' customer feedback. At the moment, people are still overwhelmingly in favour of sticking to the current measures in place.
Online orders have hit 150,000 a week. What has your store done to cope with that increase in demand? It has been a challenge with the unprecedented demand, and we have had to rise to that. But we have trebled our online capacity during the pandemic and increased click & collect availability five times. The team has been amazing. We've had John Lewis partners helping us to do the picking and drive vans.
Our mystery shopper was impressed with the shop floor staff working hard to restock but also being mindful of social distancing. How has that been maintained for three months? Service has always been a priority in the partnership, but the pandemic has brought out the best of the partners in that respect. All the partners are briefed on social distancing and being aware of it, as well as managing the customer flow and keeping them moving through the branch.
How is the mood in the business now you have a full board in place and a new executive director for Waitrose? It is really positive. We've had a lot of live executive streams where the board has kept us updated. Sharon has picked out the people she wants to lead the business and there is a lot of confidence in Sharon as our new chairman.
What were the bestselling lines last week during the mini heatwave? Our new barbecue summer range did very well, as did salads and soft fruits, such as strawberries. Rosé wine was also a bestseller.