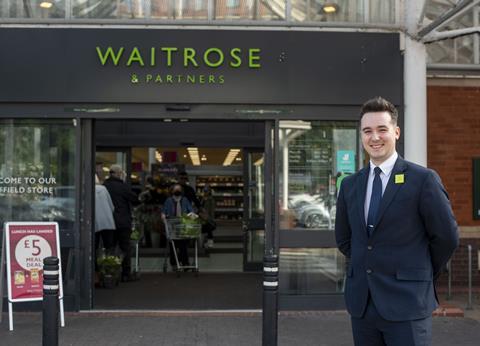 Store: Waitrose Sheffield
Dep. manager: Ash Mapletoft
Opened: 2004
Size: 30,000 sq ft
Market share: 5.55%
Population: 540,222
Grocery spend: £12,654,003.18
Spend by household: £56.90
Competitors: 101
Nearest rivals: Aldi 0.2 miles, Asda 0.7 miles, Co-op 0.6 miles, Iceland 0.5 miles, Lidl 1.1 miles, M&S 0.3 miles, Morrisons 0.9 miles, Sainsbury's 0.4 miles, Tesco 0.4 miles, Waitrose 9.1 miles
Source: CACI. For more info visit www.caci.co.uk/contact. Notes: Shopper profiling is measured using Grocery Acorn shopper segmentation. Store catchment data (market share, population, expenditure, spend by household, competition) is within a five-mile radius.
For CACI's shopper segmentation of the other stores we visited this week see the online report at www.thegrocer.co.uk/stores/the-grocer-33
What's Sheffield like to work in? What I love about Sheffield is that we have a really loyal customer base. Waitrose is a brand for everyone, but in Sheffield in particular you can really build a community. I have customers who shop with us every single week, some every day, and having worked here for 13 years you build those relationships. I can't walk across the shop floor without saying hello and interacting with five people.
Do you think having lived in Sheffield for so long makes you a better manager? Definitely. I think it helps me to be more empathetic. It helps me to relate to customer needs and habits. I might not be as well travelled in terms of other branches, but I am a specialist in what I do in Sheffield and I do think that helps me.
What's selling well in store at the moment? Our new £5 meal deal has been a massive hit. Because we're a city centre store, you get a lot of people coming in for lunch and they've been loving the meal deal.
How's the last week been for you? It's been business as usual really, with trade picking up, which is what we want as people go back to school and return from holidays. It's quite a nice feeling in store because everyone is in a good mood.
What do you think of the new price cuts announced by Waitrose this week? I think it's amazing. I think anything we can do to support customers is really important. The price cuts are on a further 250 everyday foods and help make things like roast dinners cheaper.
How much uptake do you have of the MyWaitrose card in store? I couldn't give specifics in terms of figures. What I can say is that people absolutely love the MyWaitrose card. We talk about it every day. When you're on the shop floor with customers, they're constantly inquiring about the benefits and how they can make the most of it.
What other conversations do you have with shoppers? We've had a refurbishment in the last two years. I get a lot of feedback from people saying the store is so much fresher, but things have moved around a bit – can you help me find this item? Where is it now? And so a lot of the conversations I'll have with people is about the improvements to the store.
Can you tell me a bit about the refurbishment? We made changes to our layout, and we have a new café. We expanded our online capabilities, which meant more space to deliver the online operation. But we also took this as an opportunity to refresh the building. We gave it a fresh lick of paint and rebalanced in terms of customer flow.
Did you add in more self-checkouts when you refurbished? Yes, we have more than twice as many self-checkouts as we had before. That was about making sure customers have the choice – we still offer the same face-to-face interactions on the checkout.
Has your online business maintained its volumes since the end of the pandemic? Our online business is really successful. Customers needed us more during Covid, but a lot of them have stuck with us. We have customers we know by name, they'll ring up and we'll be able to address them by name and build those connections. Our online operation since the pandemic has continued to grow and become stronger because of that.