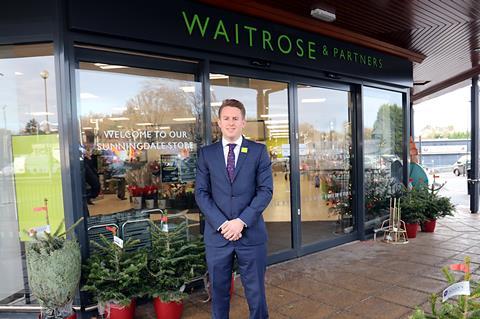 Winner: Waitrose Sunningdale
Store manager: Nicholas Unter
Size: 15,621 sq ft
Opened: 1988
Market share: 19.7%
Nearest rivals: Co-op - 3.5 miles, Tesco - 5.4 miles, Sainsbury's - 6.0 miles, Aldi - 7.3 miles
Store data source: Analysis by CACI. Call the market planning group on 020 7602 6000
You achieved full marks for shop floor service this week. How do you keep staff motivated? It is a smaller store and we have a more local, friendly atmosphere. As a business we try and empower and coach our staff to take responsibility and make decisions. From a service point of view, we encourage the staff to ensure they are there for the needs of the customer.

Our shopper noticed lots of staff on the shop floor. Have you taken on more for Black Friday and Christmas? We do start to ramp up the number of staff available at this time of year. However, that is usually during the latter stages of December. Ultimately, it is quite a small shop, with a good level of trade on a Saturday, so we need the bodies in the building to keep the shelves replenished and give the best service possible.

How difficult is it to get all the Christmas displays, products and promotions into a small store? Ultimately, we want to give the customers the best possible range they can get and balancing that with the need to have the space to move around freely. And we also have all the other services as well, such as a concession for dry cleaning and another for sushi. So, we aim to maximise the services and range we offer and make the best use of the space we have.

Was there an increase in footfall over Black Friday weekend? Having the ability for John Lewis customers to come into store for click & collect is a big footfall driver for us. There were plenty of John Lewis parcels being collected by customers this year.

Are customers as conscious of their environmental impact this Christmas as they are of price? I am a Waitrose customer myself and what is important to our customers is just as important to us as a business and, ultimately, to our suppliers. And while we have work to do, we are achieving the targets we have set. We just need to continue to focus on our environmental footprint.