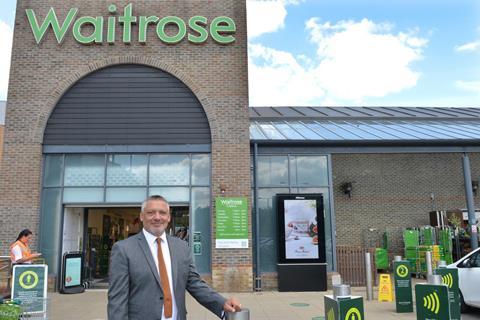 Store: Waitrose Tonbridge
Store manager: David Lane
Open: 2002
Size: 27,000 sq ft
Market share: 17%
Nearest rivals: Iceland – 0.2 miles, Sainsbury's – 0.3 miles, Asda – 4.9 miles, Tesco – 5.1 miles
Store data source: Analysis by CACI.
Call the market planning group on 020 7602 6000
Waitrose is selling designer face masks from the British Fashion Council. How are mask sales generally ahead of 24 July? Customers have been stocking up ahead of face coverings becoming compulsory. The Fashion Council masks have sold out, but we are getting more of those in this week.
How are you as a store preparing for Friday? We'll have marshals at the front of all of our stores, which we have had throughout to help with social distancing. They will be reminding every customer of the new requirement before they get inside the branch. It is not for the supermarkets and shops to enforce, but we will absolutely be reminding every customer they have to put a mask on.
And if a customer doesn't have a mask or refuses to wear one? At the moment, I'm waiting for more guidance, but we are not the law. We will try everything we possibly can, including providing masks if we have to. But I really don't envision there being a problem. Our customer base is really knowledgeable and reasonable.
Is shopping behaviour shifting back to smaller baskets as time moves on? There has been a slight change over the past two weeks in seeing customers more often, but it hasn't been as big as you might think. The trend of customers across the week is still pretty stable, although now you are seeing a bit more at the weekend as some people return to work.
Our mystery shopper found the staff chatty and friendly. How have you kept morale high throughout the crisis? All partners feel safe, which is the number one priority. And because they feel comfortable coming into work, they are able to go that extra distance for the customer.
Is online demand still remaining strong? Yes, it is. We have doubled our online capacity in branch. Demand is still really high, and we are still committed to 25% of all orders going to vulnerable customers. Click & collect is also just as popular as home delivery. And it is still growing and has not tailed off.
Have you noticed shoppers veering more towards premium own label and brands during lockdown or towards the Essential range? We are seeing customers looking to treat themselves at home. Our premium lines are stronger than ever because customers are looking for a different eating and drinking experience. And I think that is going to stick. Once you are cooking more and you've tried out certain products, it is hard to go back.
Waitrose is expanding its vegan and veggie ranges. Have you noticed a boost in store yet? Individual SKUs hit different branches at different times. But the vegan and veggie ranges are growing exponentially all the time, as an area and compared with other products.
What is the latest on availability? It is very close to pre-lockdown. In the main, it is a real credit to the partners in the branch and the passion they have in keeping the shop at a really great standard.