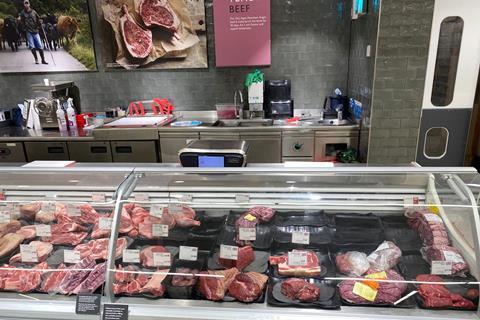 Waitrose claimed a fourth store of the week title in the first five weeks of the current Grocer 33 year – as the driver crisis, staff shortages and the build-up to the final of Euro 2020 delivered a perfect storm for our retailers in this Sunday lunchtime shop.
Our winner was Waitrose in Yateley, Hampshire, a 15,000 sq ft store, which notched up a score of 70 – a long way clear of its rivals, none of whom managed to pass the 50 mark.
Our shopper enjoyed her trip and found it clean and tidy. There was a leak in the ceiling near the alcohol section but it was well cordoned off with buckets underneath.
There were plenty of staff on hand when she needed them and they all proved "very helpful and friendly".
Availability was the area where the store struggled most, with four out of stocks and one not-stocked item. The fish counter in particularly did not have much stock although the meat and deli counters had plenty of choice. Our shopper also spotted a number of gaps on shelves and a lot of products reduced to clear.
This week was an all-organic shopping list, which added to the challenge for stores, with ranging a factor. Take Tesco Woolton in Liverpool. It was the only store without any out of stocks, but there were 10 not-stocked items.
Also contributing to a low score was a "fraught atmosphere", which our shopper felt was due to the store being busy with insufficient staffing.
An argument erupted between two customers in the checkout queue behind our shopper as one had tried to jump the queue. This was observed by a staff member nearby who did not intervene.
Our shopper also overheard customers complaining over the lack of staff at the customer service desk and even one staff member moaning to a colleague about a customer. "People were not happy," she said.
Asda's North Hykeham store in Lincolnshire was one point further back on 44 and similarly our shopper was "relieved to get the shop over with".
He found the experience stressful as the store felt overcrowded. This was not helped by narrow aisles (despite its 54,000 sq ft footprint) and a lot of restocking trolleys blocking the way. There was no one controlling customer numbers at the entrance.
This was one of the better stores in terms of availability this week, with just one out of stock and six not-stocked lines.
Staff however were "a mixed bag". A couple of staff members went out of their way to be helpful but there were a number of staff who our shopper felt "could not be bothered". He ultimately said he would "not choose to shop there again".
The worst availability this week was at Sainsbury's Sherbourne. Our shopper came home with just 21 items as a result of six out of stocks and six not-stocked lines. The fruit & veg section seemed to have been particularly badly hit.
The store scored just 38 points overall. It was clean and tidy but our shopper did not find it "warm and inviting" and said she found the aisles tight and difficult to negotiate. She was further hampered by staff restocking the shelves.
Bottom of the class this week was Morrisons in West Kirby with just 36 points. Again, availability was a big factor and our shopper "found the experience stressful".
There were five out of stocks and six not-stocked items. She found the layout confusing and had to backtrack several times to look for items. Staff were pleasant but did not go to much trouble to help find items and our shopper felt she was left to her own devices.
She noticed a number of leaks and spillages. The store was busy and there were also a number of restocking trolleys blocking the way as she made her way round.