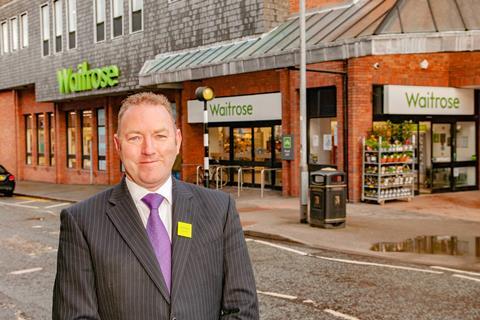 Winner: Waitrose Wilmslow
Store manager: Andrew Cartwright
Opened: 2006
Size: 22,600 sq ft
Market share: 15.5%
Nearest rivals: Lidl - 1.2 miles, Morrisons - 1.7 miles, Sainsbury's - 2.2 miles
Store data source: Analysis by CACI. Call the market planning group on 020 7602 6000
What separates Waitrose from other supermarkets? You have more autonomy, responsibility and ownership. You can put your own slant on group initiatives. There is no one branch of Waitrose that is the same. And the Wilmslow branch is known for its availability and service.

How do you deliver top service? I've been in retail for 30 years and it has always been about service. I instil in my managers and staff that every customer is different and to deal with each of them with that in mind.

How do you stay on top of availability? The filling is all done on nights and that allows the day shift to focus on stock accuracy. If your warehouse is in good order then you can manage availability far better.

How is online growth in the region? The focus coming into this year was to make sure we are set up properly. We had a great Christmas, with most branches in double-digit growth - if not 20% in a number of cases, especially in the north. The business is now looking at investment in those branches to ask 'what can we do to drive that growth even further?'.

Food waste is still rising in retail. What is being done on this? We work with FareShare to deal with any waste products at the end of the night. Wastage in most branches, and definitely here, has reduced dramatically. And because we have got stock management right it controls wastage far better.

How has Veganuary played into January sales? We are seeing a 60%-70% increase year on year for vegan products. It has just gone through the roof. We have extended the shelf space for the category and the range because it is what the customers want.

Sharon White officially starts as chairman next week. How has the management restructure been felt at store level? Sharon coming in is going to bring a different outlook for the business. And a more combined pan-partnership with John Lewis is only going to make the brand even better.