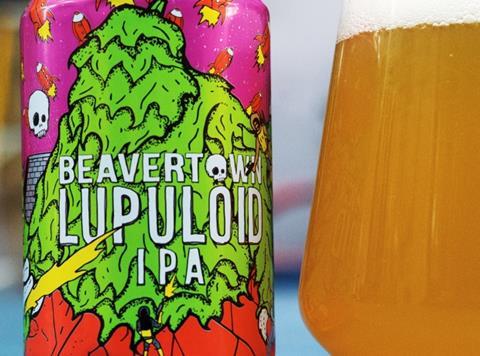 You can almost taste the salty tears of Britain's craft beer elitists. According to news reports, London's much-loved Beavertown Brewery is set to sell a 49% stake to Heineken. For some of Beavertown's more ardently anti-big brewing fanbase, this would be the killing of a sacred cow indeed.
Of course, none of this is confirmed. Both parties have written the reports off as speculation. But the 49% stake fits Heineken's modus operandi when it comes to craft acquisitions (it took a similar-sized chunk out of Lagunitas in 2015 before taking full control last year, and took a 49% stake in Brixton Brewery last November). So it's not unreasonable to suggest that Heineken would want to take full ownership down the line.
And why wouldn't it want to? Beavertown is one of the hottest players in craft beer right now.
It may have made its national supermarket debut in Waitrose just last month, but the Tottenham-based brand (which is owned by Logan Plant, son of Led Zeppelin's Robert Plant) has accrued a massive presence in the on-trade and independent retailers, and its product is highly rated among craft beer fans for innovation and consistency. It's also got arguably the downright coolest packaging of any craft brand – its cans are adorned with gloriously psychedelic, post-apocalyptic cartoons.
The business is in good shape financially, too. According to its latest unaudited accounts filed at Companies House, Beavertown's total comprehensive income for the year ending 31 March 2017 hit £1.3m – almost double the £682k it racked up in 2016.
As beer bloggers Jessica Boak & Ray Bailey pointed out early last week before news of the potential deal broke, Beavertown has spent the past year getting its core range in shape. It has, for example, wound up "fun but marginal parts of the business" such as its Duke's Brew & Que eatery in London.
It's also announced plans to move brewing to a massive new facility called Beaverworld over the next 18 months. In the meantime, some of its beers will be contract brewed by Brouwerij De Brabandere in Belgium, which Beavertown claims will show it the ropes of brewing on a larger scale.
These are big moves, and building a large scale brewery and tourist facility in London (presuming it is building it from scratch) is not cheap. Independence is all well and good, but goodwill can only get you so far.
Heineken, meanwhile, needs a trump card in its battle against the likes of AB InBev and Carlsberg for craft dominance. Because Lagunitas, Heineken's biggest craft player, isn't keeping up with the competition. Exclusive data obtained by The Grocer reveals supermarket sales of Lagunitas' beers dropped from £1.6m to £1.5m over the past year [Nielsen 52 w/e 21 April 2018].
Brixton Brewery, meanwhile, sold its 49% stake to Heineken only a few months ago and has just moved into a new brewery, meaning it will likely be some time before it can compete on a larger scale. And Maltsmiths, the duo of 'easy-access' craft brews Heineken launched in early 2017, has also yet to prove its worth. It relaunched the fledgling brand with a new look after just one year on the market last month, admitting it had "perhaps not got everything quite right".
Given the speed at which the craft beer market is growing, the writing is on the wall if Heineken can't find its ace in the hole. Beavertown could be just that.