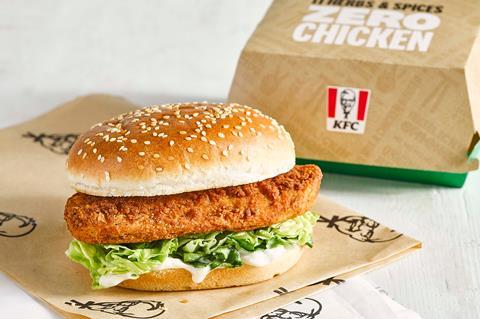 Britain is drowning under a deluge of vegan NPD.
So many new products are hitting shelves this Veganuary that it's virtually impossible to keep track of the ever-expanding roster of players in plant-based. Even the most hardened Grocer journalists are scratching their heads at the innumerable ways jackfruit is now being used.
There have, of course, been some highlights. Greggs' vegan steak bake (which is filled with Quorn mince) looks set to replicate the phenomenal success of its vegan sausage roll, for example, while Asda, Aldi, and M&S have announced huge updates to their plant-based ranges. Then there is Subway's 'Meatless Marinara' sandwich, and, last but not least, the KFC 'zero-chicken' burger (also made with Quorn).
A few odd ideas have emerged, too: Wagamama, surreally, has created a 'vegan tuna' salad, which uses watermelon in place of fish and, quite frankly, sounds awful.
But by and large, most of these launches are safe bets. As far as NPD goes, most of this stuff isn't exactly mind-blowing, and can be categorised under 'plant-based versions of stuff we already like'.
Indeed, what's more interesting than the products themselves is what they tell us about how quickly the conversation around veganism is changing.
Nowadays, it's easy to forget that for most of its history, veganism was essentially activism. Its primary focus was not the environment, nor human health, but the idea that killing animals for food was unnecessary in a modern, civilised society, and therefore morally objectionable.
For those taking this stance, you'd imagine KFC - which has built its entire business on selling fried chicken - would be out of bounds.
But the chain is reporting huge demand for its 'zero-chicken' burger. A trial of the burger at KFC's in London, Bristol and the Midlands was a huge success, it claims, with demand 500% higher than initially anticipated. KFC claims its Gloucester Road restaurant sold approximately one burger per minute in the first days of the trial.
It suggests that animal welfare is barely part of the argument any more. Veganism, at least in the mainstream, has been repositioned as, largely, an environmental concern – and to a lesser degree, a health matter. It's not about killing, but about 'wellness' now.
So does that leave vegans who ditched meat for animal welfare reasons out in the cold? It must be slightly grating that years of activisim couldn't achieve what a focus on self-preservation and a few Netflix documentaries (of varying merit) could.
Still, even PETA has given KFC's move a ringing endorsement. If cutting down the amount of meat society consumes is your goal, I guess it doesn't really matter why people choose to eat less.
And with sales of meat-free products up a massive £61.9m (18%) in the supermarkets alone last year, it's safe to say the vegan movement is well on its way to achieving that goal.


Daniel is The Grocer's food and drink editor and is responsible for our product coverage across all fmcg categories.

Daniel has written about food and drink for the majority of his career: prior to joining The Grocer in 2017, he covered food and drink news on pub industry title The Morning Advertiser, and wrote features for VICE magazine.

Follow Daniel on Twitter: @WoolfsonExists