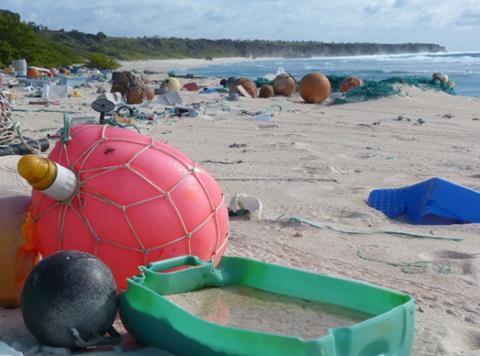 The thought of an uninhabited island brings to mind unblemished beaches, wild forests and no signs of humanity. But that's not the reality for one group of what should be idyllic islands in the South Pacific.
Henderson Island – part of the British Overseas Territory of Pitcairn Islands in the South Pacific, best known for the Mutiny on the Bounty – is uninhabited.
However, the marks of humanity are hard to miss, according to a new report published this week, which could make the isolated islands infamous for more than just Fletcher Christian's naval mutiny.
About 38 million pieces of plastic litter the sandy beaches of the island thanks to its location near the centre of an ocean current, which fills the shores with rubbish from boats and South America.
And it's not just fishing waste. Everyday items such as toothbrushes, cigarette lighters and jars have all been found on the island by researchers, with 671 items per square metre.
Their study, published in the journal Proceedings of the National Academy of Sciences, described how islands like Henderson act as a 'sink' for the world's rubbish.
While it may be easy to think of this waste as out of sight, out of mind, if our plastic habit is so widespread that it reaches uninhabited islands in the middle of the largest and deepest ocean in the world, maybe we should be doing more to cut down.
Coffee cups
Coffee cups have recently been in the headlines, after Hugh Fearnley-Whittingstall's War on Waste programme last year. Some progress has been made since then, even if it's been slow.
In April, Pret A Manger and Paul introduced discounts for customers who bring in reusable coffee cups, Dualit unveiled compostable pods that can be put in with food waste, and Nespresso pods can be recycled via the brand's collection service.
Elsewhere, plastic has also been disappearing from packaging. Co-op replaced its polystyrene pizza boards with recyclable cardboard discs this month, preventing about 200 tonnes of plastic going to waste.
But there are countless other products carried in unnecessary plastic packaging, and it's damaging our oceans.
By 2050, there could be more plastic in the sea than fish, according to the World Economic Forum, which is particularly bad news for seafood supply chains.
Various studies in the past three years have found microplastics in the guts of seafood sold in supermarkets. What this means for humans is currently unknown to scientists. However, it's unlikely to be good.
Six major retailers have vowed to remove plastic from their own-label cotton buds by the end of 2017, after warnings that plastics could be fatal when eaten by marine life. So, why should other plastic products be treated differently?
If we want to protect our fish supplies, our oceans and our shores, then brands and retailers need to act now to change the way we package these products. Otherwise there'll be a lot more islands like Henderson in the future.