Cast your mind back to last summer when the heatwave was causing more than a few headaches for the fresh produce industry.
The sector bemoaned the drought-like conditions as crops wilted in fields amid dwindling water supplies and scorching heat. What we didn't hear was that for some niche British growers, 2018 was a stellar year.
In the midst of despair, British figs were blooming, and UK-grown watermelons even made it into Asda.
Granted, the volumes were relatively small: Asda was able to bring just 8,000 British watermelons to its shoppers last October – and that's after the crop from Kent-based Watts Farms was given a substantial boost by the summer's soaring temperatures.
But talking to traders at New Covent Garden Market this morning revealed more and more established British farms are now exploring the opportunity of producing exotic fruits closer to home.
"The first pineapple grown in the UK was covered in horse sh*t to keep it insulated, so it can be done," one trader and enthusiastic amateur gardener tells me.
"But to do it on any sort of scale, you'd need to heat the tunnels. I'd imagine it would take quite a bit, so if it were me, I'd really want to be finding a free heat source."
With exotic fruit so difficult to grow in the UK and such a small, and potentially expensive, part of the produce sector, why bother?
Well, some people think growing exotic fruit in the UK is a realistic prospect that could also mitigate any potential post-Brexit import barriers, particularly in the event of a no-deal.
People like startup grower UK Tropical Fruits, for example.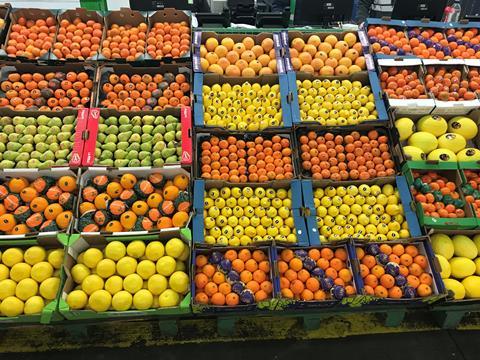 Earlier this month, we reported the business was crowdfunding to bring its first British passionfruit to market as early as September. It says producing just 60 miles from the capital will give buyers greater confidence of a smaller carbon footprint and fresher produce.
While the task of producing meaningful quantities will certainly be a challenge, market traders told me they would jump at the opportunity to shore up supply closer to home and reap the benefits of extended shelf lives.
In the meantime, the traders are stoically facing the prospect of Brexit-related havoc in their supply chains. 'We're always facing obstacles, what's one more?' seems to have become a mantra at the market.
Their EU suppliers have promised to get produce across the Channel one way or another. But details are vague. As the market's business development manager Zeenat Anjari puts it: "It's so easy to talk yourself out of making plans because by the time you've made them, the situation will have changed."
With more than 1,200 tonnes of fresh produce traded each night at the market, it's unsurprising some have spotted the opportunity to step in should leaving the EU go (even more) pear-shaped.
Much of the market's produce is often bought by chefs – going on to supply 40% of London's restaurants – and gastronomy fiends who are willing and able to buy British where possible.
But that's not to say there won't be teething problems. On the market floor, British melons don't command as a high a price as those from other parts of the world because, getting less sun than those from closer to the equator, they aren't quite as sweet.
Though the feat these growers are pulling off is impressive, the fact remains that great British summers are generally more suited to growing potatoes than papayas.


Rachel Graham is Digital and Social Editor at The Grocer