Thank you for voting in The Grocer Cup, voting has now closed. A winner will be announced on 3 October.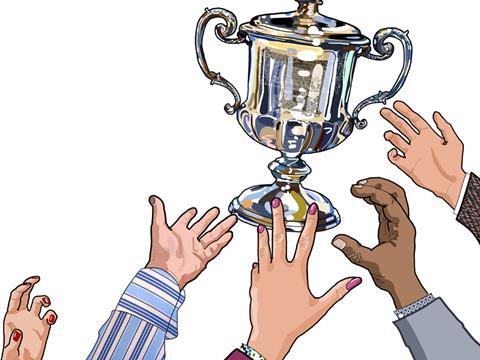 The most prestigious trophy in grocery is back. Held aloft by icons of industry for 20 years, the coveted The Grocer Cup is awarded to an exceptional leader as voted for by readers. Here, we profile each of the industry heavyweights on our 2017 shortlist. But only one can take home the prize. So who deserves it most? You decide.
The deadline for votes is 9 September and the winner will be announced at the IGD Awards ceremony in London on 3 October , one of 20 categories to be announced at the 25 IGD Awards.
Job title: chief executive officer
Company: Aldi UK
"Fresh produce – and UK sourcing – is at the heart of its marketing, cleverly linked to UK athletics"
---
Job title: chief executive officer
Company: Whitbread
"Solid growth is evidence of Brittain's exceptional leadership and steady hand"
---
Job title: chief executive officer 
Company: Greencore
"With years of experience and an enviable track record, Coveney's is a vital voice for business post Brexit"
---
Job title: chief executive officer 
Company: Conviviality
"Hunter has proven time and time again she isn't afraid to make bold moves to get ahead"
---
Job title: chief executive officer 
Company: Tesco
"Lewis has succeeded in creating a company that sets the retail agenda rather than reacting to it"
---
Job title: chief executive officer 
Company: Moy Park
"Under McCollum's guidance Moy Park has not only survived JBS's crises but flourished"
---
Job title: chief executive officer 
Company: Morrisons
"Potts has consistently shown that Tesco was wrong to overlook him in favour of Philip Clarke in 2011"
---
Job title: chief executive officer 
Company: Bidfood
"Selley is a cool, calm operator who gets the job done with minimum fuss"
---
Job title: founder & executive chairman 
Company: Iceland Foods
"Walker could have sold up, retired and swanned off to the sunshine. But that was never going to happen"
---
Job title: chief executive officer 
Company: Greggs
"Never one to sit still, you can be sure Whiteside will be on to the next phase of Greggs' evolution before long"