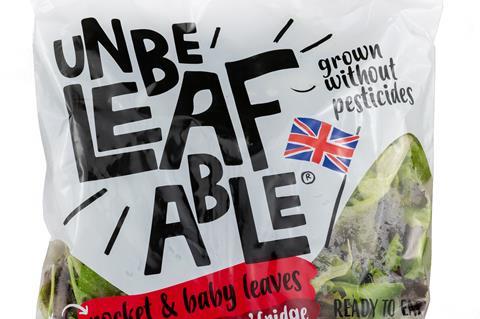 Champion: Unbeleafable – Rocket and Baby Leaves
The concept of Unbeleafable – a longer life ready-to-eat bagged salad, produced by a vertical farm and grown all year round in the UK – was a winner with our judges.
The panel was unanimously impressed by the ambition of brand owner GrowUp Farms to reduce the UK's reliance on salad imports. They also enjoyed the story, design and personality of this "fab innovation". The inclusion of rocket is something that was particularly applauded by the judges, who felt it gave the salad a great peppery kick and "flavour hit".
Gold Medal
Silver Medal
Fresh Leaf Co. Red + Green Baby Leaf Salad
Unearthed Italian Ventricina & Scamorza Platter
Unearthed Stuffed Green Peppers
Bronze Medal
Castello Taste Thailand Chili and Ginger Cream Cheese Ring
With thanks