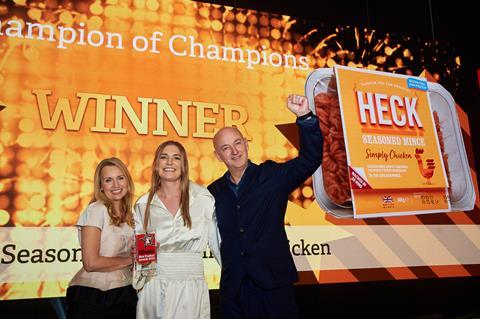 Heck has been crowned the champion of champions at The Grocer's New Product Awards 2021.
The brand's Simply Chicken mince scored higher than any other product in the entire competition, which pulled in a record number of entries across 42 categories from booze to biscuits.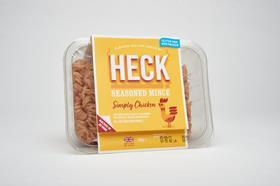 Heck had "brilliantly diversified and this chicken mince is a really great example of how great branded execution can turn a commodity item into a powerful value added proposition", said The Grocer's editor-in-chief Adam Leyland.
The full list of winners of the awards – as well as highly commended entries – were revealed yesterday (16 November) at a sold out ceremony at London's Hilton Bankside hotel.
Heck may have taken the top spot with a meat product, but this year saw an absolute deluge of plant-based entries, with seven categories dedicated to meat-free products such as Violife's Smoky Cheddar-flavoured Slices and The Vurger Co's Spicy Cheezy Vegan Sauce.
The awards weren't dominated by big players either: despite wins for big names such as Kleenex and Quorn, many category wins were stolen by challengers and startups.
Take sustainable gum brand Milliways, for instance, which saw off strong competition in sweet confectionery. Or Mindful Snacker's high-tech Simply Roasted non-HFSS crisps, which our judges said offered one of the best low-fat snack options on the market.

"In the darkest days of the pandemic there were real fears, in all corners of the grocery sector, that the coronavirus would put the kibosh on food and drink innovation," added Leyland.
"But through suppliers' resolve and enterprise, from home offices, spare bedrooms and kitchen tables across the UK, they not only figured out how to land existing NPD but dreamed up new ideas, concocting new recipes and formulae – in many cases over Teams and Zoom.
"We host these awards every year above all to highlight and celebrate all of their pioneering work with credibility, visibility and recognition."
See a list of all the winners below.
With thanks to our sponsors