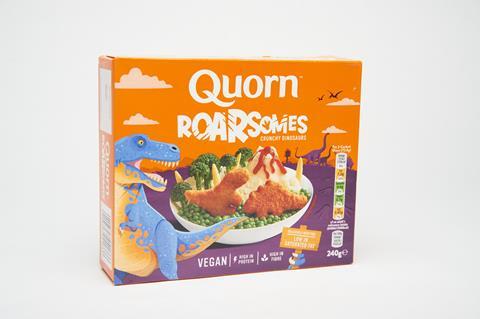 Winner: Quorn Roarsomes
With plant-based or vegan options often regarded as creating a barrier on price, judges said it was brilliant to see Quorn add this highly accessible SKU, making vegan options a viable option for busy parents, while also plugging a gap in the market. The dinosaur shaped nuggets with a crunchy breadcrumb not only taste great but come with a strong nutritional profile too, tackling another common barrier of vegan alternatives. They're low in saturated fat, as well as being high in protein and fibre. Launched in April 2021, 82% of shoppers have already said they would definitely or probably buy the product, with 83% agreeing it creates a more sustainable mealtime option.
These quirky, dinosaur-shaped, frozen snacks from veggie mainstay Quorn were loved by the judges, who called them 'cute and fun' with 'a very distinct taste' that would be a great option for families.
Finalists:
Birds Eye Chicken Shop 2 Ultimate Fillet Burgers
Birds Eye Chunky Crispy Batter 6 Fish Fingers
Whitby Seafoods Battered Scampi
Whitby Seafoods Southern Fried 100% Fish Fillet Strips
Zizzi Rustica Pizza Piccante Pepperoni
With thanks to our sponsors