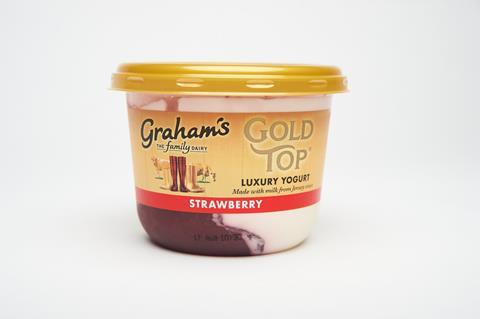 Winner: Graham's Gold Top Luxury Yogurt – Strawberry
Graham's Gold worked with an external research agency to uncover that its unique selling point of sourcing from Jersey cows could work just as well in the yoghurt category, with great appetite among consumers for the use of a rich and locally sourced milk. And so in June 2021 it launched this indulgent strawberry flavoured full-fat yoghurt, designed for breakfast or simply as a snack. A delicious extension to the brand, effectively utilising its associations with prestige and premium products, the product successfully won over our judges, who praised its great flavour and rich mouthfeel.
Our judges simply adored this yoghurt, which they called "a delicious extension" of the Gold Top brand which effectively utilises its prestige and premium cues in a new category. They thought the product had a "great fruity flavour and mouthfeel" with the strawberries really shining through.
Highly commended: Bio&Me Mango Gut-Loving Prebiotic Yoghurt
Finalists:
Biotiful Dairy Kefir Yogurt Raspberry & Pomegranate
Onken Super Kefir Strawberry Pomegranate Cultured Yogurt
With thanks to our sponsors