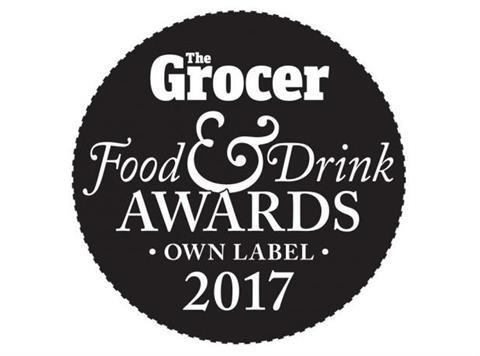 The Grocer's Own Label Food & Drink Awards 2017 are now open for entry – with a number of important changes and enhancements to further recognise and reward innovation in the private-label sector.
The competition will now give out two awards in each category: one for the Category Champion and the other for the Innovation Winner. In addition, there will be trophies given out to the Champion of Champions and the Innovative Product of the Year – for the best overall innovation winner.
And in a further development, the ceremony will culminate in the crowning of the Own Label Innovation Retailer of the Year, to the retailer with the most innovative entries overall.
Adam Leyland, editor of The Grocer, said: "The Grocer Own Label Food & Drink Awards is the world's biggest own-label competition. In 2016 supermarkets, discounters, symbols, independents, and speciality and fine food retailers – in conjunction with their suppliers – entered hundreds of products. From these over 300 were shortlisted, with 67 gold and silver awarded.
"But one of the primary purposes of the awards when we established the competition 12 years ago was to encourage and reward innovation. Based on feedback from the market we've therefore retired the Gold and Silver medal system, and replaced it with a system that differentiates based on outstanding product execution, on the one hand, and innovation on the other.
"By selecting an Innovation Winner in each category, it not only means there are twice as many winners, we also believe it will encourage innovation, which is the lifeblood of the sector, and will reward both buyers and development teams who push the envelope.
"In addition we are excited to announce a new award for the Own Label Innovation Retailer of the Year. The winner will be selected based on a consideration of all the products entered by (or on behalf of) a retailer, with even products that are not an Innovation Winner in a particular category potentially contributing to a retailer's overall score. This will be a highly prestigious award that, I am sure, all progressive retailers will aspire to win."
The entry deadline is 30 September. For more details on how to enter see www.thegrocerownlabel.co.uk or contact Rebecca.George@wrbm.com on 01293 610422
Video: Why enter the Own Label Food & Drink Awards?