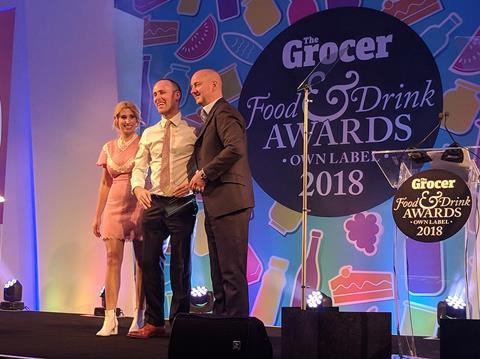 Iceland has scored a double at The Grocer's 2018 Own Label Awards – taking home both top product prizes despite fierce competition.
The frozen food specialist, which recently hired chef Neil Nugent and splashed out £2m on a test kitchen, won the Champion of Champion Award and the Innovative Product of the Year awards.
The Innovative Retailer of the Year Award went to Morrisons, which impressed both consumers and our expert panel of judges with the quality of innovation across all its entries this year.
The Grocer's annual Own Label Food & Drink Awards took place at London's Hilton Park Lane on Friday (11 May). More than 1,000 entries were whittled down by consumer testers and expert judges, with the winners announced by Adam Leyland, editor of The Grocer, and TV presenter Stacey Solomon.
Once again, there was a category champion and innovation winner for each of the 61 categories, with Aldi impressing consumers and experts with its blend of quality and value to take home 35 awards in total, followed by Lidl (32) and The Co-op (16).
However, Iceland's Arctic Royal Salt Baked Seabass beat all of the category winners to be crowned Champion of Champions after delivering "real wow factor" for consumers and experts alike.
The British retailer also took home the Innovative Product of the Year award for its Luxury 2 Rose Veal Saltimbocca, which not only tasted "spectacular", but also delivered high animal welfare credentials and a "great back story", our judges noted.
Morrisons, whose top-tier range Best was voted Own-Label Range of the Year at The Grocer Gold Awards, was crowned Innovative Retailer of the Year after achieving the highest average innovation score across its entries.
The Grocer's editor, Adam Leyland, said: "There were lots of winners at The Grocer's Own Label Awards but the biggest winner of all was the consumer. The UK is the most sophisticated and competitive own label market in the world, and that has once again inspired outstanding innovation and execution among this year's entries.
"We are seeing own label products lead on category development and take the initiative ahead of brands in some areas. That's great news for consumers. What's more, with competition intensifying amidst the seismic and disruptive changes in the market, I'm expecting the standards at the Own Label Awards in 2019 to be even higher."