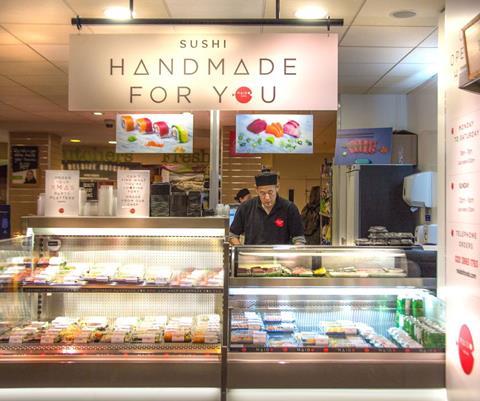 Thornton's Budgens has teamed up with London sushi specialist Maido to launch an in-store sushi and sashimi concession in its flagship store in Belsize, North London.

The new counter offers sushi and sashimi made fresh on the premises every day by Maido staff. Customers can also order to specification for in-store pick-up. An online delivery service, possibly through Deliveroo, is set to launch shortly.

Prices range from £1.20 for a piece of nigiri to £16.90 for a nine-piece set, in line with prices charged at Maido's four London restaurant locations, which operate under the Atari-Ya brand. Depending on the time of day and day of the week, the store will have between two and four Maido staff in-store at any time.

Thornton's Budgens had previously sold pre-packaged, factory-made sushi as part of its food-to-go range, but wanted to up the calibre of its offering to drive footfall. "Trends like the supermarket price war and the growth of online are working against us, so the question we are always asking is 'what do Belsize shoppers need that we can do well to give them a reason to visit the store?'" said owner Andrew Thornton.

With shoppers increasingly looking for healthier options at lunchtime, a sushi bar was an obvious choice, he added. "The quality is outstanding - you cannot compare it to factory-made sushi. It's a completely different product. These guys know what they're doing and have an established brand identity."

While it was too early to quantify the impact the new sushi bar had had on footfall and overall sales, Thornton said it had already resulted in "lots and lots of new faces" in store. Since launching the concession at the beginning of October, the store had sold about £5,000 worth of sushi a week, he added.
New butchery concession
The new Maido sushi bar comes as Thornton's Budgens has also added a new butchery concession to its store, run by a local butcher. It previously launched a butchery counter about three or four years ago but subsequently converted this to a self-service, pre-packed offer when the counter failed to break even.

Other in-store concessions at Thornton's Budgens include a juice bar and a florist, both launched in summer 2015, as well as a Post Office.

Thornton's strategy of running in-store concessions had underpinned overall like-for-likes in a tough market, Thornton said. He also highlighted the "very, very positive" role Booker, which acquired the Budgens chain, along with Londis, in a £40, deal in 2015, had played in supporting this strategy. "This wouldn't have been possible under the previous owner," he said. "Booker are very entrepreneurial."