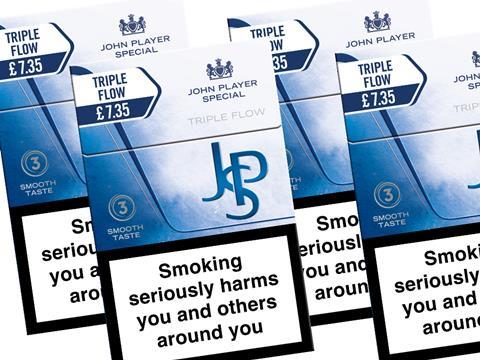 Imperial Tobacco is extending its JPS portfolio with its 'smoothest' cigarette to date.
JPS Triple Flow, available from 1 December, features a smooth blend enhanced by a mineral filter designed to offer a 'fuller smoking experience', said the supplier. Each cigarette also features a special paper wrap designed to reduce the amount of smoke emitted, which the business claimed could result in less smell.
The NPD was a revolution in cigarette technology, according to brand portfolio manager Emma Stew, who added that, with its "next generation features and distinctive packaging", there was nothing like it in the market.
"Smooth blends now account for almost a quarter of sales of factory-made cigarettes, and Triple Flow has been designed to offer the ultimate smooth smoking experience."
JPS Triple Flow will be available in King Size 19s (rsp: £7.49) alongside £7.35 price-marked packs.