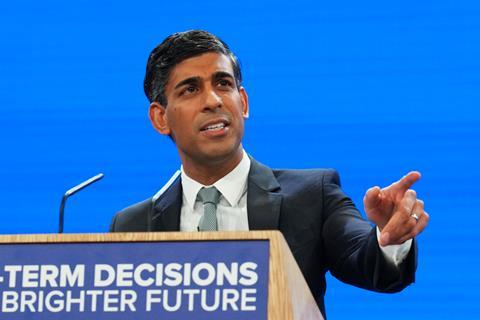 This week prime minister Rishi Sunak announced plans to create a "smoke-free generation" by making it an offence for anyone born on or after 1 January 2009 to ever be sold tobacco products.
The move, which is expected to be confirmed in the King's Speech on 7 November, would effectively raise the smoking age in England by a year every year until it applies to the whole population.
The Grocer understands Sunak is the driving force behind the move and that when news of the plans were first reported by The Guardian on Sunday, other key departments such as the Treasury and the Department of Health & Social Care had not been briefed.
"No parent ever wants their child to start smoking. It is a deadly habit – killing tens of thousands of people and costing our NHS billions each year, while also being hugely detrimental to our productivity as a country," said Sunak who referred to his decision as a "matter of conscience".
"I want to build a better and brighter future for our children, so that's why I want to stamp out smoking for good," he added. "These changes will mean our kids will never be able to buy a cigarette, preventing them getting hooked and protecting their health both now and in the future."
Sunak said that when the legislation came before parliament, it would be subject to a free vote. This is likely to ensure its passage, with most opposition MPs likely to side with the government on this issue and head off any potential rebellion from within the ranks of Conservative MPs.
The Tobacco Manufacturers' Association said: "Banning a category of future adults from purchasing tobacco products is another wholly disproportionate attack on the rights of adults to enjoy a legal legitimate product.
"Such a ban will only further incentivise consumers to move away from purchasing legal, tax-paid products, to unregulated and untaxed products, fuelling the criminal trade in illegal tobacco, which will present massive challenges for both law enforcement, especially Trading Standards, which has been decimated by under-funding and under-resource over the last decade, and to retailers, who will ultimately be held responsible for operating what will be an extremely complicated ID verification process."
However the move was welcomed by health organisations.
"The prime minister has today announced an unprecedented set of measures to protect the next generation and hasten the day when smoking is obsolete," said Action on Smoking & Health chief executive Deborah Arnott. "Children are four times as likely to start smoking if they grow up with smokers, and once they do it's highly addictive and difficult to quit.
"The twin track approach of raising the age of sale and tougher enforcement to stop young people starting, matched by substantial additional funding to motivate addicted smokers to quit and provide them with the support they need to succeed, will help get us on track to a smoke-free future.
"We look forward to the day when smoking is no longer responsible for avoidable ill health and perinatal mortality in babies and young children, nor the leading cause of premature death in adults."