In a year in which the tobacco display ban finally arrived - in England, at least - the prevailing trend in the market was one of trading down. And some of the biggest and most recognisable brands have had a particularly tough time. Imperial Tobacco's Lambert & Butler King Size is still way out in front of the pack, with sales of £1.14bn, but has suffered a whopping 22.7% decline in volume sales, while value fell by 15.5%.

With the chancellor slapping a 5% above-inflation duty increase on tobacco in April's budget - the equivalent of 37p on a packet of 20 cigarettes - it is easy to see why habitual smokers have been scurrying towards the value end of the market. That's not to mention the boost to the roll-your-own (RYO) category, which has been causing grief for mid-market brands, including the market leader.

Not even successful NPD has been able to keep Lambert & Butler's total sales afloat. Its Silver Glide Tec, launched in 2010, grew sales from £5.8m to £112.2m. But with King Size sales falling £208m, the net loss for the brand - factoring in L&B Gold King Size too - came to more than £150m.

What Imperial lost in Lambert & Butler sales, however, it gained from the success of John Player Special Blue. The value brand has tapped into the downtrading trend since its launch in 2008 in the past year, it has grown by just over a quarter in volume and 42% in value to rack up sales growth of £164.9m. It is now the UK's fourth best-selling cigarette brand, leaping from eighth last year. Windsor Blue, Imperial's other value-for-money brand, has also had a strong year, with Superkings and King Size posting value growth of 32.2% and 36.3% respectively.

Over at rival Japan Tobacco International (JTI), the best performers were, again, value brands: Sterling Superkings and Sterling King Size, the two variants raking in an additional £162.8m for JTI against last year's sales.

"Economy is still very much where the growth is," confirms Laraine Jones, buying director at CTN chain Rippleglen. "Roll-your-own has grown by 1% of our total tobacco sales since the beginning of the year, at the expense of cigarettes, with cigars and pipe tobacco staying the same."

JTI's Amber Leaf has overtaken Imperial's Golden Virginia as the UK's biggest RYO brand and, says Jones, now accounts for 42% of the company's RYO sales. The Blonde variant is our top launch of 2012.

Late last year saw the arrival in the UK of the capsule filter, allowing smokers to change flavour before or during smoking. Silk Cut Choice, Lucky Strike Click & Roll, followed this year by Lambert & Butler Fresh Burst, B&H Dual and Pall Mall Click. Of these, adds Jones, Fresh Burst is outselling the others at a rate of three to one.
TOP LAUNCH 2012
Amber Leaf Blonde JTI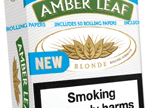 In the past year, the roll-your-own (RYO) category has grown by 8.9% in volume and 20.9% in value - and there has been much jockeying for position among the big manufacturers to target this fresh custom. First, Amber Leaf original managed to steal the number-one RYO spot from Golden Virginia and last month, owner Japan Tobacco International hit upon another winning formula with Amber Leaf Blonde, a smoother cigarette-like blend that's designed to appeal to transitional smokers.