With a 70% share of the US vaping market – and steeped in controversy over its popularity among teens – Juul is making its debut in the UK. But it faces fierce competition from tobacco companies
Juul is cool. And unusually for an fmcg product, that's a problem. It's hard to imagine co-founders James Monsees and Adam Bowen hatching an evil plan to get teenagers hooked on nicotine, but social media suggests plenty of US teens are Juuling their way towards doing just that. And now the brand is heading for the UK.

Monsees and Bowen insist that Juul, a fiercely potent e-cig that resembles a memory stick, was "designed to appeal to adult smokers" only and its success does suggest that, whatever the current controversy surrounding teenage use, it's very effective as a proxy cigarette among all ages.

Staggering growth has seen it capture a huge 70.5% of the US vaping market in just two years, and the business has been valued at $15bn. In the past year sales have skyrocketed 783% to $942.6m [Nielsen].

A Juul is easy to use. There are no buttons to press, you just slot in a pod and suck. Those pre-filled pods mean no messy or dangerous spillage of toxic e-liquid. Its aesthetic design and ubiquitous popularity has seen it dubbed the iPhone of vaping. It's unclear which is more addictive.
More than hot air: the vaping sector in numbers
£2bn - The predicted value of the UK vaping industry by 2020
5% - The proportion of UK adults that use e-cigerettes
48% - The numbers of users that say it's an aid to quitting smoking
$942m - US sales of Juul in the past year
Yet the headlines about Juul have moved on from vaping websites talking about how good it is or how impressive its sales are. Instead the majority concern a slew of lawsuits, controversy over its potency, addictiveness and marketing, and, more than anything else, teenagers Juuling at school.
"Of course we understand that parents and lawmakers are concerned about underage use of Juul," says Juul CEO Kevin Burns. "As are we. We can't restate this enough."
But any number of reassurances aren't making the problem go away. Whatever Juul's intentions are, the US media is constantly splashing about how Juuling has become an 'epidemic' in high schools. One substance abuse counsellor told CNN: "I think this is going to be the health problem of the decade."
It's not just the media making waves. In July, Massachusetts attorney general Maura Healey told a press conference she was investigating Juul's marketing. "Way too much of their product is ending up in the hands of young people and in schools. I want to know if they're tracking underage use of their products. What are they doing about the rampant use of their product by teenagers? And is this an intentional outcome of their own marketing sales strategy?"
Juul replied in a statement, saying it was "committed to preventing underage use. We utilise stringent online tools to block attempts by those under the age of 21 from purchasing our products. Furthermore, we have never marketed to anyone underage. In fact, we have done very little marketing relative to our growth."
The fact is that teenagers raving about Juul on social media have done a lot of its marketing for it. And its potent strength makes it more addictive than most, while its discreet shape and size, combined with its relatively low-vapour emissions, make it ideal for any shifty vaper needing a hit in a plane, cinema or restaurant. Or classroom.
Juul has also come under fire for its 'fun' flavours, like mango and crème brûlée. To be fair flavours have always been part of vaping. Yet Juul has faced accusations that it could introduce young non-smokers to nicotine in a pleasant way, compared with a novice smoker spluttering through their first few fags.
"This isn't about getting adults to stop smoking cigarettes," said Healey. "This is about getting kids to start vaping. That's what these companies are up to. They're engaged in an effort to get kids addicted so they'll have customers for the rest of their lives."
"These companies are engaged in an effort to get kids addicted so they'll have customers for the rest of their lives"
Of course "no one will say 'our intention is to sell to children,'" says one senior industry figure in the UK. "But what has Juul done in the US? We have seen a groundswell of interest from a socially influenced underage group who have got into it. That has generated a lot of noise and criticism. Have they actively tried to restrict the coverage? No, because it's raised the brand profile. Whether this has led to people that never smoked vaping I don't know, but I don't feel there has been a huge amount of effort to shut it down."
Juul's range of flavours appeal to "many people, including children", says Dr Neil Grunberg, one of the foremost authorities on health and addiction in the US. "It also delivers amounts of nicotine that are sufficient to establish addiction. As a result, there are two risks: exposure to many chemicals which have not been thoroughly examined with regard to health, and nicotine addiction, which will either maintain Juul use, increase Juul use as tolerance develops, or serve as a gateway to other tobacco products like cigarettes."
He suggests the US Food and Drug Administration should order Juul to "dramatically reduce the amount of nicotine to reduce the likelihood of developing addiction" and this is "particularly important because vaping product use has increased tenfold among children and adolescents over the past 10 years".
Juul has announced plans to do just that, launching 3% nicotine pods in August. But the FDA has gone further. In April it opened fire on Juul while announcing a new Youth Tobacco Prevention Plan focused on stopping youth use of tobacco products, in particular e-cigs.
In a wide-ranging statement, FDA commissioner Scott Gottlieb said the "troubling reality" is that e-cigs have become "wildly popular with kids. In some cases our kids are trying these products and liking them without even knowing they contain nicotine. And that's a problem, because nicotine can rewire an adolescent's brain, leading to years of addiction."
He also revealed the FDA had been conducting a "large-scale, undercover nationwide blitz to crack down on the sale of e-cigarettes, specifically Juul products, to minors at bricks-and-mortar and online retailers". It said the operation had "revealed numerous violations of the law" and the "illegal sale of these Juul products to minors is concerning".
It also requested that Juul submit documentation related to its marketing, as well as the health, toxicological, behavioural or physiologic effects of its products, including youth initiation and use, and whether certain product design features, ingredients or specifications appeal to different age groups.
"We don't yet fully understand why these products are so popular among youth," Gottlieb said. "But it's imperative that we figure it out, and fast."
The short answer is that teenagers love doing naughty things, but when nicotine is involved they can't easily stop, even when they get bored.
The following day Juul announced it would spend $30m working with independent researchers and public health experts to curb underage use of its products. Since then at least three lawsuits have been filed against Juul, two of them by 15-year-olds, for addicting them to nicotine. They blame Juul's potency, branding and marketing, which two of the suits alleged were designed "around creating, and addicting, an entirely new group of customers who are not regular smokers".
Juul has said the cases are without merit and will fight them "vigorously".
What's so clever about Juul?
Juul took the vaping world by storm in the US for three main reasons: its discreet size and shape, its ease of use, and its nicotine punch.
Size-wise it's always compared to a memory stick. And its structure is pure simplicity.
Juul comes in two parts: the main body, which contains a lithium-ion polymer battery, a temperature regulator and sensors to monitor battery life and inhalation, and the pod,which houses an atomiser, the e-liquid and the mouthpiece. There are no buttons to press, no liquids to fill. Like all e-cigs it charges via a USB port.
Although it has been forced to drastically reduce its nicotine content in the UK from 5% to 1.7%, Juul's uses a unique combination of nicotine salt and benzoic acid, a naturally occurring acid found in the tobacco plant, to generate a potent hit.
Most e-liquids use freebase nicotine, which was invented for use in cigarettes in the 1960s by treating tobacco with ammonia to make it spread through the body faster and therefore make it more addictive. But Juul uses nicotine salts, which are being hyped as the next big thing in vaping.
A crystallised form of nicotine extracted from natural tobacco leaves, nicotine salts allow an e-cig to better mimic the experience of a real cigarette by "delivering nicotine to the body faster than liquid does," says Blu communications chief George Tucker. Blu has just released its own range of nicotine salt-based pods for its Myblu device, dubbed 'Intense'.
Using nicotine salt allows Juul to deliver a satisfying hit, while the addition of benzoic acid mellows out the mouthfeel, resulting in a smoother experience. The combination is not considered any more harmful than any other e-cig, although as with all e-cigs, research is still underway.
And though the Juul will be significantly weaker in the UK than it is in the US, it may still feel stronger than some of its rivals, says James Dunworth, chairman of E-Cigarette Direct.
"Vapers who like an extra nicotine hit are also likely to be sold on its benzoic acid and aerosol properties which are said to have an impact on the hit," he says. "These ingredients set it apart from leading UK brands and could give it extra leverage in the UK."
UK arrival
Juul arrived in the UK, the second biggest market in the world for e-cigs, on 17 July. "We're hugely excited," says Dan Thomson, Juul's UK MD. "The tobacco industry in the UK is a £20bn market with 7.4 million smokers nationwide. There's high cigarette duty and public health bodies have been vocal in their support of vaping in general, so we're confident we can replicate the success we've seen in the US and take a big step in eliminating smoking in the UK."
Teen controversy should not detract from the fact that if used by adults as intended, e-cigs are having a positive impact on smoking. So unless you're a competitor, the new arrival of a popular e-cig is a positive thing for UK smokers wanting to stub out their cigarettes, and for retailers looking to stock a hot new product.
In February, Martin Dockrell, tobacco control programme lead for PHE, said of the 2.9 million adult e-cig users in the UK, "more than half have completely stopped smoking. A further 770,000 have given up both smoking and vaping. At the same time, quit success rates have been improving and we're seeing an accelerated drop in smoking rates, currently at a record low of 15.5% in England."
Everyone knows cigarettes are smelly and expensive and they kill. The ONS says 78,000 people died last year as a direct result of smoking cigarettes and 485,000 were admitted to hospital. Despite this obvious drawback, cigarettes are so addictive it's extremely hard for smokers to stop puffing away.
But e-cigs help. PHE estimates 20,000 people a year quit smoking thanks to vaping. And despite the "sometimes confused, and confusing, media reporting around the safety of e-cigs, there is growing consensus around the evidence", said Dockrell.
"While not without some risk, when compared to smoking, e-cigs are far less harmful. This view is supported by a number of key bodies, including Cancer Research UK, Action on Smoking & Health, the Royal College of Physicians, the British Medical Association and recently, a major US science body, the National Academies of Sciences, Engineering & Medicine."
Importantly for smokers considering switching to vaping, Juul claims to deliver what they crave more than anything else: a smooth hit to the throat and an instant sense of relief as nicotine floods the bloodstream.
In the US, Juul does it via a powerful 5% whack of nicotine, courtesy of a pioneering combination of nicotine salt and benzoic acid (see box).
But this is the first stumbling block it will meet in the UK. EU regulations are more restrictive than the US. In the UK Juul will be forced to deliver a relatively weak 1.7%, two thirds less nicotine than its US counterpart.
Of course that only brings it in line with UK rivals. But it still means one of Juul's potential strengths when it comes to overpowering them has gone up in smoke.
Still, its marketing game is equally potent. It's developed a cult following in the same way all cult followings do, by having something special then letting word of mouth, or in this case social media, send it viral.
The social effect
Search #Juul on Instagram and there are thousands of clips of young Americans Juuling, or blowing bubble gum bubbles filled with vapour until they pop, or drunkenly wailing that someone has stolen their Juul, or being pranked at parties by sucking on a proffered USB stick. No one would argue social media hasn't done wonders for Juul.
In the UK, strict rules on advertising on social or mainstream media mean Juul, or any vape, is limited in what they can get away with, even if it's old fashioned. In July, Philip Morris, which owns the Marlboro brand, got a sharp rebuke from the Department of Health after advertising its Iqos e-cig on posters in newsagent windows.
The Iqos is an e-cig of sorts: it uses tobacco (rather than nicotine) but it is heated (not burned) and thus produces vapour rather than smoke. Philip Morris insists the Iqos is designed as an alternative to help users quit smoking. Action on Smoking & Health told the Daily Telegraph it was "barefaced cheek for Philip Morris to argue" it wasn't a tobacco product, comparing it with a pipe.
"We are market leaders and the Vype ePen 3 is industry-leading technology," says BAT UK MD Gemma Webb. "The design is ergonomic, fashionable and easy to use. We outperform our competitive set and performance is key. That's what we are most proud of. Juul has had fantastic success in the US but it's had that success with a device that delivers more than twice the nicotine content allowed in Europe. Juul might come in but it's with a different product."
Imperial Brands launched the Myblu in March. "As a pod-mod [a device that uses prefilled e-liquid pods for easy refilling] it's a direct competitor for Juul," says Blu comms chief George Tucker. And Blu has stolen a march. "It's a strong product with strong reviews and consistently increasing sales and repeat purchases.
"Juul has had fantastic success in the US but with a device that delivers more than twice the nicotine content allowed in Europe"
"Juul is entering the market with one device and five flavours – we have 16 flavours in three different strengths and a nicotine salt range called myblu intense. We are the first widely available pod-mod so we have a compelling base for consumers.
"Everything is painting a positive picture. We have the widest distribution in vape stores and key accounts like Tesco, Co-op and Budgens, and will roll out Myblu to the independent channel from September."
Philip Morris has invested over £3bn in its Iqos e-cig. UK MD Peter Nixon says there is an "untapped market for people who are not satisfied by a pod-mod, but want to be vaping and "that is the market we are going after. We see opportunities everywhere."
JTI owns the Logic e-cig brand and says it's the UK's "number one capsule vaping device", providing retailers with an "incredibly strong family of vaping products". It adds that it's "committed to delivering one of the best vaping experiences on the market". And it plans to launch a "new, premium, capsule vaping device in the UK in the coming months".
Easy access
It's not just that the four big tobacco giants now have, or plan to launch, a similar e-cig to the Juul in the UK. They also have well-established distribution.
Juul has launched with an online store, but it is a proprietary pod-mod system. Organised people won't have a problem, but like anyone who fails to place an online order for Nespresso pods before they run out, Juul users facing an emergency will likely be stuck without a nearby retail stockist, at least for now.
True, it has a reported initial 250 store network of specialist vape stores, but Juul may struggle to disrupt the market, or even gain traction in the UK, however cool it is if availability is limited. And alternatives are currently available in thousands of supermarkets, forecourts and c-stores up and down the UK. Thomson says Juul "does have ambitious plans" for more stockists but "can't go into details right now".
"I don't know too much about its plans for distribution but Vype is the market leader in retail," says Webb. "Retail is key, whether it's grocery, traditional retail, specialist vape stores or online. The consumer needs easy access."
Blu's Tucker says "we aren't just offering a good device, it's also that when our consumers need some more pods they can actually get them."
Pricing
Price-wise, Juul is also a little pricier than the competition from the big tobacco companies. A starter kit retails at £29.99 for a device, plus four pods. Refill pods hold 1.7ml and are priced at £9.99.
A Myblu starter kit costs £19.99 for a device and single pod, while a pack of two 1.5ml refills costs £5.99. Vype's new ePen 3 costs £17.99 with two pods and 2ml replacement pods are £5.49 for a pack of two.
No glaring difference then. But whatever the hype around Juul, or whatever the price, Ernesto Bisagno, vice president and senior analyst at Moody's, doesn't think the "UK players will be concerned, for now.
"Even if Juul was growing at the same rate as it is in the US, it would not significantly affect the profitability of the tobacco companies. The vaping market is extremely fragmented, the big guys like BAT, JTI and Imperial have around 5%-10% each, but independent players have 60% of the market. Clearly Juul grew significantly in the US, but it won market share from other independent producers."
And even they will be difficult to disrupt, another rival warns. "Without the mega concentrated liquid they have in the US that created such a groundswell of noise, their USP over here will be limited," he says. "And there are questions marks about whether what they achieved in the US is achievable in this highly regulated market.
"The noise around Juul is off the back of its enormous success in the US, but it doesn't reflect the shape of the market in the UK. And there is proper competition waiting for them here."
---
From nicotine salts to automatic refills: 10 e-cigarette and vaping brands to watch
10 Motives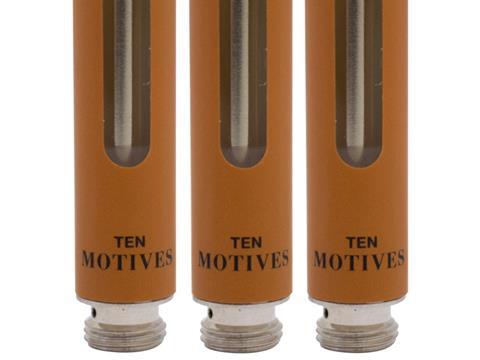 Cheshire-based 10 Motives has grown to become the UK's bestselling e-cigarette brand based on equipment sales [Nielsen September 2017] after being purchased by British American Tobacco in May 2016.
The vaping company has developed through its strong presence in grocery and c-stores, supplying e-cigs to Tesco, WH Smith and the Co-op, as well as online. The brand grew 3% to hit equipment sales of £32.9m last year.
88Vape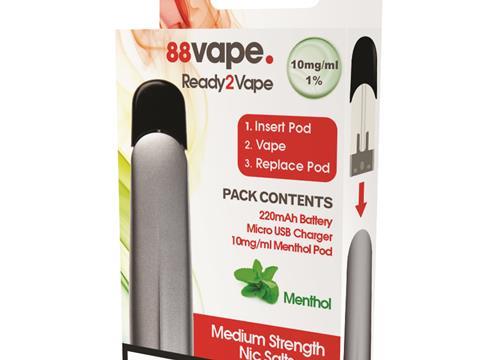 Supreme Imports brand 88Vape is one of the fastest-growing vaping brands in the UK, driven by increasing sales in discount stores and traditional multiples, including Asda.
Supreme, which also manufactures budget brand Kik, floated on the AIM stock market in May, valued at more than £120m.
88Vape is set to launch its own pod device, which MD Sandy Chadha says will "compete with Juul but at a fraction of the price".
AYR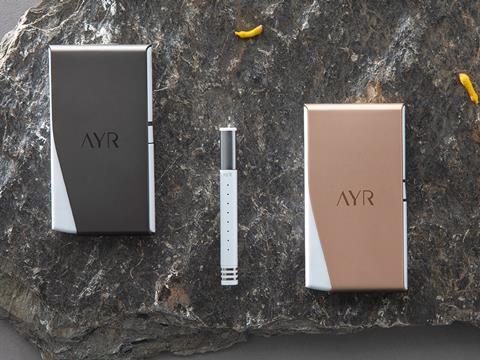 AYR is a new vaping brand due to be launched in the UK later this year, from design pair Ian Murison and Kaveh Memari.
The creators claim to have created the "world's first truly smart vaporiser". The AYR automatically refills and recharges itself, which they say is a first for vaping products. The product will be available in four strengths, from Bold, 18mg of nicotine, to Nude, which contains no nicotine at all. Over time users can reduce the amount of nicotine they are smoking.
Blu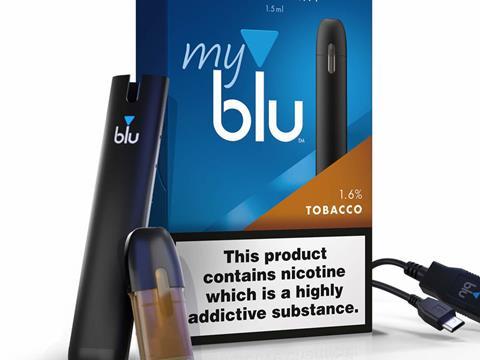 Blu was the UK's second-biggest vaping brand by equipment sales in 2017, but sales of £20.3m represented an 18% fall for the Imperial Brands subsidiary.
The brand was the latest to introduce the pod-mod vaping system with its Myblu vaporiser. It has been marketed as the first widely available UK product to use nicotine salts - as used by Juul.
The vaporiser has been launched as a significant technical improvement on previous products, and takes "only 20 minutes to charge".
Glo
Internationally, arguably Iqos' biggest competitor is British American Tobacco's heated tobacco brand Glo.
The brand is not yet available in the UK and details regarding a potential launch remain unknown, but Glo is now available in seven markets: Italy, Japan, South Korea, Canada, Switzerland, Russia and Romania.
BAT claims the heat-not-burn product's vapour contains 90%-95% less toxicants than a standard cigarette.
Iqos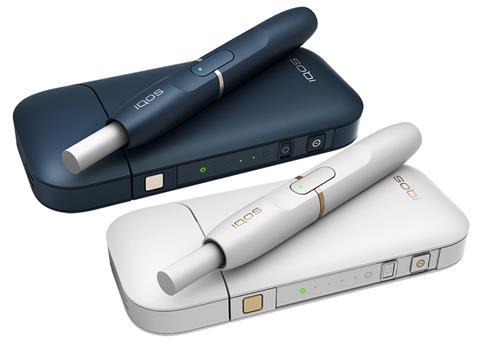 Iqos ('I Quit Ordinary Smoking') was the first major heat-not-burn product launch when it was announced by Philip Morris in June 2014.
The product has been at the forefront of the company's push to achieve a future without traditional cigarettes and is now available in almost 40 countries.
Iqos was initially launched in Japan, where its growth has been compared to vaping in the UK, with 30% of Japanese smokers now using heat-not-burn, according to PMI.
Liberty Flights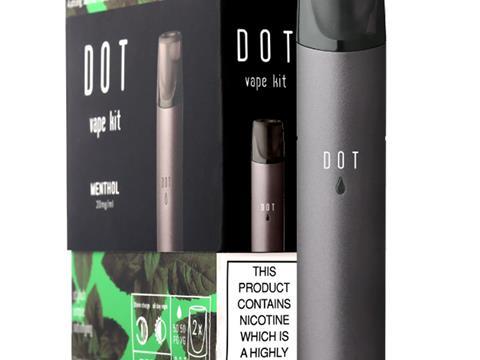 Liberty Flights was the fastest growing of the UK vaping brands last year, with equipment sales up 52.4% to £4.5m in 2017.
The brand has kept up the trend and recently launched its own lightweight pod device, Dot, which takes 30 minutes to charge. The product uses nicotine salts and, at 20mg strength, has the maximum nicotine strength allowed in the UK. First established in Lancashire in 2009, Liberty is now available in Australian and Japanese markets.
Logic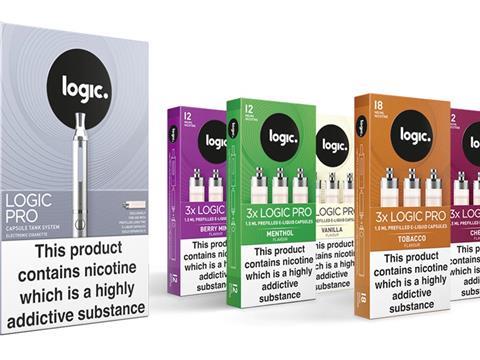 JTI's largest vaping brand was the third-biggest by equipment sales, at £18.2m, in 2017.
It's continued to invest heavily in smoke-free: it launched its Logic Pro vaping device earlier this year, followed this month by a new range of e-liquids.
Logic has also updated its LQD e-liquid range, as it continues to expand in the fastest growing segment of the vaping category.
The Logic Pro was the bestselling capsule vaping device in the UK in the first quarter of 2018 [Nielsen Scan Track Q1].
Vivid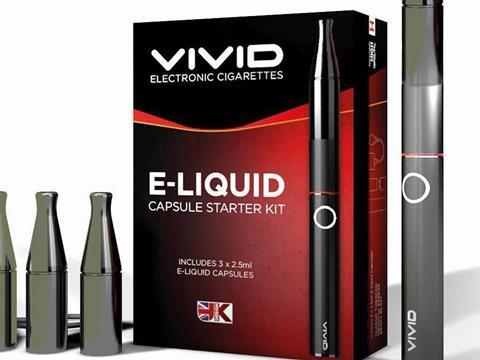 Despite its growth in heat-not-burn with Iqos, Philip Morris has continued to invest in its vaping portfolio, particularly with Vivid.
The Birmingham-based brand was purchased by the tobacco giant when it acquired Nicocigs in 2008, also taking on brand Nicolites.
Vivid's equipment sales dropped last year, falling 30% to £10.1m, but PMI remains committed to the brand, making it a core part of its smoke-free future marketing drive.
Vype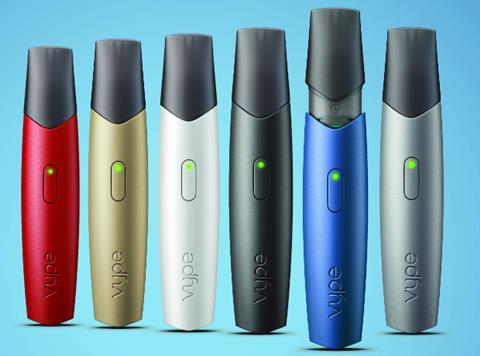 BAT brand Vype has jumped to fourth place in terms of equipment sales, as it grew 28.7% in sales to £16.8m, through launches such as Vype Pebble.
This month it unveiled its "most powerful" vaping pen, the Vype ePen 3. BAT says the device, which is smaller than the old model, produces double the vapour of the previous device and contains more liquid.
Retailing at £17.99, the new device includes seven flavours and three different nicotine strengths.