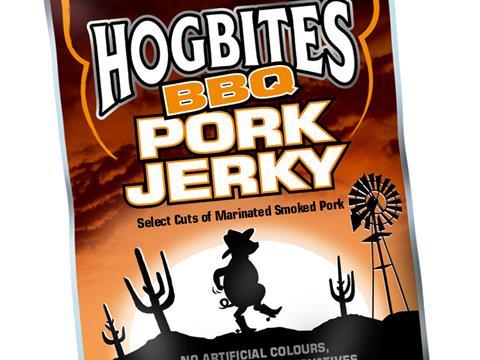 Top launch: Hogbites Pork Jerky
With beef jerky sales booming, The Jerky Group (now Meatsnacks group since its merger with Cruga) decided pork should get in on the act - launching what it claimed was the UK's first pork jerky. Launched under the pork crackling Hogbites brand rather than its flagship Wild West jerky stable because of the natural association Hogbites already has with pork flavours, the range is pitched firmly in the "healthy protein" field and is made using marinated and smoked pork leg cuts.
Meat snacks are beefing up. The sector's 16.7% volume percentage gain is the fifth biggest of the year. Brits chewed through an extra 1.1 million kilos for this protein boost, piling on an extra £11.m (9.4%) in the process.
Savoury pastries, meanwhile, are having a tougher time. The past year's 0.4% value growth on volumes up 1.4% might be an improvement on 2014, but the sector's two biggest players, Ginsters and Wall's, have lost £10.6m between them.

Of course, a key difference between the two sectors is their relative maturity. Pastries' number one Ginsters is still worth almost £100m, whereas the total value of the overall meat snack market is £128.7m.

Now the meat snacks sector, for years the sole preserve of Peperami, is coming of age. "For too long it was just us - we were the category," says David Harriman, UK country manager at Jack Link's, which bought the brand from Unilever in May. "Then Mattessons came along with Fridge Raiders, helping generate more of a category."

The name of the game is upping penetration, says Chris Owen, meats marketing controller at Mattessons brand owner Kerry Foods. He points out that currently one in four households buy meat snacking products, compared with the more than 40% penetration for cheese snacks. "Meat snacks tend to be bought by younger consumers, so we're looking to innovate in adult snacking," says Owen. "We're working with our retail partners to build the category."

There's no shortage of launches aimed at mature consumers, particularly those with more expensive tastes and penchants for high protein. Kerry's Meateors, for example, has racked up £322k since launch in April and the youth-orientated Fridge Raiders range was boosted with the launch of Strip Sticks and Fire Dogs in the same month, helping to drive 15.8% growth on volumes up 11.7% for the overall Mattessons brand.

The explosion of smaller beef jerky brands has been crucial in attracting older consumers, says Nielsen analyst Rob Fife. "Beef jerky is a huge and growing trend and is going to have a dramatic effect on the way we consume snacks over the next few years. At 50%, it's the fastest growing area of meat snacks, with almost £5m added in the last year. It's no longer just sold alongside the beer in pubs as a crackling alternative, but can be found in gyms and health food stores, and the big retailers are starting to notice the importance of having these products front and centre."

And so the fixture is getting crowded. Inevitably, this is putting pressure on prices, which have fallen 6.3% on average. Peperami's 17.9% volume growth has delivered value growth of just 3.5%, with promotions to the fore, says Harriman. "We're spending more money on Peperami than ever before," he says. "We're supporting marketing campaigns through retailer promotions. When you're doing marketing campaigns, at the same time you have to support with promotions to drive awareness in store."

It's not just big stores either. Though Nielsen's figures show the Grabits brand in decline, owner Golden Foods Siam claims sales of £5.4m with strong growth coming from independent channel stores not covered by the Nielsen data.

With meat snacks doing well, it's no surprise Ginsters entered the market with its Meat Club range of chicken chunks and skewers in February. The £500k the sub-brand has racked up goes some way towards offsetting Ginsters' £2.8m decline in the savoury pastries sector. The brand is looking to pep things up with a combination of big marketing initiatives, such as its sponsorship of Channel 5's Football League Show, and innovation.

"There are two key trends impacting the category: the introduction of new flavours from around the world and customers seeking quality products," says Ginsters sales and marketing director Linda Evans, pointing to the recent launch of a Chicken Balti Pasty and Spicy Meatball and Pulled Pork slices as proof of how the brand is looking to tap these trends. "Pulled pork is everywhere. There's even pulled pork flavoured popcorn now."

A growing reliance on deals is also leaving its mark on the sector, with average prices down 1% over the past year. "In-store promotions and meal deals are a great way to attract shoppers looking for value for money," adds Evans. "Shoppers respond well to half-price or £1 deals; retailers are regularly employing temporary price reductions. Meal deals have been particularly successful and Ginsters features prominently in such options."

That said, price erosion in savoury pastries has been mitigated by the growth of more premium brands, such as Higgidy and Pieminister, which on average fetch around twice the market average price. "People want something a bit more crafted and premium," says Mav Howgego, commercial director at Higgidy, which has seen sales jump by nearly a quarter to £24.3m in the past year. "As consumer habits evolve and disposable incomes increase, there remains huge headroom in this area for retailers."

Though the fear of rationalisation looms large for some, with players citing recent Tesco's recent consolidation of its savoury pastry lines and increasing use of half-price deals as causes for concern, the outlook for meat snacks and savoury pastries is relatively positive and there's plenty of room for more growth next year, says Kerry's Chris Owen.

"Most retailers are moving products to the front of store and we're working hard with them to build this chilled meat snacking category into a category of its own rather than an add-on," he says. "This is a growth area and an exciting place to be."
TOP 15 Meat snacks
SALES
£m
change (£m)
change (%)
Total volume change: 16.7%
Total Category
128.7
11.1
9.4
Total Own Label
4
–0.7
–14.4
1
1
Peperami
Jack Link's
52.6
1.8
3.5
2
2
Mattessons
Kerry Foods
48.2
6.6
15.8
3
3
Wild West
Meatsnacks Group
6.5
0.3
5.6
4
4
Grabits
GFS
4.1
–0.6
–13.3
5
6
Cruga
Meatsnacks Group
2.3
0.4
19.5
6
5
Deli Cuisine
Forza
2.3
0.1
5.9
7
9
Texas Joe's
Meatsnacks Group
1.7
0.7
63.3
8
7
Jack Link's
Jack Link's
1.6
0.4
37.9
9
8
Bundu Biltong
Meatsnacks Group
1.4
0.4
32.5
10
12
Men's Health
Meatsnacks Group
0.7
0.3
89
11
11
Coan
Coan
0.7
0.2
47.5
12
NEW
Ginsters Meat Club
Samworth Brothers
0.5
0.5
●
13
20
Csabai
Csabahús
0.4
0.2
92
14
NEW
Meateors
Kerry Foods
0.3
0.3
●
15
14
Jean Caby
Jean Caby
0.3
0
0.2
Get 20% off the full category ranking. Click here and enter discount code NIELSENGROCER
TOP 15 Savoury pastries
SALES
£m
change (£m)
change ()
Total volume change: –1.0
Total Category
1,055.20
4.1
0.4
Total Own Label
725.9
2.6
0.4
1
1
Ginsters
Samworth Bros
99
–2.8
–2.7
2
2
Wall's
Kerry Foods
42.4
–7.8
–15.5
3
4
Higgidy
Higgidy
24.3
4.8
24.8
4
3
Pukka
Pukka Pies
22.4
–0.2
–0.7
5
5
Peter's
Peter's Food Service
15.9
0.6
3.7
6
7
Pork Farms
Pork Farms
14.7
2.8
23.8
7
6
Bell's
Bells Food Group
12
–0.6
–4.6
8
9
Holland's
2 Sisters Food Group
7.6
1.1
16.3
9
8
Heinz
Peters Food Service
7.4
–3.0
–29.1
10
10
Vale Of Mowbray
Harris C&T
6.1
–0.1
–1.1
11
14
Charlie Bigham's
Bigham's
4.4
0.8
21.4
12
13
Dicksons
Dickson MI
4.1
0.4
11.7
13
15
Wrights
Wrights
3.9
0.4
12.2
14
12
Adams
Adams Pork Products
3.9
0
0.8
15
18
Pieminister
Pieminister
3.8
1
35.1
Get 20% off the full category ranking. Click here and enter discount code NIELSENGROCER