The familiar narrative of Brits ditching fried potato crisps in favour of alternatives isn't quite so cut and dried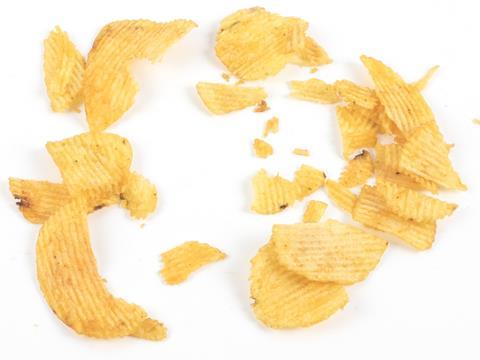 At first glance it seems simple: the chips are down in bagged snacks. Popcorn and 'healthier' baked snacks such as Sunbites are up.

Dig deeper and the familiar narrative of Brits ditching fried potato crisps in favour of alternatives isn't quite so cut and dried. Sure, standard Walkers have suffered the sector's biggest loss, of £20.1m, but combined sales of Walkers' 10 variants in the top 50 are in fact in solid growth, up 1.5% to £552.8m on volumes up 3.9%, or an extra 2.5 million units.

The biggest contributor to growth was Tear 'n' Share, the bag-cum-bowl format that's hit £15.4m since launch in January. "Snacking occasions continue to fuel growth for the sharing segment," says Thomas Barkholt, marketing director at Walkers owner PepsiCo, pointing to PepsiCo's 2016 NPD Walkers Crackers and Pop Works & Co. "Crackers and popcorn are performing very well."
Data Box
For 20% off the complete category ranking click here and enter discount code NIELSENGROCER
Data supplied by nielsen.com
You could argue PepsiCo was a little late to the popcorn party with Pop Works, given the strong growth smaller brands such as Propercorn, Metcalfe's and Tyrrells Poshcorn and number one Butterkist have had in recent years, particularly when you consider that the 43.8% growth for Butterkist we reported a year ago has slowed to 4.6% in the past year. Still, Butterkist believes there is still plenty of life left in the popcorn market yet.

"We've heavily invested in qualitative and quantitative research to date, to get closer to our consumers and gain a greater understanding of the role of popcorn and Butterkist in their lives. This rich insight will come to life in our exciting plans for 2017," says Anjna Mistry, senior brand manager at Butterkist.

Sharing is important - Barkholt says 86% of households buy sharing packs at least once a month - but it's not the only trend shaping snacking. As the rise of gourmet popcorn brand Joe & Seph's shows, punters are being convinced to part with their cash by brands with more premium positioning.
A clear indication of this is the growth of Tyrrells and Kettle Chips, which are up £4.4m and £2.7m respectively, although it's worth noting that volumes are up at nearly twice the rate for both brands, suggesting they've relied heavily on price promotions to encourage shoppers to pick them up. Average prices within the category have fallen 1.5%, and promotional prices are down 2.8%. Average depth of discount on products is 13.8%.

This makes one thing clear: snacks without regular deals will soon be snacks without shelf space. For example, analysis on Brand View suggests the major multiples have run 747 promotions on Tyrrells products in the past year, with depth of cut increasing by 1%. "Everyone is playing in the same field," says Nielsen analyst Emily Robinson. "NPD is very important to bagged snacks due to the promiscuous nature of the category where brand switching is very high, as consumers are highly influenced by what's on deal."

Pringles, for example, has shifted more in volume than value, with average price falling 5.7% in the past year. Owner Kellogg's concedes that deals are vital. "Snacks are purchased on impulse, they're not planned purchases. Promotions are the best way to drive feature and disrupt shoppers on their trip, getting your product in the trolley," says snacks commercial director Clare Furlonger.

In a market so deal-reliant, it's crucial NPD adds value. Vegetable crisps have proved popular because they're perceived as healthier, and for that consumers will pay more. "There is a strong and growing demand for 'better for you' snacks," says Tyrrells senior marketing manager Cath White. "The market is responding to this pressure with innovative NPD and revisions to traditional recipes."
Top Launch 2016
That's why baked snacks have had something of a rebirth in recent years -see Sunbites and Walkers Baked's respective gains of 7.8% and 3% for proof. Despite the general trend towards baked snacks, one of the biggest players in this area, kids lunchbox favourite Jacob's Mini Cheddars, has actually suffered a 5.5% decline. To an extent the brand has been caught on the back foot by the growth in sharing packs, suggests Steve Monk, head of savoury marketing at owner Pladis.

"In recent times, the multipack category has been hit by males switching into more sharing pack formats and 84 million lunchbox occasions being lost, mainly through free school meal programmes and tighter lunchbox guidelines," Monk adds, although he remains optimistic, pointing to the £4.5m Pladis is due to spend on the brand in 2017 and growing demand for healthier snacks. "Our portfolio is 100% baked. With an ever increasing consumer emphasis on healthier eating, we're poised to boost further growth."
Pladis isn't the only one playing the health card. KP Snacks launched Hula Hoops Golden Hoops in May as part of a strategy to deliver 'permissible snacking'. "Consumer demand for healthier snacking products is high, although not the biggest driver of snacking occasions, with crisps 38% of the snacking category," says Andy Riddle, branded sales director at KP Snacks. "Retailers are giving more space to lighter alternatives."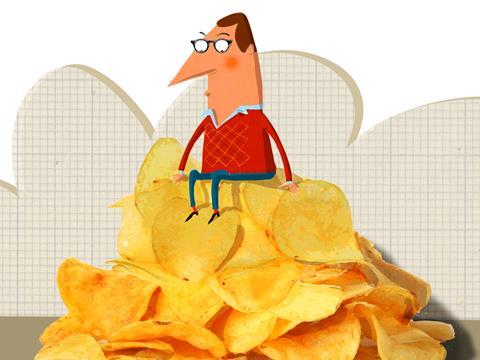 It's good to share, say the big snack brands, as more and more move their products into larger formats to muscle in on the social occasion that's become known as 'the big night in'. But how many Brits actually share sharing bags? According to a Harris Interactive poll for The Grocer in January, nearly a third of the 80% of Brits who regularly buy sharing bags can't resist the temptation of eating the whole bag all by themselves in one sitting at least once a fortnight.
Indeed, the Co-op is refreshing its entire healthy snacking range in January. This will see the retailer launch a number of products in the bagged snacks aisle. "Health means different things to people and we have been really focused on ensuring we meet the different customer needs, whether that be for people who want a calorie-capped snack or a naturally healthy option," says Co-op crisps, snacks & nuts product developer Laura Clark.

Smaller brands are driving much of the growth in alternatives to crisps - see Yushoi Snapea Rice Sticks, which went gluten-free this year (our Top Bagged Snacks Launch for 2016) or rapeseed oil cooked Savoursmiths. Another innovation is Propercorn's Crunch Corn, which is half-popped popcorn with the texture of nuts. Launched in September, this product was marketed as an allergen-free alternative to nuts.

Expect more competition for the humble crisp in 2017, says Mistry. "In 2016, the popcorn marketplace has continued to see a flurry of new entrants while existing brands have ramped up activity and closed distribution gaps. Investment from US snack conglomerates eyeing the UK suggests market competitiveness will intensify."