Sex in the supermarkets is all about one brand: Durex, which has a 75% share of condoms, lubes and sex device sales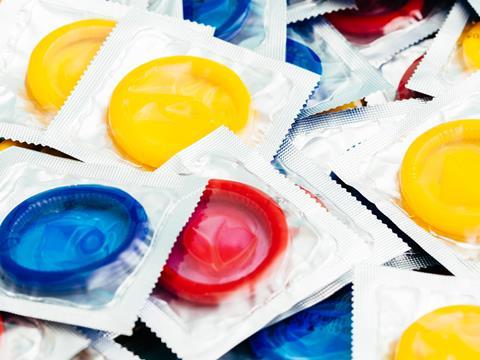 Sex in the supermarkets is all about one brand: Durex, which has a 75% share of condoms, lubes and sex device sales. And after a rather limp performance a year ago, sales were on the up again in 2016. The supers have shifted an extra 318,870 packs of condoms overall, with value sales up 3%. That's an extra £1.6m out of £2m total growth across condoms, lubricants and devices.

The uplift for condoms has been down to a combination of a wider variety of pack sizes and retailers making the products more widely available in store, according to Elise Cockley, marketing manager at Durex, which has led the turnaround in the subcategory, piling on 6.4% in value and 12.8% in volume. Closest rival Mates, conversely, slipped 10.1% having suffered a raft of delistings across the mults - while the sector's third biggest seller, Pasante, held steady with a 0.2% rise.
Data Box
Data supplied by nielsen.com
"Products are now easier for customers to find thanks to a drive for more impulse locations, and availability of bigger pack sizes has given people better value per foil while also driving consumption," says Cockley. An increased prevalence of smaller impulse packs - threes and sixes - has helped drive penetration and bring back infrequent users, while larger packs have played a part in creating loyalty for Durex, she adds.

This was aided by some hard-hitting messaging to encourage higher usage in younger shoppers. "The rise of online dating, the challenge of providing quality sex education in schools, and an 'invincibility' culture among younger people have contributed to a rise in STDs," says Cockley.
Top Launch 2016
And while protection is paramount, pleasure is also key. There is an increasing demand for heightened sensitivity. In response, Durex this year unveiled its thinnest ever natural rubber latex range, the premium Invisible, which has performed "really strongly".

Enjoyment was also a driver for the launch of the Durex Pleasure Ring, which spurred the devices subcategory into the black with £2.4m in value sales. The product's success shows consumers are "prepared to try something new to have better sex", says Cockley.

Devices have been driven by a continuous stream of innovation. While the subcategory experienced £328,000 in decline driven by existing and delisted ranges, NPD drove £485,000, resulting in net gains of £157,000.

Lubes had an upbeat 2016, too. Own label products such as Boots Ultimate Glide stole share from brands, with the former adding 17% against the latter's 0.7% slip. A lack of NPD was the downfall of brands, while own label had the appeal of being considerably cheaper: £2.97 per unit versus £5.12.