The e-cigarette market might not quite be enjoying the stellar growth of a few years ago but it's up 20%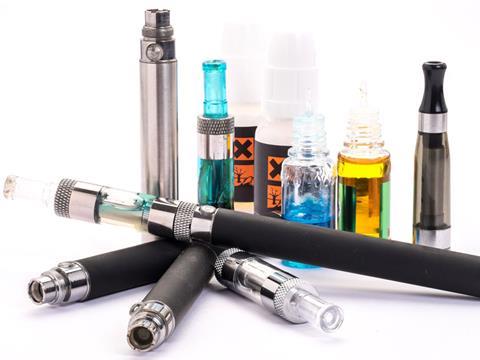 The e-cigarette market might not quite be enjoying the stellar growth of a few years ago, but a value increase of 20% to £174.6m is not to be sniffed at and something suppliers in many other categories can only dream off.

That seven of the 10 top e-cigs are now owned by a tobacco giant, compared with just five a year ago, is significant. There is a clear trend of strong growth driven by brands with more sophisticated distribution networks allied to the demand for tank devices.
Data Box
Data supplied by nielsen.com
Vype and Cirro, which are both now ultimately owned by BAT, enjoyed growth of 99.2% and 109.5% respectively, while Imperial Brands-owned Blu climbed two places on the back of a 74.6% growth in sales. Blu UK category controller Jennifer Roberts says building strong relationships with retailers has been key to its success this year.

"This year, we've been working hard to provide quality vaping products that meet the ever-growing needs and expectations of today's consumers," she says. "This, combined with an engaging ATL campaign, supported by the solid partnerships our sales team have built with our retail customers, has delivered strong growth for Blu and for the overall vaping category. We've also been heavily focused on educating retailers to improve their understanding of the products available, enabling them to deliver a better level of service and advice."
Top Launch 2016
However, the sector is not without its challenges and, like tobacco, much of this is from legislative changes. As of May, the minimum size of refill containers will be 10ml, while the maximum strength of e-cigarette cartridges will come down from 24mg of nicotine per millilitre to 20mg. These changes could result in price increases for vapers. Any increases would go against the current downward trend of pricing in the category, as evidenced by the fact that while value growth is up 20%, volumes are actually up by 30.7%.

There's another challenge on the horizon. In the last few weeks Philip Morris International launched its Iqos heated tobacco, which it claims releases 90% fewer toxins than a regular cigarette while more closely mimicking the taste and experience than traditional electronic cigarettes, which use nicotine solutions. The launch prompted PMI CEO Andre Calantzopoulos to speculate such products could spell the beginning of the end for cigs.

The only previous heated tobacco device launched in the UK was JTI's Ploom in 2014, and this product is now only available online. But within a year of launch in Japan, Iqos had claimed a 2.5% share of tobacco sales. With plain packs becoming mandatory in May, will 2017 be the year heated tobacco takes off in Britain?