England's crushing World Cup semi-final defeat sent swathes of the population into a savage existential crisis. But for beer and cider brands it couldn't have gone any better.

Year-on-year sales were up an unprecedented 25.3% over the four-week tournament, capping a stellar year during which Brits splashed out an extra £319m on beer, cider, stout and ale combined. Lager on its own was accountable for £227.5m of that growth, making it the third fastest-growing category in this report.
AB InBev took the brewers' trophy. The Budweiser and Stella owner generated an extra £76.9m from those two brands alone. Factor in stellar performances from Corona (up £20m to £153.8m), Bud Light (up £16.1m to £37.1m) and Camden Hells (up £3.8m to £5.3m) and that figure breaches £117m.

Heineken also scored a blinder. The Dutch brewer's brands returned to the shelves of Tesco after a year in the wilderness - following 2017's now-infamous delistings - just in time to capitalise on the World Cup kick-off.

The result? A whopping £53.9m in added value across its 10 biggest lagers. Its flagship grew 36% (£23.2m), while Italian brew Birra Moretti is up a massive 79% (£21m). An impressive feat, given this time last year those same brands were down a combined £43.1m.

Heineken came second in ciders, too. It sold an admirable extra £22.9m across Old Mout, Scrumpy Jack and Strongbow, but losses for Bulmers (down £6.7m) and Woodpecker (down £129k) meant in growth terms it came behind Thatchers, which rode shoppers' love of posh apple ciders to sell an extra £16.2m.

Upmarket Mediterranean brands made huge gains, too: Peroni grew £13m (10.6%) to £138.4m, overtaking Kronenbourg to become the UK's sixth-biggest lager brand, while San Miguel and Estrella Damm grew £22m (20.3%) and £23m (86.5%) respectively.

Jim Hopkins, off trade category manager at Marston's, which manages Estrella Damm in the UK, attributes this boom in more premium sales to a move "away from collecting 'things' to collecting 'experiences'".

And for beer and cider brands, few experiences can ever beat the World Cup.
TOP LAUNCH
---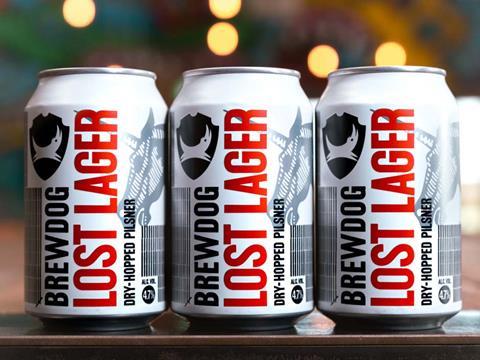 Lost Lager, BrewDog
BrewDog is looking to steal share from posh bottled lagers like Peroni and San Miguel with its latest release, a dry-hopped pilsner that hit shelves in September as a Tesco-Booker exclusive. BrewDog's founder and CEO James Watt sees premium world lager as "the next phase of growth for the craft category", as it's full of "strong brands but liquids that are average". He'll certainly have a fight on his hands. But then BrewDog has never been one to shy away from a scrap.