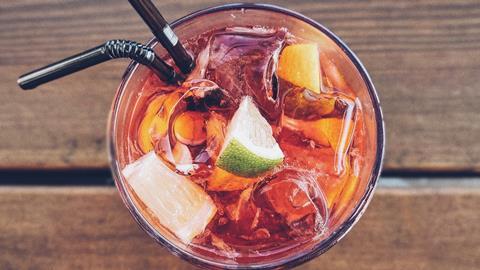 Britain's love affair with premixed cocktails has hit new heights. Volume sales have grown by 18.7%. That's an extra 11.7 million litres landing in shoppers' baskets.
It's meant a major payday for market leader WKD Blue, which has increased unit sales by 31.7% and added £11.8m to its value.
What's more, says Nielsen senior client analyst Polina Jones, 79% of its value gains came during the 17 weeks when bars and pubs were shut in the spring.
Flavoured RTDs like WKD Blue have been a big deal this year, stealing share from classic cocktails like Gordon's London Dry Gin & Tonic – down 5.8% in volume sales.
During the first lockdown, "RTDs delivered a much-needed slice of fun, and they embodied more than a passing nod to happier times", says SHS Drinks' WKD head of brand Alison Gray.
"For many people, RTDs are the closest representations of the types of drinks they might have bought in the on-trade."
However, while buoyant, the RTD sector hasn't attracted many new shoppers, adds Jones. "Most of the growth was driven by frequency and price increases."
So, in a bid to attract new punters to canned spirits, supermarkets are hoping hard seltzer will capture the imagination of health-conscious Brits. Boozy sparkling waters from new players such as Drty, Mike's and White Claw (see our Top Launch, below) alongside established brands like Coca-Cola, Kopparberg and Dalston's Soda have been steadily hitting shelves since the summer.
But Jones is yet to be convinced such drinks will become the sensation they are in the US, where off-trade sales hit $2.7bn (£2bn) over the 52 weeks ending 13 June.
In the UK, "the launch of hard seltzers created a lot of noise with a lot of shelf space given to new brands" she says.
"The range, however, is very wide, and it's unlikely for many brands to cut through to the top 10 next year."
What's more likely in 2021 is that flavoured gin will relinquish its hotshot status in the spirits market. There are signs it is already falling out of favour, Jones notes. "Winners in the past – Gordon's Premium Pink, Edinburgh Gin Rhubarb & Ginger and Whitley Neill Parma Violet – are seeing declines as the lifecycles of flavour profiles shorten with new flavour innovations."
And it's innovation that is "really vital for the UK market" says Pernod Ricard UK commercial director Ian Peart. "If you look back over the past few years, a huge amount of the growth has come from new products. But [coronavirus] gives the challenge of how you launch them to market effectively."
Top Products 2020
In association with Nielsen
Top 10 Spirits
£m
£ change
%
Total volume change:
10.0%
Total Category:
5285.5
566.8
12.0
Total Own Label:
709.3
64.3
10.0
This year's rank
Last year's rank
Brand
Manufacturer
£m
change (£m)
change (%)
1
1
Smirnoff Red Label
Diageo
462.3
15.6
3.5
2
2
The Famous Grouse
Edrington
245.8
18.4
8.1
3
3
Gordon's
Diageo
234.2
16.5
7.6
4
4
Jack Daniel's
Brown Forman
190.7
18.5
10.8
5
5
Glen's
Loch Lomond
177.5
16.8
10.5
6
7
Russian Standard
William Grant & Sons
152.6
11.5
8.1
7
6
Gordon's Premium Pink
Diageo
136.2
–5.6
–3.9
8
10
Captain Morgan Spiced
Diageo
118.9
20.2
20.4
9
9
Baileys Original
Diageo
116.9
10.6
10.0
10
11
Bacardi
Bacardi
114.3
16.3
16.6
Top 5 RTDs
£m
£ change
%
Total volume change:
18.7%
Total Category:
396.9
71.1
21.8
Total Own Label:
52.0
2.4
4.8
This year's rank
Last year's rank
Brand
Manufacturer
£m
change (£m)
change (%)
1
1
WKD Blue
Beverage Brands
42.7
11.7
37.9
2
2
Gordon's Pink G&T
Diageo
31.1
4.0
14.6
3
3
Jack Daniel's & Cola
BBFB
28.9
2.9
11.1
4
4
Smirnoff Ice
Diageo
21.8
3.5
19.4
5
6
Gordon's G&T
Diageo
16.9
–0.2
–1.4
The Grocer's Top Launch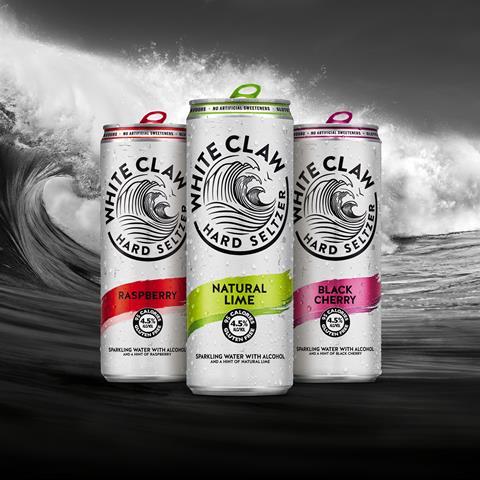 White Claw Mark Anthony Brands
Hard seltzer brand White Claw took the US by storm last year, shifting 80 million cases and even inspiring some fans to get tattoos of the can or haircuts inspired by the logo. Now the boozy water – which provides 95kcals per 330ml can – is finally available in the UK. It landed in June in Raspberry, Natural Lime and Black Cherry, marking its debut outside North America. As a sign of its potential, White Claw had to wait no more than a month before inspiring an Aldi version, Nordic Wolf.