Supermarket sales of household products are going down the plughole.

Sure, the combined 0.9% value loss of the five big sectors is an improvement on the 2.2% decline of 2017. But there's nothing too sparkly about the 2.4% volume decline. That's 20.2 million fewer packs sold.

Much of this is down to the rise of the discounters (not covered in these numbers). They now account for 30% of the overall category, with sales up 14%, according to P&G.
"Consumers' disposable incomes are being squeezed, so they're reacting in terms of where they shop and what they buy," says P&G sales director Ian Morley.

So retailers are making way for their own cheaper lines, up £18.7m (6.4%). That's come at the expense of brands, down £31.8m (2.9%).

Reckitt Benckiser is down £10.3m (3.1%) as Finish shed £7m, the year's greatest loss. Fairy Liquid contributed £4m to P&G's £10.2m (3.1%) loss. Unilever lost £4.6m (4.5%).

Not all are washed up, though. Eco brands Method and Ecover have weathered boycott calls from green groups objecting to new owner SC Johnson, posting respective gains of £2.4m (17.1%) and £3.1m (24.5%).

"Sustainability is an increasingly dominant influence," says Unilever homecare VP Gemma Cleland.
TOP LAUNCH
---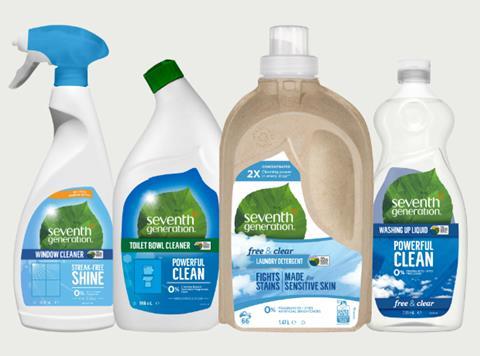 Seventh Generation, Unilever
This is a coming of age for household cleaning. The Seventh Generation range of biodegradable cleaning and laundry products is made from at least 91% plant-derived ingredients and comes in packaging made entirely from recycled and recyclable materials. October's launch of the range, which includes Lavender & Blue Eucalyptus detergent and All Purpose Cleaner that creates "no unpleasant fumes", will no doubt be sounding alarm bells for eco brands Method and Ecover.