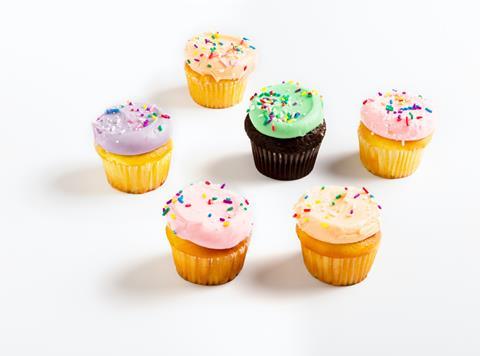 Cake's going stale. In a year of home baking and little to celebrate, value went flat. Own-label lines, usually the star of the show, suffered a near £20m decline. And while some big brands grew in value, much of that was down only to higher prices.
The home baking revival was a key reason behind the poor performance, says Scott Snell, customer VP at McVitie's owner Pladis. "With shoppers trying their hand at homemade cakes and bakes, this had a knock-on impact on cake category sales."
Plus, locked-down Brits have found themselves unable to celebrate birthdays and other events traditionally associated with cake, he adds. "With social distancing measures in place, the British public were forced to say goodbye to face-to-face birthday parties and office celebrations, and this knocked the wind out of this sector of the market."
Some big names have felt the force of this double-whammy. McVitie's, for instance, has shifted 8.2 million fewer packs. That's driven a £9.4m decline in value – the greatest absolute loss in the category. Not even baking doyenne Mary Berry was immune. Her branded range lost £1.4m, equating to 26.3% of its value.
Then there's Thorntons, which has shed 30% of its volumes, the equivalent of 4.9 million units. "Thorntons has pulled back on promotions in the past year, losing 40% of promotional RSV," explains Nielsen senior analytics executive Nicholas Corlett.
Even in this tough climate, though, there have been some success stories. Mr Kipling, the market's biggest brand, managed to add £5.4m, while Galaxy grew its value by 61%.
"Top brands have done well as we see nostalgia being key to purchases in uncertain times," Corlett says. However, he stresses: "Some of this growth could be seen coming through from pre-Covid times, as Mr Kipling grew through increased presence in-store – similarly with Soreen."
Unfortunately for cakes, Boris Johnson's obesity strategy will soon make in-store promotions a thing of the past. The clampdown on display promotions of HFSS foods "will have an effect on sales within the category of up to 13% RSV", forecasts Corlett.
However, there may be cause for hope on the horizon. The pandemic and the home baking craze are expected to wane. And the forecast fall in consumer confidence could actually boost cake sales.
"When considering what happened to the category during the last major recession seen by the UK between 2008 and 2010, we saw a small lipstick effect on cake," says Premier Foods sweet treats brand director Mathew Bird. "When people are required to cut back on big expenses and luxuries, they look to treat themselves in different ways."
Top Products 2020
In association with Nielsen
Top 20 Cakes
£m
£ change
%
Total volume change:
-1.4%
Total Category:
1160.0
7.2
0.6
Total Own Label:
628.1
-19.4
-3.0
This year's rank
Last year's rank
Brand
Manufacturer
£m
change (£m)
change (%)
1
1
Mr Kipling
Premier Foods
164.1
5.4
3.4
2
2
Cadbury
Premier Foods
78.9
2.1
2.8
3
4
Soreen
Samworth Brothers
40.9
2.9
7.8
4
3
McVitie's
Pladis
30.6
–9.4
–23.6
5
5
Thorntons
Finsbury Foods
18.4
–4.3
–18.9
6
6
Bonne Maman
Andros
11.5
0.3
3.0
7
10
Galaxy
Mars
10.0
3.8
61.0
8
7
Mrs Crimble's
Kallo Foods
9.1
–0.2
–1.7
9
9
Balconi Cakes
Balconi
8.5
1.6
23.0
10
8
Graze
Unilever
6.4
–0.7
–10.4
11
12
Yorkshire Baking Co Cakes
Yorkshire Baking Co
6.1
0.8
15.8
12
14
Tan Y Castell
Tan Y Castell
4.6
0.5
12.1
13
15
Bobby's
Bobby's Foods
4.3
0.4
10.2
14
11
Mary Berry
Finsbury Food
4.0
–1.4
–26.3
15
13
Happy Shopper
Booker Belmont
3.6
–0.6
–13.8
16
16
Regal
Regal Foods
3.5
0.4
11.7
17
21
Cottage Bakery
The Cottage Bakery
3.5
1.2
49.7
18
17
Just Love
Just Love Food Co
3.5
0.1
3.9
19
20
Cabico Cakes
Cabico
3.0
0.4
16.5
20
23
Fatherson
Fatherson Bakery
2.5
0.4
19.9
The Grocer's Top Launch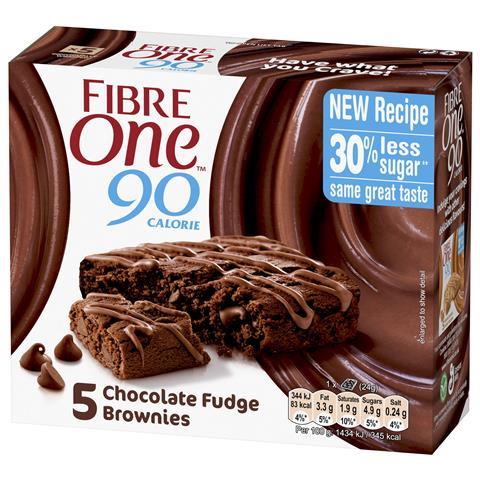 Fibre One Reduced Sugar, General Mills
Cake isn't synonymous with health. Unless it's Fibre One. OK, it's not strictly cake but it's very cake-like. And that's good enough in a year short on eye-catching NPD. Already popular with dieting fans due to its low-cal cred, Fibre One jumped on the reduced-sugar bandwagon in October. It slashed 30% of sugar from Chocolate Fudge Brownies, while increasing fibre content to 6.5g per 24g bar. Owner General Mills claims the change will remove 195 tonnes of sugar from the range over the next year.