It's the new market bringing hope to sugar confectionery. We're talking 'kidults', adults seeking out the classic sweets they enjoyed as kids. So retro brands have come back into fashion. In January Tangerine Confectionery brought a host of iconic names - including Dip Dab, Sherbet Fountain, Black Jack and Fruit Salad - back under the 170-year-old Barratt banner, five years after dropping it in favour of Candyland.

Ninety-year-old Swizzels Matlow got in on the action by giving some of its vintage lines a contemporary twist, focusing on Drumstick and Refreshers variants of its new Choos soft chews, and giving Love Hearts a 'digital makeover' by (temporarily) replacing romantic messages with emojis.

Brands are hoping the craze will perk up this slightly flagging market, which has seen value remain static on volumes down more than 3%. "The trend for retro sweets is still performing incredibly well as buyers look to purchase the brands they loved when they were younger - a trend we've named kidulting," says Russell Tanner, marketing & category director at Tangerine.

So, 'kidulting' could be sugar confectionery's word of the year. But there's another contender for that title: 'sugar free'. As the government's obesity strategy ramps up a notch, there was a flurry of calorie cutting and healthier NPD as suppliers rushed to appeal to the more health-conscious consumer.
Mark Roberts, trade marketing manager at Perfetti Van Melle, believes it is a development worth heeding. He points to the numerous initiatives by Public Health England to promote healthier choices, such as introducing new guidelines recommending lower calorie snacks and the 2020 sugar reduction targets. "Numerous trends are altering shopper missions," he says. "Most notably people are now more health-conscious and looking for alternative choices."

Playing to this market appears to be working for PVM, which has seen its Fruittella brand soar in value by 23.3% to £20m. This year, it followed up its first low and no sugar lines in 2017 with sugar-free Fruit Drops - its hard candy debut.

The influx of wholesome lines is attracting new shoppers to the category, Roberts adds. "Research is already showing that 73% of sales in less sugar and sugar free are incremental, implying people who previously may not have considered confectionery are entering the category. We only expect this growth to continue in 2019. Next year, we will carry on innovating and emphasising the benefits of our reduced and sugar-free offering."

Everyone's at it. In January, market leader Haribo unveiled its first reduced sugar line, Fruitilicious, promising 30% less sugar than "regular fruit gum sweets". Sweetened with dextrin and sorbitol, the confectionery provides 33g of sugar per 100g - in contrast to the 47g of sugar per 100g in Haribo's popular Starmix. Fruitilicious went on to achieve over £2m in sales within eight months.

According to Haribo's trade marketing manager, Claire James, healthier sweet options are already worth more than £22.3m and are likely to become of greater importance to grocery. "It's a growing trend that is showing no signs of slowing. Just take the number of sugar-free and sugar-reduced products - these have increased by 25% in the last 12 months alone. With such a strong influx of new products, manufacturers and retailers will naturally optimise their ranges to focus on the strongest performing products."

So despite the ongoing war on sugar, Tangerine's Tanner believes society isn't going to forgo all treats. He believes enough consumers "will still eat sweets regularly, but will look to focus their budget on buying treats that can slot easily into a healthy lifestyle". "Rather than cutting out sugar entirely, consumers are looking to make small improvements to their diets and leaning towards buying products that use natural sugars, colours and flavourings."

There's also hope in the form of another trend: premiumisation. While candy consumers may be concerned about putting on the pounds, they're less worried about holding onto their pennies. Premium options have a strong chance of reigniting the category, Tanner says. "Injecting value growth through luxury confectionery is a key opportunity that is still in development, using high quality ingredients, artisanship and interesting flavours to help denote a premium product.

"At the moment, premium confectionery has been predominantly limited to fudge, but we have started to see it build in fruit jellies, toffees and marshmallows, using all-British ingredients or alcohol flavours, which are popular with adult sugar shoppers looking for gifts or an indulgent treat."

Take, for example, Candy Kittens' Blueberry Bliss - priced at £3 for 138g, and this year's "most interesting launch in fruity confections" according to Nielsen analyst Adam Paulson. The variant added £313k to the blossoming brand's £3.8m posh sweets portfolio, appearing alongside NPD such as its gift jars (see below left). "Blueberry Bliss hits a niche within the sugar category of premium offerings," Paulson adds.

Those offerings appeal to young adults on the lookout for new and different flavours - a demographic also eyed by Maynards Bassetts. In a little under two years, the brand has introduced a host of new flavours via Wine Gums Mocktails, Jelly Babies Tropical and Wine Gums Tangy. Marta Sanso, senior brand manager for joyful candy at brand owner Mondelez, says the trio has "been highly incremental to the candy category. Wine Gums Tangy alone brought in £1.6m incremental RSV in its first year."

Fresh-faced punters were also the target when Mars Wrigley brought "a candy-like experience" to the gum category with sugar-free Starburst Chewing Gum (our Top Launch), aimed at shoppers aged 15 to 24. This was a UK first for gum, it claimed.

"Over the last 10 years, the gum category has seen a 20% decline in penetration from the younger generation," says Dan Newell, fruity confections portfolio director at Mars Wrigley, which "aims to help reignite the enjoyment of gum and engage the next generation of chewers". So far, so good: Starburst Gum has gained an impressive £3.3m in value sales, positioning it as the UK's fifth largest gum brand right out of the gate.
While this may not be our golden age of candy, the category can at least say that today it has something for everyone, not matter how old you are.
TOP LAUNCH
---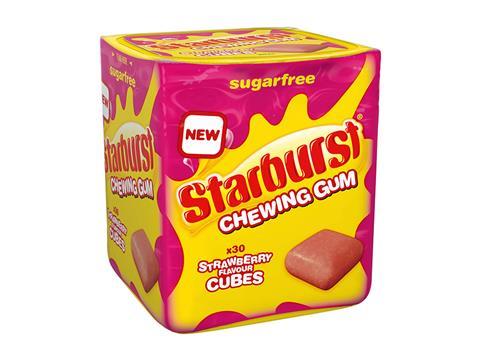 Starburst Chewing Gum, Mars Wrigley
This is a chewing gum with a difference. While most other brands are busy promoting their breath freshening and teeth cleaning properties, Starburst's focus is simply to bring a "candy-like experience" to the world of gum. Wrigley put a £1m spend behind the launch of the range in February, which includes three variants: crispy-coated Mixies pellets in an assortment of strawberry, apple and bubblegum flavours; red berry flavour Sticks; and Soft Cubes in strawberry and red berry.