Cheese brands are hurting. Three years after Tesco replaced a raft of brands with own-label alternatives, sales continue to melt faster than a slice of grilled cheddar.

While own brand delivered healthy value growth of 3.8%, brands were languishing behind with a 0.8% increase. Even that modest growth was fuelled by a 4.9% rise in average prices.

Eight of the top 10 brands lost volume. The top two - Cathedral City and Pilgrims Choice - have shed 3.9 million kgs over the past year, representing 8% of their combined 2017 totals. Only Lactalis' Seriously and Kerry's Cheestrings managed to buck the trend.
Things could get even worse over the next 12 months as Waitrose became the latest retailer to launch a cull of brands in August. Cathedral City was the hardest hit as the supermarket sought to "reduce duplication in what had become a crowded cheese aisle", according to one affected supplier.

In most cases, retailers want their cheese aisles to have "a simpler range based around a brand leader and a strong, refocused own-label range, with either secondary or tertiary brands reduced", says Dairy Crest cheese marketing controller Nigel Marchant.

In this environment, it's no wonder own label has netted an extra £50m at the expense of branded volumes. Brands have also suffered from the move towards everyday low pricing, Marchant points out, which has pushed up prices by reducing promotions.

This has proved particularly problematic in the case of cheddar, he says, which has emerged as the main casualty of range rationalisation.In the face of higher prices, Marchant says cost-sensitive younger shoppers are especially likely to switch to own label or away from cheddar altogether.

The effect is evident in the rising prices and falling volumes of cheddar brands. Cathedral City was some 9.6% more expensive this year, and suffered a 7.7% blow to volumes. The biggest branded loser of the year - Wyke Farms - also had the highest rise in prices, up 11.7%. Delistings by Waitrose and Sainsbury's in June contributed to a 45.9% fall in its value sales to £7.2m, and a 51.6% fall in volume. As a result, the brand slumped from 16th to 23rd in our rankings.

Pilgrims Choice also suffered, with volumes down 8.5% amid a 7.3% increase in average price.

Mike Harper, marketing director at parent company Ornua Foods UK, says this was the result of a switch in its promotional strategy from £2 only to a mix of £2 and £2.50 price points. It was also part of a move to create a more representative price differential between own label and branded, he adds.

"Arguably the price per kg between brand and own label wasn't distinct enough," Harper says. "Only brands that have invested in above the line (see ad, below) will be able to sustain this higher promotional price point."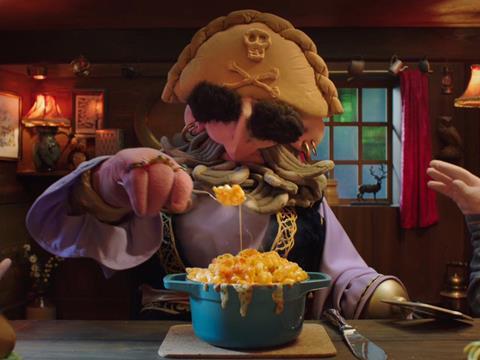 But he concedes this strategy has also driven some shoppers away. "We have seen switching to own label as a result of the new promotional pricing structure, but we feel there is a better balance now between loyal branded consumers - who are willing to pay a premium for branded - and own label consumers, where previously there was significant switching between the two."
Conversely, those that are dropping prices are increasing volume. Take Dairy Crest's Davidstow, whose volumes shot up 16.7% amid a 4.7% drop in price. The brand's "small but growing consumer base" extended to more than 200,000 new households, Marchant says.

Dairy Crest marketing director Lee Willett says the brand's packaging revamp was another driver of this increase. "It appeals to shoppers who are passionate about their cheese and care about depth of taste as well as provenance and heritage."

It's not just big cheddar brands facing a conflict between price and volume. Mondelez's Dairylea struggled with 2.8% loss in volume as prices rose 5.1%. Sister brand Philadelphia lost 4.5% in volume despite keeping prices static. Bel UK's Mini Babybel saw volumes fall 3.6% amid a 2.1% increase in average price - though the brand says its total value is more than £15m higher than the £48.4m quoted due to a strong showing in the discounters (not included in this data).

In the case of Bel, there is no sign of shying away from higher prices. The introduction of Mini Babybel Organic in June - which costs over £2 for a pack of five at Waitrose, while a pack of 12 standard cheeses is £2.85 - is seen as a huge opportunity by the brand. The organic snacking cheese will enable retailers to "tap the £2bn organic food and drink segment", says brand manager Gaëlle Vernet.

It's true that high prices aren't always a death knell for brands. While Lactalis McLelland's Galbani had a "difficult year" as the price differential between branded and own label grew, a 1.3% increase in price didn't stop its Seriously brand become the fastest growing of the year.

The 16.2% increase in value to £49.9m was partly built on distribution gains as the brand won a major listing with Co-op last year. There was also heavyweight marketing support in the form of its ongoing sponsorship of Channel 4's Come Dine With Me, says Lactalis sales director Mike Chatters.

Seriously's Spreadable sub-brand is "experiencing robust growth" in particular, he says, aided by a packaging revamp last year.

Kerry also had a positive year, thanks to the boom in snacking. Its Cheestrings brand grew value 3.8% to £46.5m on volumes up 7.6%. "We've seen great growth come through the core Cheestrings brand, along with the successful launch of the Snack Mix that has helped stretch the brand into new areas such as light snacks and after-school snacking," says Kerry Foods brand manager Steph Scott.

Then there's Kerry's Attack a Snak, whose 25.6% value increase to £13.7m on volumes up 27.5% makes it the fastest growing brand in kids' cheese snacks, according to Scott.

Dairy Crest's Marchant believes snacking will continue to be a key area of growth for cheese - among adults in particular.

"We've worked with a number of retailers to introduce a dedicated 'destination' adult snacking shelf in the main cheese fixture," he says. The brand is "moving single-serve grab & go lines to front-of-store food-to-go chillers, making them more readily available and visible to shoppers on a 'need it now' mission," Marchant adds.

As brands are on a 'need it now' mission of their own when it comes to sales, this could prove vital.
TOP LAUNCH
---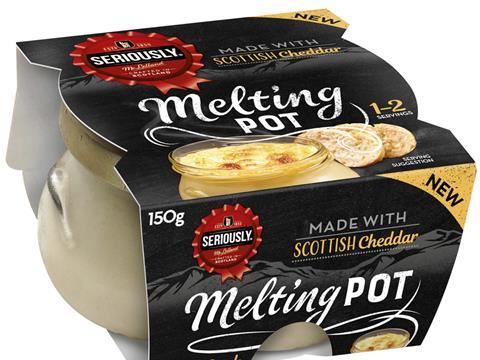 Seriously Melting Pots, Lactalis McLelland
Innovation in cheddar is tricky, but this Seriously Cheddar Melting Pot looks to have found a gap in the market and filled it with oodles of melted cheese. Designed to transfer the mass-market appeal of cheddar into continental cheese usage occasions, Lactalis McLelland launched the pots in October in Aged Scottish Cheddar and Roasted Onion variants. Reactions in pre-launch testing were very favourable, with two-thirds of shoppers pledging to buy the product again.