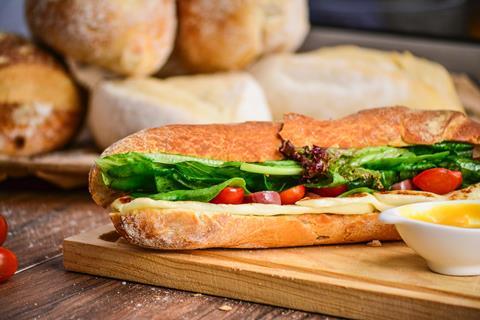 Brits might be divided over Brexit and coronavirus rules, but they are united in their love of cheese. Driven by an increase in scratch cooking and a resurgence in homemade sarnies, consumers spent a quarter of a billion pounds more on cheddar and the like this year. That saw the category's value sales climb by 10.4% to a record-breaking £2.7bn.
Cheese was near-ubiquitous in shoppers' baskets – and in their kitchens. A poll in July of 1,053 people by the Speciality Cheesemakers Association found that 25% used cheese when cooking once a week, with 28% using it twice a week, 15% three times a week, and 11% four to six times a week.
Research for Dairy UK and AHDB in the wake of their summer Milk Your Moments push reinforces those stats: at-home consumption of cheese increased by 48% during the period of the first coronavirus lockdown.
No wonder the vast majority of brands reported strong growth in grocery this year. The top 20 saw sales grow to a total of £99.4m, with all but two in value growth and 14 in volume growth. That boost in sales contributed to a £120m (10.9%) increase in value to £1.2bn for the branded market as a whole, while own-label cheese also benefited from the pandemic-prompted surge in demand. Its value climbed by 9.9% to £1.5bn.
To contextualise just how well the category performed in 2020, value sales for cheese grew by less than 1% in last year's Top Products survey.
At the heart of this year's bumper performance was a desire by people to "recreate the meals they would have had in a restaurant at home" says Lactalis UK & Ireland group marketing director Heloise Le Norcy-Trott. Shoppers have also been looking at cheese as "small and affordable luxuries" that were "an easy way to brighten up daily life" she adds.
It was Brits' yearning for cheesy joy that helped Lactalis become one of the standout performers of 2020. The increase in scratch cooking helped its Galbani brand achieve a 41.2% increase in sales to £23.4m, buoyed by "significant increase in demand" for its burrata and mozzarella variants, says Le Norcy-Trott.
Its stablemate Président also benefited from the trend, with a 23.8% hike in value driven by demand for its brie and camembert. And Lactalis cheddar brand Seriously saw an 8% jump in sales to £41.8m.
The French dairy giant capitalised on this demand by launching hot variants under the Président and Seriously names.
So, comforting eating was a key theme of cheese's year. And so was inflation. As The Grocer reported in July, cheese promotions across the mults were down by as much as 13% year on year during the first coronavirus lockdown, as retailers sought to manage their stock levels in the face of panic-buying.
As a result, all but one of the top 10 brands (Strings & Things) have seen price increases, while brands overall are 2.5% more expensive on average than last year.
But shoppers weren't deterred by more expensive cheese, as suggested by Cathedral City's fortunes. The category leader shifted an extra 2.2 million kg despite a 3.9% rise in average price. It ends the year worth an extra £27.2m. Indeed, the biggest challenge for the brand and its owner Saputo Dairy UK wasn't attracting shoppers, it was keeping supplies on shelf.
"Unprecedented" demand led the supplier to take Cathedral City Extra Mature off sale for a number of weeks at the start of June "to avoid the alternative of selling it before it had matured properly" says Saputo Dairy UK marketing director Lee Willett. Cathedral City supplies have now stabilised, he adds. "We have maintained full and consistent supply levels since [July]."
The brand's marketing has been consistent too. It continued to spend money on campaigns throughout the year. A 'Stay Home' ad during the first lockdown was followed by a second push in the autumn. It used a 'Reasons For Cathedral City' tagline to showcase the brand as "a trusted go-to food staple".
Arguably, the low point of Cathedral City's year was the axing of its reduced-calorie Cathedral City 82 variant in July, just a year after its launch. The move was due to a combination of low sales, production complications and the impact of a wider range rationalisation, which saw the dairy choose to prioritise its core lines.
The prioritisation also meant Saputo's premium Davidstow brand suffered this year, with value sales falling 13% to £9.2m. However, Willett stresses Davidstow remains important because it "allows us to address consumers' value needs at each end of the spectrum".
Snacks and spreads
Saputo's not the only big name in cheese that's experienced mixed fortunes. Suppliers of snacking and on-the-go options struggled during the big lockdown.
Dairylea, for instance, experienced a slowdown in sales due to a "decline in the amount of shoppers snacking on-the-move or at work" says Susan Nash, trade communications manager at owner Mondelez.
Sales recovered over summer and into autumn, she adds. But not enough to match sister brand Philadelphia. Its volumes are up 8.5% as a result of the brand's versatility and spreadability, according to Nash. "Cream cheese, such as Philadelphia Light, enables consumers to make quick, convenient and great-tasting meals, while offering the lower-calorie options they are looking for."
Mondelez's story is similar to that of Bel UK, which saw sales of the snackable Laughing Cow and Babybel wobble in spring and then steady in summer. Meanwhile, its spreadable Boursin had an "exceptional year" says Bel UK group marketing manager Gaelle Vernet.
An extra £4.1m was driven by "the increased focus on indulgence, evening snacking and sharp rise in lunch and dinner occasions being created at home during the lockdown period", she says. This helped the brand become "more than just a cheeseboard cheese".
So now Boursin sits alongside many other 'everyday' cheeses. They're all going to a fixture of Brits' fridges for a while longer, predicts Lactalis' Le Norcy-Trott.
"We envisage this trend will continue for months or even years to come, meaning it's likely that cheese sales will remain higher for the foreseeable future," she says. "Whilst it's hard to predict exactly what 2021 has in store, cheese – as a staple food – should remain appealing to consumers.
Top Products 2020
In association with Nielsen
Top 20 Cheese
£m
£ change
%
Total volume change:
10.1%
Total Category:
2738.4
257.6
10.4
Total Own Label:
1522.0
137.6
9.9
This year's rank
Last year's rank
Brand
Manufacturer
£m
change (£m)
change (%)
1
1
Cathedral City
Saputo Dairy UK
300.6
27.2
9.9
2
3
Philadelphia
Mondelez
107.0
16.0
17.6
3
2
Dairylea
Mondelez
99.6
3.0
3.1
4
4
Pilgrims Choice
Ornua Foods
83.8
16.6
24.8
5
5
Babybel
Bel
58.3
1.1
2.0
6
6
Strings & Things
Kerry Foods
50.6
3.5
7.5
7
7
Seriously
Lactalis
41.7
3.2
8.5
8
8
Dairylea Lunchables
Mondelez
32.1
0.4
1.4
9
9
The Laughing Cow
Bel
24.2
-0.2
-1.0
10
14
Galbani
Lactalis
23.4
6.8
41.2
11
13
President
Lactalis
20.8
4.0
23.8
12
10
Castello
Arla Foods
20.1
0.9
5.0
13
18
Violife
Arivia
19.9
6.8
51.4
14
11
Leerdammer
Bel
18.4
0.1
1.0
15
15
Attack A Snak
Kerry Foods
17.7
1.5
9.7
16
17
Boursin
Bel
17.6
4.1
30.0
17
12
Primula
Kavli
17.5
-0.3
-1.8
18
16
Saint Agur
Savencia F&D
15.8
0.4
3.1
19
23
The Lake District Dairy Co
First Milk Cheese Co
11.5
3.3
40.2
20
20
Le Rustique
Savencia F&D
10.6
0.5
5.1
The Grocer's Top Launch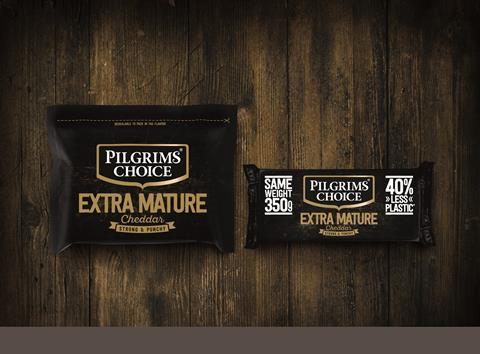 Pilgrims Choice Megablock, Ornua
Innovation in cheese was thin on the ground this year as suppliers battled to keep grocery shelves stocked. But they still had time for sustainability. So, in September, Ornua unveiled Pilgrims Choice Megablock in 300g, 350g and 550g. It reduced packaging by 40% by simply making the shape of the contents stubbier – helping cut an estimated 83 tonnes of plastic each year. A similar move by Tesco across its Ornua-supplied own-label cheese should save a further 95 tonnes.