Oatly's latest ad campaign has caused quite a stir. The Swedish oat milk brand has brought its controversial slogan - 'Like milk, but made for humans' - to the UK. That's despite being successfully sued three years ago for its use by the Swedish dairy industry, who said it portrayed cows' milk as unhealthy.

But far from crying over spilt milk, Oatly had reason to celebrate. Its sales in Sweden reportedly rocketed by 45% after the lawsuit was filed. Oatly hopes its £700k marketing push in the UK will similarly convince consumers to make the switch from traditional milk (without the need for legal proceedings).

It has plenty of reason to feel confident. Over the past year, sales of its oat-based products have soared 71.4% to £18.5m on volumes up 57.2%. Its £7.7m absolute growth was the third highest in our list of free-from brands, behind Alpro and Halo Top.

That those three brands are all primarily dairy-free (the Halo Top figure also includes gluten-free) is no coincidence. For this has emerged as an area of particular activity in the already fast-growing free-from market - the fourth fastest in this report, in fact.
The 11 dairy-free brands in the top 50 amassed collective growth of £59.4m or 24.9% - higher than the total category's of 16.5%. According to Nielsen, dairy-free is now worth a whopping £450.3m .

It's an opportunity that hasn't gone unnoticed by the supermarkets. In November, a Waitrose report revealed a quarter of its 'milk' range is now made up of non-dairy options. Oat milk was named the largest area of growth at 116%, followed by coconut milk at 60%. The same report found one in eight Brits (13%) identify as vegan or vegetarian.

The dual virtues of being free-from and vegan-friendly mean dairy-free is even more appealing to 'lifestylers' - people who shop the free-from aisle by choice, as opposed to necessity - than other areas of the market. "Dairy-free is an ever-expanding corner because it's not specific to people with a medical intolerance," says Ishen Paran, Oatly's general manager in the UK.

All of which has helped beacon dairy-free brand Alpro to not only strengthen its leadership in the market - up 12.8% to £204.2m - but to regain its position as the second largest fresh milk brand (see p122).

"The sustained growth of plant-based food and drink, and the growing awareness of the benefits such as vitamins and minerals that products such as ours can offer, has been fundamental to the growth of the free-from market as a whole," says Vicky Bhattu, ­marketing director at Alpro UK & Ireland. "We're now focused on making things available in ways that are as convenient as possible for our shoppers which cater to different needs and usage occasions, all throughout the day."

This fresh focus on convenience manifested itself in the launch of its ready-to-drink Caffè range in May. The new formats secured Alpro its "first ever listing in Boots as part of the retailer's meal deal offering".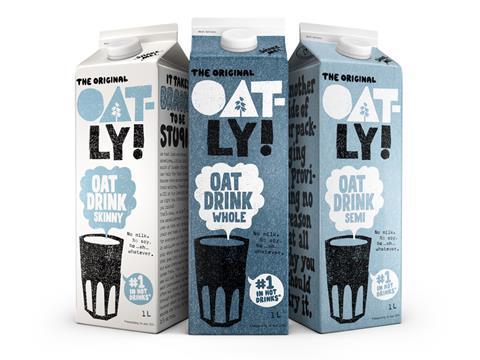 So hot is dairy-free that mainstream brands are lining up to take a slice of growth. Most notable of these is Innocent, which launched its nut and oat milk range (see Top Launch) in spring to gain £1.9m. Then there was Ben & Jerry's, which unveiled its non-dairy range of ice-creams in the UK last year. Newcomer Halo Top was also quick to follow up the launch of its ice cream range in January with dairy-free (and soy-free) lines in the summer. The range is proving successful, says the brand, with sales of these products totalling £10.3m. "Dairy-free is growing across virtually all categories due in large part to the surge in popularity of veganism," says Doug Bouton, Halo Top president & COO.

But it's not just veganism contributing to dairy-free sales, says Seb Mullin, managing director of Rude Health. "We've found that the appeal of our dairy-free drinks goes far beyond those who choose to commit to a vegan diet or who choose us because of food intolerances. A 2017 Mintel report found that 90% of dairy-alternative shoppers also have milk or other dairy products in their basket. This suggests that there are many consumers who are buying our dairy alternatives for their flavour, variety and versatility."

Alpro's Bhattu says consumers are also buying into plant-based products for health reasons. "Health and wellbeing is on the radar more than ever before, across all walks of life. This is shown by popular retailers such as Tesco having taken steps to employ someone like Derek Sarno to be their director of plant-based innovation."

Indeed, there's no shortage of examples to show just how seriously the retailers are taking the free-from opportunity. Own label sales across the entire category have grown by 18.5%, outpacing branded growth of 16.1%. Waitrose relaunched its own allergen-free range in October, changing its name from Love Life to Free From and launching 14 gluten-free and four lactose-free products. Sainsbury's launched a range of nut milks that undercut brands at a price of £1 per litre.

Even the space-squeezed discounters are upping their game. Lidl announced its ­permanent gluten-free range Just Free in April, featuring products for as low as 70p. "These ranges are priced substantially lower than equivalent products from specialist brands, which should help to make free-from foods affordable," says Alyson Parkes, research analyst at Mintel. Its figures indicate 35% of consumers "would be interested in a wider range of free-from foods at discount stores".

This number is likely to rise as the Department of Health prepares to restrict the number of gluten-free items available on prescription solely to bread and flour mixes. When these changes will take place is yet to be determined but when they do, it is likely to send yet more free-from business the way of the retailers.

Demand for gluten-free is already pretty healthy. Although market leader Genius is experiencing a rare value decline - down 3.9% in value on volumes up 2.5% - other brands are raking in the cash. Schär is up 10.7% in value, representing £2.8m in extra sales. That was bolstered by the launch of two "first to market" chocolate products - Schär Tempties and Schär Melto - in July that "experienced record-breaking units of sale".

Oatcake maker Nairn's also experienced a strong year of growth, with value up 11.7% on volumes up 9.4%. Head of marketing Emma Heath says the brand will be expanding its gluten-free range over the coming months, with launches including caramelised onion flatbreads and "popped oat snacks".

With government legislation and a vegan revolution on its side, the free-from boom looks far from over.
TOP LAUNCH
---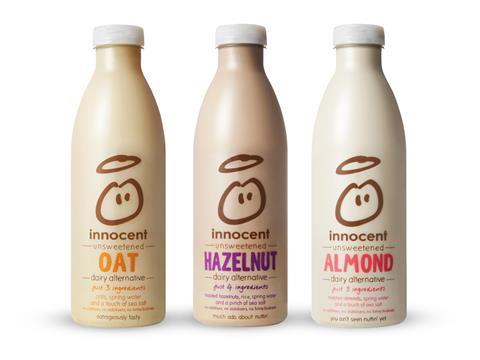 Innocent dairy-free range, Innocent
Never one to miss a trick, Innocent took aim at the growing dairy-free market with a range of nut and oat milks in spring. A whopping £4m of investment and a year of development went into the original trio of Almond, Hazelnut and Oat, followed up with a Coconut variant just months later. In less than six months, the range brought in £1.9m, according to Nielsen. Plus, each bottle is fully recyclable and made with at least 30% recycled PET.