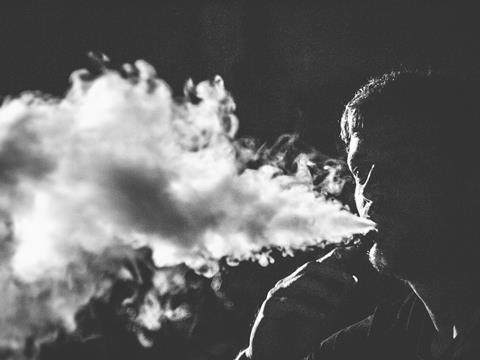 Pre-Covid, specialist vape shops were one of the fastest-growing areas of bricks and mortar retail. Then came the pandemic. Lockdown rules deemed the stores non-essential, and they were obliged to close for large swathes of 2020.
The restrictions on opening that arrived in March, and formed part of subsequent local and regional measures, clearly forced a major shift in the shopping habits of vapers.
As with many fmcg sectors, online operators were the biggest winners – but high street grocers capitalised on the shift, too. Relieved of the pressure of specialist outlets on their share, they've sold an extra £45.2m worth of vaping devices, an additional 16.2 million units.
Convenience outlets were the big winner here. Stores saw a major increase in sales of closed system vape products such as Blu, Vype, Logic and Juul from March to July, according to one leading supplier source.
This echoed the growth convenience was enjoying as a whole, as many shoppers stayed local to avoid queues at supermarkets.
However, as it became easier to visit the supers over the summer, sales of vape products across the different channels returned to pre-lockdown levels, the source adds.
Another key growth driver came in the shape of the ban on flavoured tobacco on 20 May, with smokers turning to vaping for a menthol hit.
"The vaping category itself has experienced solid growth in the past few months," says Juul Labs UK sales director John Patterson.
"If we look at total sales across closed and open systems in the 12 weeks pre and post the removal of menthol cigarettes, menthol and mint products contributed to almost 60% of all growth in the vaping category, with menthol flavours alone responsible for 36% of all growth," he adds.
It makes sense, then, that Juul should tap the trend by adding Menthol Juulpods (see Top Launch, below).
There was one loser this year. As sales of vaping – and, indeed, tobacco – surged, so it meant the nicotine replacement market was subdued. While leader Nicorette returned to growth with a £1m gain, its rivals Nicotinell, Niquitin and Galpharm all fell into the red.
The lone success story of the sector is JTI's Nordic Spirit tobacco-free nicotine pouches, which have reached £3m since their debut in September 2019.
"Nordic Spirit has had a very strong performance," says JTI UK general manager Dean Gilfillan. "We have established a strong distribution footprint for the brand. This year for us has all been about giving consumers even more choice of products."
Top Products 2020
In association with Nielsen
Top 10 E-cigarettes
£m
£ change
%
Total volume change:
18.9%
Total Category:
275.6
45.2
19.6
This year's rank
Last year's rank
Brand
Manufacturer
£m
change (£m)
change (%)
1
2
Blu
Imperial Brands
41.7
6.0
16.9
2
1
10 Motives
BAT
39.2
–3.8
–8.8
3
4
Vype
BAT
36.1
12.2
51.0
4
3
Logic
JTI
34.0
9.8
40.4
5
7
Juul
Juul Labs
30.3
18.4
154.4
6
5
Cirro
BAT
23.0
1.0
4.7
7
6
Edge
Afrapoco
16.8
3.6
27.3
8
8
Liberty Flights
Liberty Flights
9.9
1.1
12.6
9
12
Aqua Vape
AQL
6.1
1.4
28.7
10
10
MV
Multicig
6.0
–0.9
–12.5
Top 5 Nicotine Replacement Therapy
£m
£ change
%
Total volume change:
-1.2%
Total Category:
146.3
2.9
2.0
Total Own Label:
26.0
-0.6
-2.3
This year's rank
Last year's rank
Brand
Manufacturer
£m
change (£m)
change (%)
1
1
Nicorette
Johnson & Johnson
59.8
1.0
1.7
2
2
Nicotinell
GSK
30.3
–1.0
–3.3
3
3
Niquitin
Omega Pharma
25.4
–0.1
–0.6
4
NEW
Nordic Spirit
Nordic Spirit
3.0
3.0
–
5
4
Galpharm
Galpharm Int
0.7
0.0
–0.5
The Grocer's Top Launch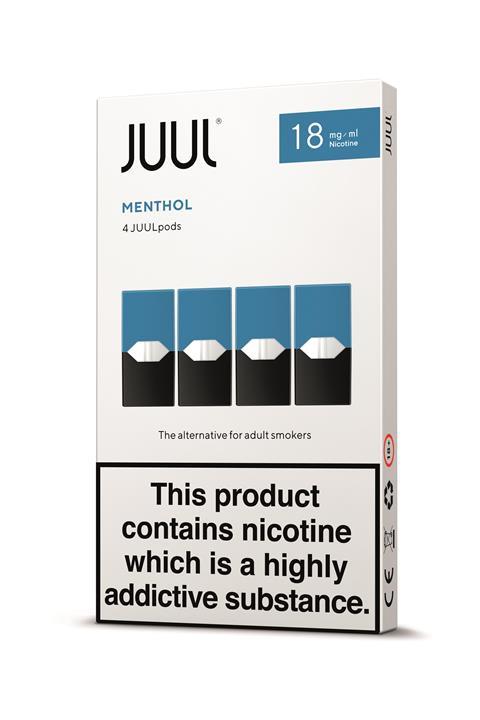 Menthol Juulpods, Juul Labs
Juul already had a mint flavour in its UK portfolio. But it recognised a further opportunity presented by the May ban on flavoured tobacco products. Smokers, the brand realised, would look to replace their regular menthol taste. Rolling out more than a month before the ban, Menthol Juulpods was firmly in place as a product retailers could offer menthol smokers. And it was something smokers switching to vaping for the first time could easily comprehend.