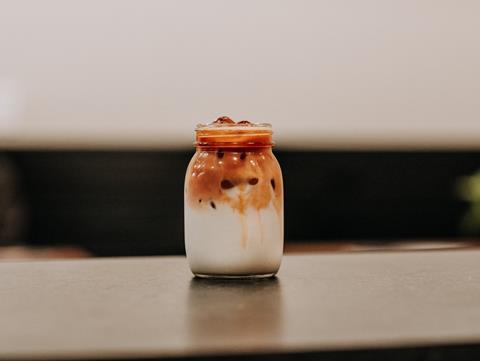 To succeed in free-from, you could do far worse than to position yourself somewhere between "good and f***ing fearless". Or at least, so claims Oatly. The message came from CEO Toni Petersson, who gave employees a lesson in how the brand could distinguish itself from its rivals soon after his appointment in 2012.
The rest, as they say, is history. This year, Oatly delivered the largest absolute gain on this list – £40.7m – to become the number two brand. Its 110% rise in value is well ahead of the healthy 12.7% overall growth in the free-from category, which was bolstered by the panic-buying of this year.
Oatly's success is down to far more than a fearless attitude, though. It's aligned with many of the trends driving growth in the market. Oats, for one, are an advantage in themselves. In the past year, oat milk has grown ahead of soya, lactose-free and nut milks, inspiring this year's Top Launch (see below).
Oatly has also brought out some inspired NPD, despite the pressures of the pandemic. At the beginning of July, it unveiled Oatgurt – an oat-based yoghurt designed to be "as close as possible to the taste of dairy yoghurt to show that you can make the switch to plant-based without having to sacrifice on taste," according to Ishen Paran, general manager at Oatly UK.
It's telling that market leader Alpro – which delivered the second-largest gain of the year at £32.2m – unveiled its own oat-based big pot yoghurt later that month.
Plus, Oatly has taken a lead in communicating the environmental credentials of dairy-free products. In April 2019, it published its carbon footprint on packs to demonstrate its commitment to sustainability (and merits over dairy equivalents).
That sentiment is striking a chord with shoppers. See Alpro, which unveiled an ambitious five-year health and sustainability action plan in September. It's a savvy move, says Nielsen client manager Benjamin Upjohn. "Saving the planet has been a hot topic this year, which further supports Alpro's number one status," he says. Fellow dairy-free brands similarly see this as an important point. Take Rude Health, up 4.4% to £12.5m. Its research found 53% of dairy-alternative shoppers buy into the category because of its environmentally friendly credentials. Co-founder Camilla Barnard says "consumers are increasingly aware of the environmental issues around Californian almonds such as water usage, bees and pesticides", which is why it uses Mediterranean almonds instead.
Wessanen UK, owner of the Mrs Crimble's brand, believes the pandemic has only heightened this trend. People have "reconnected with food and nature," says marketing and category director Bryan Martins.
"Transparency and traceability have become increasingly important for conscious consumers… from sustainable packaging to ethical sourcing and organic ingredients."
As he suggests, being sustainable nowadays means far more than simply being better than meat or dairy. Consumers are holding companies to increasingly high standards, as they look for businesses to take a sustainable approach throughout their operations.
The success story of Oatly is a case in point. Despite its strong focus on the environment, the brand faced a backlash in September for selling a $200m stake to a consortium that includes Blackstone – a private equity firm alleged to have invested in companies linked to Amazonian deforestation.
For its part, Blackstone said the allegations were "blatantly wrong and irresponsible". But Oatly was nevertheless forced to publicly defend its choice, in a statement that explained the "intense thought process" behind its decision, which it believed would send "a powerful message to the global private equity markets".
This scrutiny is just one of the challenges the free-from market will face in the year ahead. Another will be keeping up the momentum of this year, in which the market gained an extra £358.3m.
Brands readily admit the first national lockdown and resulting panic-buying was a factor here. Indeed, the category grew at a turbocharged rate of 17.6% in the four weeks to 16 May [Nielsen]. "We found quite a few customers branched into free-from when stocks of standard products were low during lockdown," says Vicki Hazel, brand controller at Mrs Crimble's.
So maintaining that growth in the coming year, when standard products should be more readily available, will be a challenge. Particularly for brands, which are set to face a new wave of pressure from own-label.
Pricing pressures
In October, Asda took the bold stance of investing £6.2m in lowering prices across its free-from essentials range. "We believe there should be no reason for our customers to pay more for food if they have an intolerance and want to ensure our customers can get everything they need under one roof, regardless of dietary requirements or lifestyle choice," said Asda's senior buying manager Rebecca Long at the time.
The move will match the price of selected lines "gram for gram against the non free-from equivalent" – no mean feat given the often expensive nature of allergen-free production. It comes alongside the discounters making ever more confident moves into the free-from market.
That could spell trouble for brands, whose prices have crept up by 2.3% this year. Own label, by contrast, has fallen 4.4% – and that data doesn't include the impact of Aldi and Lidl. Soon, a chasm could emerge. At Asda, that's already happening – its own-brand gluten-free bread rolls are now 96p, while most of the branded versions are around £2.
Still, some brands will be happy to embrace these challenges if it means putting this year behind them. Take Nakd, the fastest-falling brand in the top 10, with a decline of £5.8m. The pandemic-driven fall in on-the-go occasions took their toll on sales of the snack bar, explains Louise Cullinane, senior brand manager at owner Natural Balance Foods.
As normality starts to return, Cullinane is confident sales will begin to pick up once again. "Consumer movements towards healthier eating and snacking before coronavirus are still valid," she says. "Consumers are reducing their intake in refined sugar and processed foods and we are continuing to see a rise in plant-based diets."
Indeed, if there's one thing we can predict for 2020, it's that the macro trends of plant-based, health and sustainability will continue to resonate with shoppers. So here, free-from is at a natural advantage.
Top Products 2020
In association with Nielsen
Top 20 Free-From
£m
£ change
%
Total volume change:
12.7%
Total Category:
3172.0
358.3
12.7
Total Own Label:
581.8
50.7
9.5
This year's rank
Last year's rank
Brand
Manufacturer
£m
change (£m)
change (%)
1
1
Alpro
Alpro
250.6
32.2
14.7
2
4
Oatly
Oatly
77.7
40.7
110.0
3
2
Lactofree
Arla Foods
72.3
6.4
9.8
4
5
The Collective
Epicurean Dairy
35.7
–0.3
–0.7
5
7
Schär
Dr Schär
34.5
3.9
12.7
6
3
Nakd
Lotus Bakeries
33.8
–5.8
–14.6
7
6
Genius
Genius Foods
33.4
2.0
6.3
8
10
Nairn's
Nairn's
31.2
3.3
12.0
9
9
Seabrook
Calbee
30.5
1.7
6.0
10
8
Eat Natural
Eat Natural
26.5
–4.0
–13.1
11
11
Kallo
Wessanen
21.3
1.0
5.1
12
18
Violife
Arivia SA
20.0
6.8
51.4
13
13
Warburtons Gluten Free
Warburtons
17.4
0.1
–0.6
14
17
Kind
Kind
17.3
3.1
22.0
15
14
Nature Valley
General Mills
15.4
–1.5
–9.1
16
16
Koko
First Grade Int
14.5
–0.6
–4.1
17
15
Trek
Lotus Bakeries
13.8
–2.3
–14.6
18
21
Bfree
Bfree Foods
13.8
2.6
23.3
19
19
Rude Health
Rude Health
12.5
0.5
4.4
20
20
Mrs Crimble's
Wessanen
11.1
–0.2
–1.5
The Grocer's Top Launch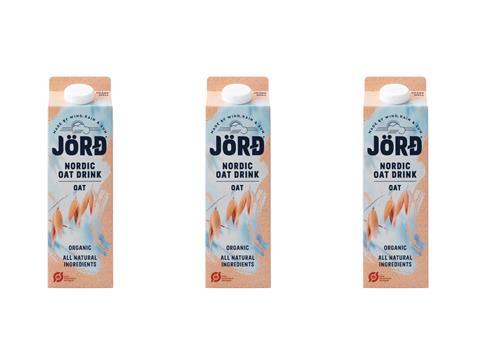 Jörd, Arla
Dairy-free is so hot it's now attracting serious investment from the dairy giants. The launch of Jörd oat drink in September marked Arla's first foray into plant-based. It shouldn't be considered a mere substitute for cow's milk, though. Arla insists the drink, named after the mother of Nordic god Thor, is targeted at flexitarian customers and should be drunk as a complement to dairy, not a replacement. Still, "that doesn't mean vegans can't also enjoy it" says MD Ash Amirahmadi.