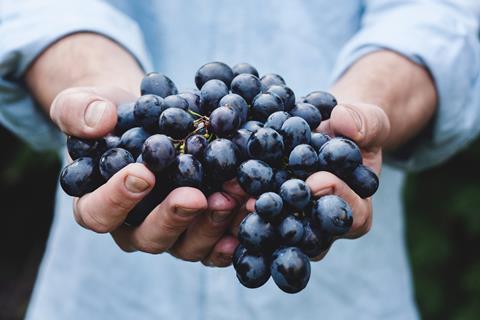 From migrant labour shortages to highly volatile growing conditions, fruit and veg had to battle a host of challenges this year.
Take apples. Having suffered a poor harvest in 2018 due to adverse weather, Britain's favourite fruit was hit by labour shortages this autumn, with some 16m left unpicked, according to a British Apples & Pears survey.
But supply difficulties weren't borne out in these numbers. In fact, volume sales of apples rose, with a dramatic drop in average prices responsible for the fruit's value decline this year. It was a similar story elsewhere in fresh fruit, which shed £27m in total as the mults continued their price war with the discounters. Grapes lost £13.7m in sales despite a slight increase in volumes, for example.
There were some exceptions. Bananas added £9m to become the nation's second best-selling fruit (stealing the title from grapes). That added value is largely down to price rises, according to Simon Trewin, commercial director at importer Compagnie Fruitiere. "Volume is stable year on year, but there's a little bit of price inflation, and that's mainly driven by the weakened pound over the past couple of years," he says.
Inflation also drove a £54m uplift in sales of fresh veg. The 'Beast from the East' and subsequent drought in 2018 pushed up retail prices for some crops this year, says British Growers Association CEO Jack Ward. "There has been a concerted effort over the last year to recoup some of the additional costs of what was a really difficult season with very late starts and then four months of prolonged drought," he adds. "There was a recognition that production costs had increased."
Onions (up 8.2%), broccoli (up 13.2%) and carrots (up 7.4%) were among those seeing big sales value increases despite relatively stable volumes.
With heavy rainfall and severe flooding disrupting growers this autumn, fresh veg could face further price inflation in 2020.
Supermarkets might also be forced to hike prices on apples, which will be in tight supply unless labour issues are urgently addressed, according to executive chair of British Apples & Pears Ali Capper.
So it's likely to be another turbulent year ahead for fruit & veg.
The Top Products
In association with nielsen
Top 10 Fruit
£m
change (£m)
change (%)
Volume change:
0.6%
Total Category:
4804.1
-27.0
-0.9
This year's rank
Last year's rank
£m
change (£m)
change (%)
1
1
Apple
597.7
-27.7
-4.4
2
3
Banana
583.5
9.0
1.6
3
2
Grapes
573.4
-13.7
-2.3
4
4
Strawberries
552.0
18.1
3.4
5
5
Blueberries
383.8
18.1
4.9
6
7
Raspberries
318.5
18.5
6.2
7
6
Clementines
313.0
-7.8
-2.4
8
9
Fruit Salad
153.1
3.8
2.5
9
8
Pear
150.4
-13.4
-8.2
10
10
Orange
139.8
5.6
4.2
Top 10 Vegetables
£m
change (£m)
change (%)
Volume change:
-1.0%
Total Category:
5091.0
54.0
1.1
This year's rank
Last year's rank
£m
change (£m)
change (%)
1
1
Potato
766.3
-8.9
-1.2
2
2
Tomato
649.7
-13.1
-2.0
3
3
Dry Leaf Salad
438.2
-27.8
-6.0
4
4
Mushroom
300.2
6.8
2.3
5
5
Pepper
271.0
3.5
1.3
6
6
Avocado
227.2
1.6
0.7
7
7
Onion
208.1
15.8
8.2
8
9
Cucumber
206.5
25.8
14.3
9
8
Broccoli
206.4
24.0
13.2
10
10
Carrot
167.8
11.6
7.4
The Grocer's Top Launch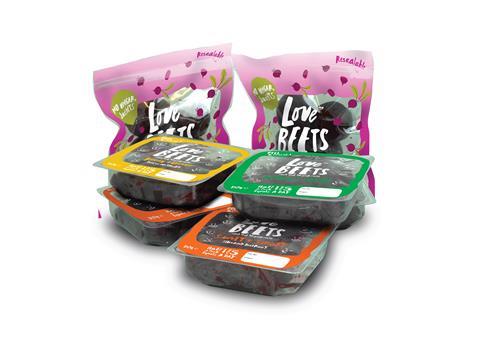 Love Beets G's Fresh
Having first launched in 2010 in the US, the Love Beets beetroot brand is finally available to Brits. Exclusive to Tesco, it comes in four variants of cooked beetroot: Salsa, Sweet & Smoky, Honey & Ginger and No Vinegar – the last of which comes in resealable pouch. The rollout marks a massive endorsement for a vegetable not currently among the UK's best-loved. The brand is hoping its convenience and striking flavours will be enough to persuade consumers to 'Live colourfully, Love Beets'.