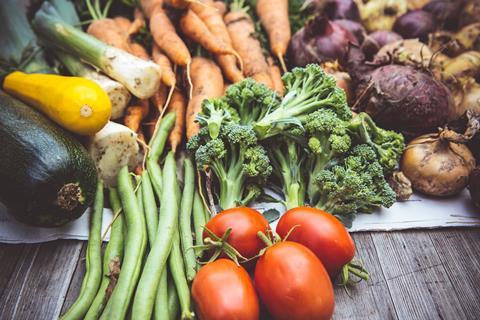 Fruit & veg has had a bumper year. But if there's one standout performer, it's citrus fruit. As Covid-19 thrust health into the spotlight, shoppers this year filled their baskets with clementines (up £31.6m), oranges (up £22.8m) and lemons (up £16.3m) to boost their vitamin C levels.
There's no evidence it helps protect against coronavirus, of course. But its links with the immune system – vitamin C is scientifically proven to reduce the duration of common colds and help maintain healthy skin and bones – made citrus fruit a popular choice.
Andreas Schindler, CEO of fresh produce supplier Don Limón, says the desire to "reinforce the immune system" created an "exceptionally high demand" for citrus fruits. That led to a shorter supply, pushing up prices and driving value in the grocers.
Oranges and lemons weren't the only fruits to have added serious value this year, though. Fruit is up £177m in total – marking a reversal of fortunes on last year, when The Grocer reported a £27m decline.
The return to the black was boosted by summer staycations, according to Berry Gardens CEO Nick Allen. Brits holidaying at home "definitely helped create additional demand through a period when the industry is producing a lot of fruit", he says. "A lot of fruit lands back-end of July through to August and early September, and it's usually a challenge for the industry to sell it all. But this season that's been much less of a problem." Strawberries were particularly popular in the summer months, up £25.1m.
The turmoil of 2020 has also been beneficial for vegetables, up £347.1m thanks to the extra millions of meals made at home.
Potatoes, which have been in value decline in grocery for at least five years, grew by £8.3m. That's down to spuds' status as a versatile staple, says Michael Jarvis, head of marketing at Albert Bartlett. "Consumers have gravitated to potatoes as a comforting, easy-to-prepare and exceptional value option, which can be enjoyed at any time of the day."
Only one product missed out on value growth. Dry leaf salad lost 4.2% as fewer shopping trips led to higher demand for larger and longer-life salads, says British Leafy Salads.
Top Products 2020
In association with Nielsen
| Top 10 Fresh Fruit | | | | | |
| --- | --- | --- | --- | --- | --- |
| | | | | | |
| | | | £m | £ change | % |
| Total volume change: | 2.1% | Total Category: | 4678.2 | 176.8 | 3.9 |
| | | | | | |
| | | | | | |
| This year's rank | Last year's rank | Brand | £m | change (£m) | change (%) |
| 1 | 1 | Apple | 609.9 | 24.9 | 4.3 |
| 2 | 2 | Banana | 591.6 | 7.5 | 1.3 |
| 3 | 4 | Strawberries | 577.6 | 25.1 | 4.5 |
| 4 | 3 | Grapes | 577.3 | 3.5 | 0.6 |
| 5 | 5 | Blueberries | 409.9 | 25.7 | 6.7 |
| 6 | 7 | Clementines | 344.7 | 31.6 | 10.1 |
| 7 | 6 | Raspberries | 326.3 | 7.4 | 2.3 |
| 8 | 9 | Orange | 162.7 | 22.8 | 16.3 |
| 9 | 8 | Pear | 156.0 | 5.5 | 3.7 |
| 10 | 10 | Lemons | 132.5 | 16.3 | 14.1 |
Top 10 Fresh Vegetables
£m
£ change
%
Total volume change:
6.5%
Total Category:
5497.1
347.1
6.7
This year's rank
Last year's rank
Brand
£m
change (£m)
change (%)
1
1
Potato
784.1
8.3
1.1
2
2
Tomato
695.7
45.4
7.0
3
3
Dry Leaf Salad
420.1
-18.6
-4.2
4
4
Mushroom
333.9
32.9
10.9
5
5
Pepper
325.8
36.0
12.4
6
6
Avocado
251.1
23.6
10.4
7
7
Onion
242.1
21.2
9.6
8
8
Broccoli
238.1
32.1
15.5
9
9
Cucumber
221.9
15.4
7.4
10
11
Lettuce
174.7
19.5
12.5
The Grocer's Top Launch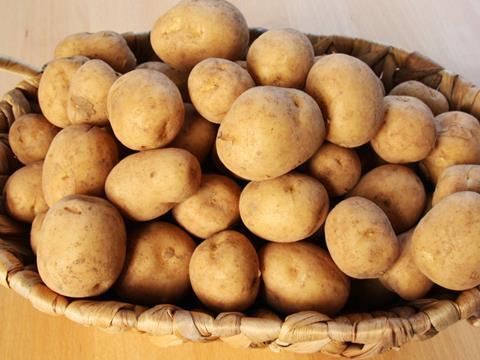 Tesco wonky potatoes, Branston
When foodservice closed for two months in the spring, suppliers of processed potatoes were left with tonnes of unwanted produce and drastically reduced revenues. So, Tesco teamed up with regular supplier Branston to sell a 2.5kg bag of cosmetically challenged white and baking spuds, originally intended for chipping, under the grocery giant's Perfectly Imperfect brand. Best of all, it was 29p cheaper than a pack of regular white tattie